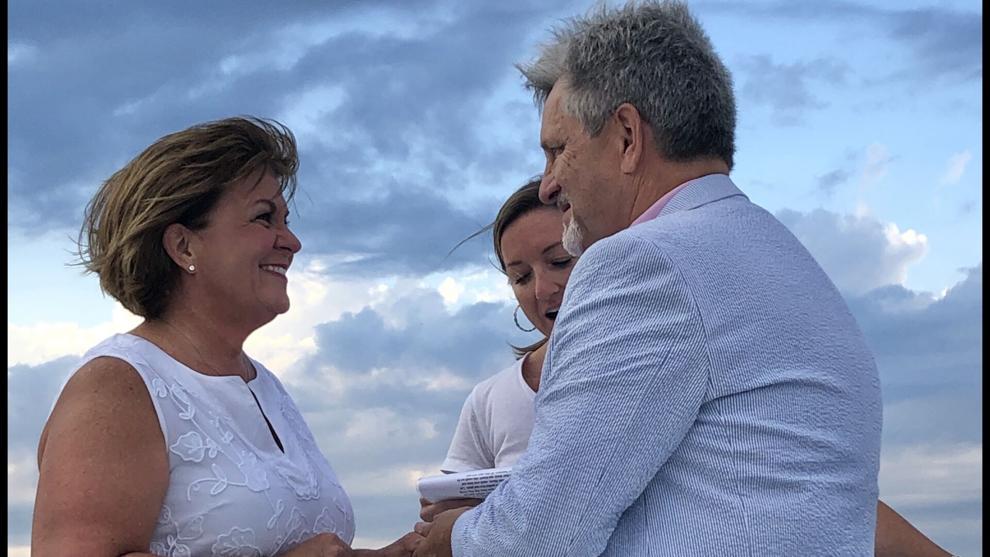 Elizabeth Paige Prescott, of Tullahoma, wedded Trent Douglas Moore, also of Tullahoma, Saturday, Sept. 5 in Charleston, South Carolina.
The couple was wed aboard the bride's family yacht, the Seahorse in Charleston Harbor, by the Honorable Jennifer McCoy, a South Carolina Circuit Judge.
The matron of honor was Anne Vandeveer, of Carmel, Indiana. The best man was son of the groom, Tanner Moore, of Parris Island, South Carolina.
The bride is a 1983 graduate of Tullahoma High School. She also holds an Associate of Arts degree from Motlow State Community College and a Bachelor of Science degree from the University of Tennessee, Knoxville.
She is currently employed as the director of marketing for Prescott Bottling & Distributing Co., Inc., as well as the owner of the Sundrop Shoppe & Luncheonette, both in Tullahoma.
The bride's parents are Mr. and Mrs. David C. Prescott, Sr., of Jackson, Wyoming.
The groom is a 1980 graduate of Tullahoma High School and holds a Bachelor of Arts degree from Middle Tennessee State University.
He is currently employed as a sales manager of Watson's Metals, of Manchester, as well as the owner of Pepperidge Farms Distributorship for Coffee, Bedford and Franklin counties.
The groom's parents are Mr. J.C. Moore and the late Mrs. Barbara Bailey Moore.
The couple's wedding trip destination was The Sanctuary at Cap Cana in the Dominican Republic.
The couple resides in Tullahoma.