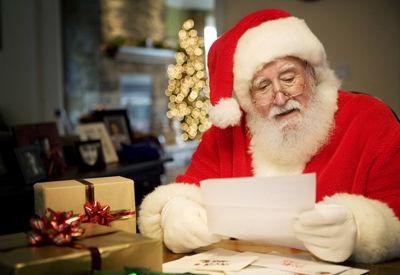 The News is joining forces with Santa Claus this Christmas season to help Tullahoma children get their wish lists to the North Pole and we're asking the community to join in the holiday fun.
There are several ways to participate. Being a jolly – and modern – old elf, Santa has an email address here at The News. Letters can be emailed to san-ta@tullahomanews.com.
For those who prefer a more personal touch, hand-written letters in pen, pencil – or even crayon – will also be accepted. Letters can be mailed to P.O. Box 400, Tullahoma, TN 37388 or dropped off at our office, 505 Lakeway Place, from 8 a.m. to 5 p.m. Mondays, Tuesdays and Thursdays or from 8 a.m. to 3 p.m. on Wednesdays and Fridays.
We will run letters to Santa from children in kin-dergarten through third grade. The letters will appear in the paper verbatim – misspellings and all – in a special section included in the Friday, Dec. 21 issue.
In addition to the children's wish lists, all letters should include the child's full name, age, school, grade and teacher's full name. The deadline for submissions is 4 p.m. on Thursday, Dec. 13.