Breakfest and music lovers will once again be receive a tasty treat this year as BreakFEST will be returning for its second year in Franklin on Sunday.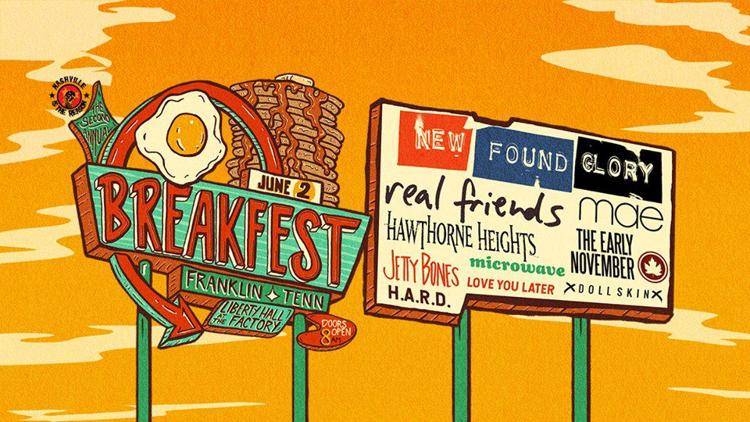 The punk rock festival, formed by New Found Glory guitarist Chad Gilbert, debuted last year and was an instant success. Building off of last year's successes, this year's festival includes a diverse lineup that's once again full of that pop-punk rock spirit that will once again be headlined by New Found Glory.
Doors to the festival, which will take place at Liberty Hall in The Factory, will open at 8 a.m. Music is slated to start at 9 a.m.
As he gets set for the second year of the festival, Gilbert spoke to The News about the upcoming festival, and what fans should be expecting this Sunday.
Tullahoma News (TN): So this is going to be your second year of BreakFEST. Are you excited to bring that back again?
Gilbert: Yeah, I'm so excited. Last year, was the first year, and we kept a lot of people believing in the concept because obviously when you tell people you're going to do a festival that starts at 8 a.m. with a punk band, some people are like, I wonder how that's going to work? And man, it worked so well, you know, and all the fans showed up super early. There was a line out the door by 8:00 a.m., like a line out of the whole building. If you've been to the Factory, you know it's pretty long. It was really exciting the first year and it was so cool. It was everything I'd hoped it would be and even more. I didn't realize how many families would come out.           
It was just so fun, it was really cool. The food sold out and so we're ready for more this year. We got it all stacked up with even more vendors and more food and yeah, we're excited.
TN: You mentioned the vendors right there. Obviously last year the big focus was on getting local vendors, eateries and stuff like that. So who do you have this year, who will be providing food?
Gilbert: This year we got a ton. We have a bunch of people from last time, which is Frothy Monkeys, Honest Coffee, Five Daughter's Donuts, High Brow, Tossing Teas, we have Triple Crown Bakery, but then we added things like ... We added Mojo's Tacos, who are doing breakfast tacos. We've added another place, Tiny Little Donuts, we've added this brand new breakfast restaurant that opened in downtown Franklin called Ruby Sunshine. We added the I Love Juice Bar. We've got tons of new ones. So it's going to be fun. Even more options.
TN: And is the cereal bar still going to be back there again?
Gilbert: No cereal this year... The cereal wasn't as popular as you'd expect. It seemed like people still wanted more warm food and donuts and stuff like that. So cereal wasn't as popular as the rest of the stuff. But maybe one year down the line we could get Kellogg's to come in and just do a giant cereal bar. Who knows? But yeah, we changed that up this year, but we got a little bit more. Cereal bar, everyone was like, "yeah, I can't wait for the cereal bar", but no one did. Everyone went everywhere else. Things were really, really awesome and it went really well.
So there is also Monster Java. You know, Monster makes their morning drink, their Java drink and they're doing a whole cool section this year, bigger than last year. So that's going to be a really fun interactive space where you can hang out and do tech things and stuff like that.
So there's a record store, Luna Records in The Factory, so, I have a couple ... They're not on the main flyer, but we put some acoustic artists between some bands down at the record store. So if you're in The Factory, walking around, you can go down and check out some other stuff in between bands. So, it will be fun.
TN: Well, very cool. You just mentioned on trying to bring in more local artists and stuff like that. How important was that whenever you're picking the vendors and these artists to stay local, to try and make this festival local?
Gilbert: Yeah, I think it's very important. Believe it or not, I'd say at least half of the crowd last year, weren't even from Tennessee. Maybe even more than half. It was all people out of state, they were visiting and they were on vacation.
They were like, "Yeah, I've heard about Franklin, I've heard about Nashville, so I'm going to take my vacation there." So yeah, it's important to really try to represent here and the places here in Franklin and Nashville. And yeah, I mean, of course we've got to bring in other artists from out of town and other things to help the festival go along. But yeah, the core of BreakFEST will always be embracing the local community and promoting the local community.
TN: You mentioned some of the changes this year. Are there more changes that you haven't noted yet that are going to be coming for this year's festival? Or maybe some  stuff and additions?
Gilbert: We have Scout's Barbershop that will be set up there doing ... You know, so many people came with ... So many dudes were there with beards last year, so we got Scout's doing like a beard trimming booth and braids for women and things like that set up like a fair… But, we also have a selfie booth from Nashville Native, the magazine will be there this year. They have a cool selfie photo booth thing set up that they're doing.
We're doing like the first 300 people get a tote bag, which we did last year, but this year we're doing it 300 with enamel pins. So if you're one of the first 300 people you get a tote bag with an enamel pin in there and some other cool goodies. So yeah, we've got a lot of fun stuff.
TN: Yeah, I guess let's talk a little bit about the lineup too, because it's a pretty awesome lineup. Last year you were talking to me a little bit about how you reached out to some of the bands and you were just like, "Hey, we've got this festival going on." This year, was it a little bit easier because you had that word of mouth already from last year to get some of the guys to be able to come out and perform?
Gilbert: You know, it's always tough because bands have tours and schedules. So it's hard to get people to come out to play one show. But we were able to get a really cool lineup… and what I love about our lineups too is the diversity. I guess it's more of a punk scene, but I'd say it's more of a punk rock sort of state of mind ... Or not even state of mind, but maybe punk rock feeling or vibe.
All the bands aren't punk rock. You know, like the community is more punk centered but not all the bands are. So you got like Love You Later, who is more like a dream pop, kind of dance, kind of really cool female artists playing, just really different. May, who is from the early 2000s, sort of emo, tooth and nail thing. And then you get like Hawthorne Heights, who are more of like the screaming, nostalgic, scream-o, for lack of better terms. And then you got like Real Friends, who like a newer pop punk band. Then us, New Found Glory, we've been around for years.
TN: My last question for you is, you sort of brought it up earlier whenever you talked about seeing families out there at BreakFEST last year, how cool is that to see that these fans of yours are starting to bring their families with them?
Gilbert: Oh man, it is, to me, it's so cool. It's so, so great. Just being able to sort of be that for people. I feel like New Found Glory has been that for a little bit now with certain fans. But I feel like to have the festival, the whole day be that, you know? It's really cool. It's really cool.  We got tons of photos last year with everyone just hanging out with their kids at the show. You know what I mean? It's really cool.
For more information about BreakFEST or to order tickets, visit the festival's website at www.breakfest.net.