Beatles-mania flooded downtown Lexington, Kentucky on Saturday, as Paul McCartney performed for the first time in 29 years at Rupp Arena, bringing his Freshen Up Tour to a sold-out crowd of 19,000 adoring fans.
For many, it was a trip down memory lane, as the 76-year old singer and songwriter made sure to pack the classic Beatles' hits into his two hour and 45-minute performance. He also sprinkled in some of his newer songs, including three tracks from his 2018 album, "Egypt Station," into his performance, and it never felt out of place.
"When we play the old Beatles' songs… it looks like a galaxy of stars out there [with people's phones lit up]. When we play newer songs, it's like a black hole," McCartney joked with the crowd before performing "Fuh You" a song off his latest record.   
Oddly enough, the stars came out to shine in grand style during the track, as people rushed to record video and turn on their phone flashlights, maybe partly inspired by McCartney's joke. If that was the case, it genuinely seemed to surprise the singer, as he thanked the crowd, stating "That was really cool."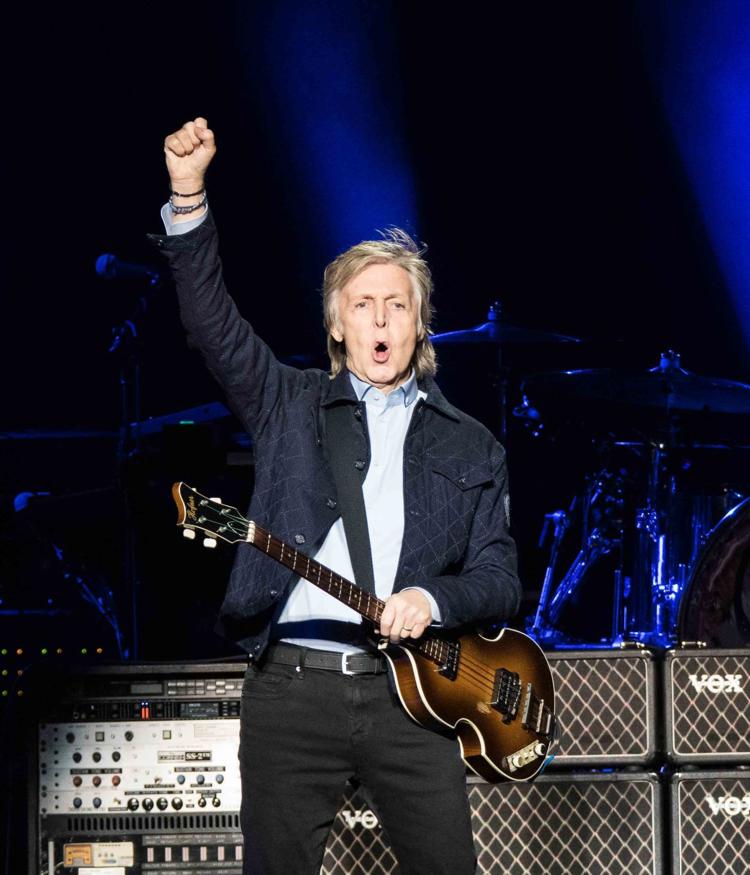 For those who grew up idealizing McCartney, he peeled back the curtain a bit, treating fans to stories from his illustrious 55-plus year career. Some of those tales were hilarious, while some of the others had crowd members searching for the nearest tissue.
On the heels of Wings' classic "Let Me Roll It," McCartney and the rest of his backing band broke into a jam session, one that paid tribute to the late Jimi Hendrix. McCartney followed that by sharing one of his fondest memories of Hendrix.
Just mere days after The Beatles released 1967's "Sgt. Pepper's Lonely Hearts Club Band," McCartney and the rest of band, Ringo Starr, George Harrison and John Lennon, made their way to a Hendrix performance. In honor of The Beatles being in attendance, Hendrix led off his set with a cover of the album's lead song, one that saw him take his guitar wildely out of tune.
That performance was immediately followed by a request from Hendrix to hall of fame rocker Eric Clapton help get his guitar back in tune. That request was aptly shot down by Clapton, as Hendrix was left to fix the mess he created.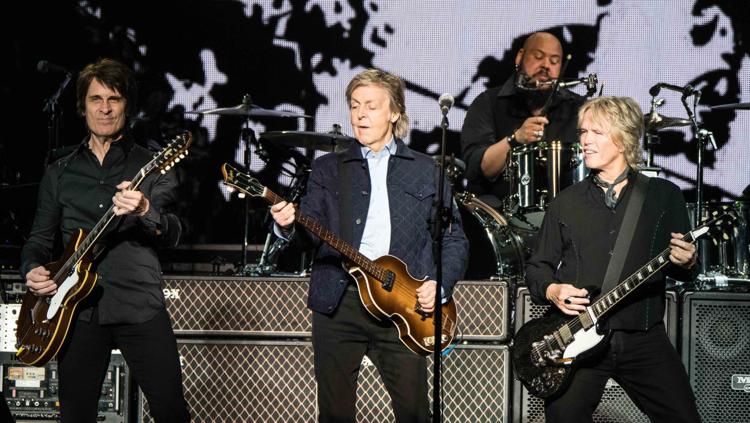 It was moments like that which made for good little quips and endearing stories that led to smiles throughout the night. Then there were the tributes, which tugged at the heartstrings of every Beatles fan.
On top of a platform on the front end of the stage that rose, McCartney stood talking with the audience, honoring the memory of Lennon, his former bandmate and writing partner. The singer then delved into a heartfelt version of "Here Today," a song that written shortly after Lennon was shot and killed in 1980.
During the conversational tune, McCartney professes that he wish he could have had one more talk with the singer, wondering what they might talk about. It was gut-wrenching and powerful, one that had the audience more the most part quiet in order to pay their respects toward Lennon.
That wouldn't be the final homage during the performance. Bringing out a ukulele, McCartney reminisced about his time with Harrison, once again a former Beatle. McCartney then followed by starting a solo performance of "Something," a song that was written by Harrison, who died in 2001 after a battle with lung cancer.
In the middle of the song, the full band kicked in, which was followed by a backing video, as photos of the former bandmates smiling and laughter together flooded the screen.  Those smiles were infectious, but it was hard not to get weepy, as the final picture offered a smiling a Harrison looking back at the audience.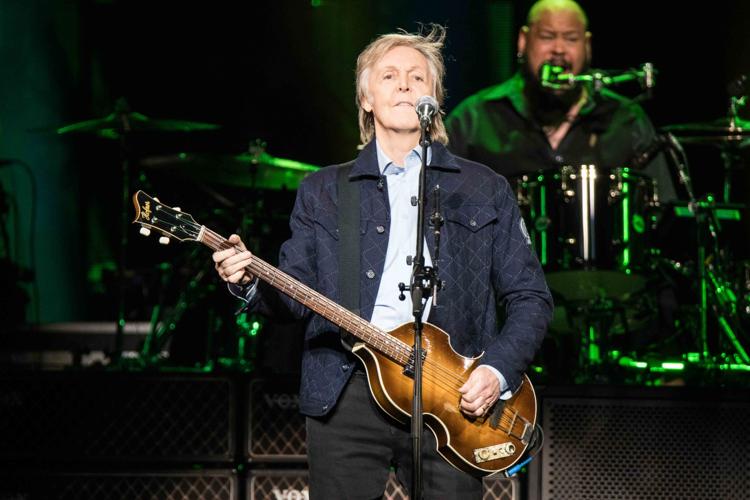 While there were the emotional tributes, there were plenty of celebratory moments on the night, and moments that had the audience dancing. Coincidentally enough, it was the 2007 track "Dance Tonight," that had the crowd grooving, as McCartney took over on the mandolin. During that song, it was drummer Abe Laboriel Jr., who stole the performance, making those in attendance laugh with dance moves.
"All these people have their backup dancers… but, who needs them?" McCartney joked following the song.
At 76 years old, McCartney was just as vivacious as ever, looking fit. Throughout the 37-song performance, he was bouncing around, pointing at fans and genuinely having fun on stage.
Yes, there were times where his voice struggled a bit, as the longevity of the set began to wear on the singer. That's to be expected of any performer though, and for the majority of the set, he sounded precise, and maybe more importantly, he seemed to genuinely be having a blast.
After leaving the stage following crowd-favorite "Hey Jude," McCartney and his band returned for a four-song encore. McCartney led off the set with "Birthday," "Sgt. Pepper's Lonely Hearts Club Band (reprise)," immediately followed by "Helter Skelter," one of the Beatles more hard rocking songs.
The night closed with a three-song medley from The Beatles "Abbey Road" album, featuring "Golden Slumbers," "Carry that Weight," and oddly enough, "The End," which closed out the night. McCartney and the rest of the band then took a bow, before the singer thanked the crowd for coming out, before a wave of confetti cannons doused the audience in streamers, before exiting the stage.  
As the lights came back on, there was plenty of chatter between audience members, including a woman, who looked to her husband, screaming, "That was freakin' awesome." Honestly, it's pretty hard to argue her point.