It may be too on the nose to say, but Austin Richard Post – better known as Post Malone – has reached rock star status, as he proved in his "Runaway" Tour in Nashville on Wednesday night.  
Everything about Malone's performance was done in a little extra way – and that's not a criticism. The night started with a grand entrance and featured plenty of animated performances from the rapper/singer. The show ended with a guitar smashing, before concluding the night with one big celebration.
Let's start from the top. As the lights in the arena went out, the light rig – which hovered over a long runway – rose and the 24-year-old stepped out of the shadows, performing the lead track, "Hollywood's Bleeding," off of his newest record.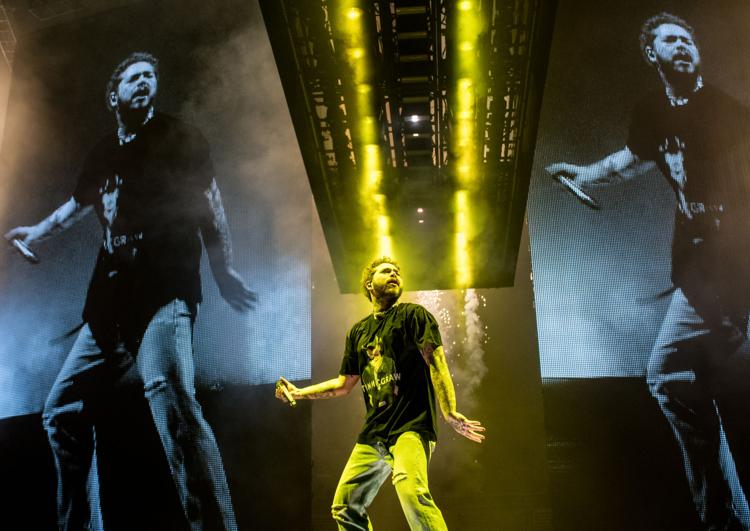 From there, he headed straight into "Better Now," a song that instantly reached the top 10 charts. Turning to one of his bigger hits early was just one of the many ways that he commanded the audience from start to end of the nearly two-hour performance.
"My name is Austin Richard Post and I'm here to play you guys some s-y music and get f-d up while we do it," he said as he introduced the show.
That last part of his opening statement, mixed with animations during some of his earlier performances had fans worried that he had been abusing substances. During Malone's Memphis concert on Friday, he addressed those concerns stating that he's not using and "I feel the best I have in years."
The viral video – which sparked the concern – came during a performance of "I fall Apart." During that track, Malone drops to a knee and wobbles on stage. During his Nashville performance, the singer looked to stay in control of his motions and let the song take over, as he mimicked his feelings expressed in the track.
That wasn't the only time that the night got heartfelt. In fact, early on during his set, Malone paid his respects to the victims that were affected by Monday's tornadoes, which ravaged those in the Middle Tennessee area.   
"I just want to say my prayers and my biggest faith is with everybody here," he said. "Thank you so much for coming out tonight, ladies and gentlemen.  Stay strong, ladies and gentlemen. Thank you so much for tonight."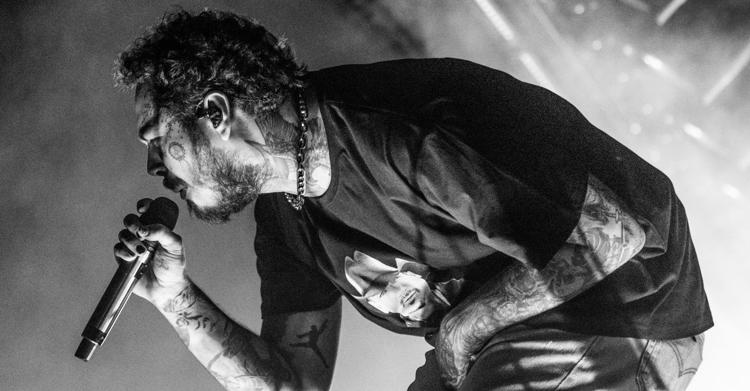 He dedicated the remainder of Wednesday's performance as a "Celebration of life," as he continued onward with the show. The rest of the set featured, and handful of passionate performances including during "Take What You Want," a track that Malone collaborated with Ozzy Osbourne and Travis Scott – although Scott's verse was not performed.
Toward the end of the song, Malone let out a scream similar to those that would be bellowed during a metal track. As the tune reached its pinnacle with a guitar solo, the production opened up, as fire came shooting from the stage, followed by a round of fireworks.
Minutes after that track, Malone stripped down his set with an intimate performance of his song, "Stay." The track featured him sitting on the end of the runway on a stool, playing an acoustic guitar.
That guitar wouldn't make it to the end of the concert on Wednesday. Toward the end of "Rockstar," Malone grabbed the guitar from stage, and smashed it into pieces, stomping on it, before throwing a cup of Bud Light over his destruction.
The night concluded with one final song, as Malone ended his performance on a feel-good note. He ended his performance with 2016's "Congratulations," a tune that he said was about "Living you dreams."
"Each and every single one of you kicks a-," Malone said. "I love y'all so much ... let's celebrate life. Nashville kicks f-ing a- and I know everybody's gonna kick f-ing ass in the f-ing future."