Vans Warped Tour may not have its annual tour this year, but it's almost better that way, as I was lucky enough to cover the 25th anniversary show in Atlantic City, New Jersey, last weekend.
Before last summer, Warped Tour announced that the traveling festival would be heading out on tour for the final time in 2018. However, 2019 would be the 25th anniversary, and with that, festival promoters designated three special shows.
The first of those dates was a one-day special at the Rock and Roll Hall of Fame in Cleveland, Ohio. The final two were announced two-day festivals, one taking place in Atlantic City on June 29 and 30, and the second set for Mountain View, California on July 20 and 21.
With there being limited dates and a celebration, many of the bands who got their start on Warped Tour participated in Atlantic City dates. For me and a lot of fans, it was a throwback to the emergence of pop/punk bands as bands like Blink 182, 311, A Day To Remember, Taking Back Sunday, The Used, The Offspring and more headlined the show.
In total 70 bands played during the two-day festival, rotating on four different stages. There was the main stage, which was neatly designed, rotating after each band performed. As one band was on stage, on the other side, another would be doing sound checks, as there was music round the clock on the main stage.
This past weekend marked my eighth Warped Tour. I started going as a fan when I was a senior in high school in 2006, and this was my fifth year getting to cover the festival as a media member. Here are three things I liked from this year's Warped Tour in Atlantic City and three things that I didn't like.
Boardwalk Empire
One of the coolest things about this year's edition of Warped Tour in New Jersey as the fact that it took place right on the beach. It's been nearly a week and I'm still finding sand everywhere in my apartment in Tennessee.
Despite my messy floors, the beach was the perfect location for the show. At one point, I remember grabbing a drink and just looking out at the ocean, and I had a smile on my face. I mean, who wouldn't smile after getting to enjoy a great concert, with great music, with a great view?
I think Anthony Green, lead singer of Circa Survive, may have enjoyed the beach atmosphere more than I did. During his band's set, Green crowd surfed all the way to the back, where he was then thrown into the ocean, by his choice. Talk about an exit.
Rain, rain go away
Sometimes there is a little hitch in plans and for Warped Tour, there was an hour on June 29 that featured an issue. With impending storms, fans were rushed out of the venue.
Fortunately for the tour and its fans, the show as back on within roughly an hour of the delay. However, that cut a few bands' acts short and led to a few more problems.
Can you hear me now?
As mentioned, when Warped Tour did resume on June 29, there were some technical issues, most of which consisted of mics not working.
During 311's performance, rapper and singer S.A. Martinez's mic was not working for the majority of the set. Despite loud chants from the audience stating "Fix the mic," the band either chose to ignore the crowd, or just wasn't paying any attention. It wasn't until the band's final number when Martinez was able to get things going, as 311 closed out the performance with its hit "Down."
This wasn't the only time after the rain delay when sound was an issue. In fact, during Good Charlotte's performance, lead singer Benji Madden was left trying to get a microphone that was consistently working. To be fair though, Madden's sound never gave out during the set.
When it's time to party, we will party hard
I'm borrowing a line from Andrew W.K., but Warped Tour fans know how to "Party Hard." Every act that I saw was met with numerous fans crowd surfing, making their way to the front of the stage and just having fun.
I caught one fan's face as he ran out of the front of the stage, during a set, and the excitement and joy on his face was infectious. It was a throwback to my high school days and just made me realize how much Warped Tour and how much those musicians on the stage played an impact in my life.
Hold up and wait for me
One of the downsides with Warped Tour, or at least in my opinion, has been the tight schedules. So, this complaint might sound trivial. That said though, with so many bands playing in such a short time, it left plenty of schedule conflicts.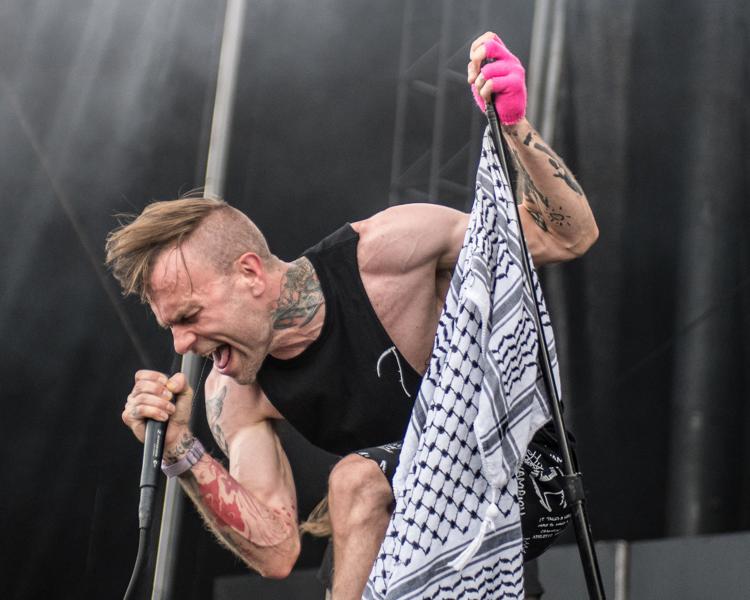 With the beach offered a perfect location to get a show, it also was a little bit of a hassle at times. Especially for those who just wanted to casually watch a set, without missing another.
The stages were spread out not to conflict with sounds. At times though, I had wanted to walk to the other side of the venue to catch an act but was unable to make it, being slowed by the sand and the ample amount of fans in attendance.
Throwback Saturday and Sunday
As I mentioned before, Warped Tour was a definitely a callback to when I really became interested in the music scene. I was a teenager when a lot of the band's on stage were at the height of their careers, or even still making their marks in the music scene.
So, to see all of that across the two-day weekend, was an absolute pleasure. It was fantastic getting to see some of my favorite bands that I grew up with.
While there were several artists that I really enjoyed, Andrew W.K., Simple Plan and Sleeping With Sirens are just a few that were on my list of favorites. While they were good, nothing topped the punky alternative rockers, The Used.
To be fair, heading into Warped Tour, The Used was already going to be my favorite band, because I'm a diehard fan. I remember growing up, and whether I was having a bad day, needed to vent, or even just wanted to jam to something, I would flip on the band's self-titled album and rock out.
Their set on June 30 was filled with nothing but callbacks to their hits and it was fantastic. Plus, there was an unexpected cover, with the band performing Oasis' "Wonderwall," with a punk edge.
I want to say thank you to Warped Tour for having me out to the festival and thank you to founder Kevin Lyman for producing another top notch show. 
This is a column written by Zach Birdsong, who can be reached via email at zbirdsong@tullahomanews.com.