Nine months into 2019 and the year hasn't slowed down at all for Yungblud.
In this year alone, the genre-bending singer and songwriter, has released at least five singles. Two of those new tracks were colaborations with some of music's biggest names.
Yungblue led off the year with a drop of a new single, "Loner," a track that is reminiscent of a 90s alternative rock song. A month later, Yungblud collaborated with pop star and rumored love interest Halsey and Blink 182 drummer Travis Barker on "11 Minutes."
In the summer months, he released "Parents," a politically driven song, stomping out the mentality of the older, less progressive listeners. Shortly after, the singer collaborated with Machine Gun Kelly and Barker, for "I think I'm OK" a short song, where both singers dive into the nasty world of mental illness.
On top of all the releases and mashups, Yunglud also launched a graphic novel, "The Twisted Tales of the Ritalin Club." That graphic novel inspired a second United States tour of the year.
After the first Nasvhille show was a smashing success, Yungblud upped the ante on this go around. This time, the singer brought his "Twisted Tales of the Ritalin Club" to a bigger venue, headlining Marathon Music Works on Sunday night.
Honestly, he couldn't have picked a more perfect venue to perform at on Sunday night. When he played The Cowan earlier this year, the crowd was at capacity, making it at times a little uncomfortable, so much a small venue.
This time, the crowd was plenty full, but yet there was an ample amount of breathing room. So fans got to congregate toward the stage, but there was plenty of room in back to enjoy the show.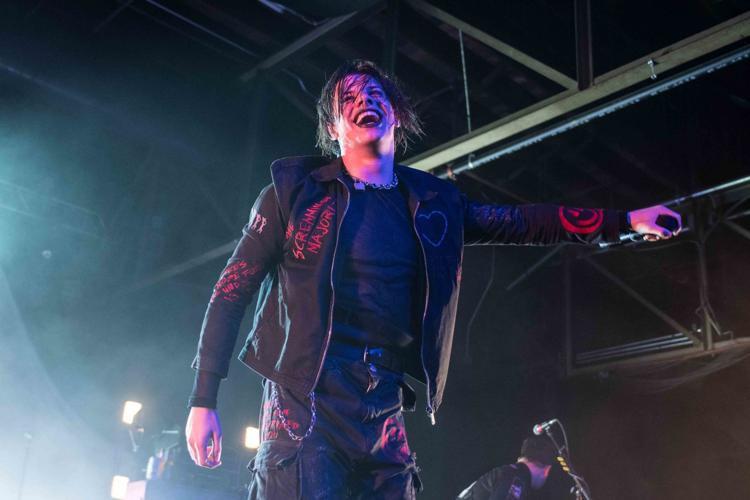 It's also really hard to find a singer who embraces his fans as much as Yungblud. Several times throughout his 15-song set, he paused and thanked the boisterous crowd for their cheers and coming out to catch the show.
"I love each all of you so [expletive] much, man," he told the Nashville audience.
Artists say that all the time, but when Yungblud says it, it feels genuine, as he gives a sheepish grin back to the crowd. Not only that, he proved a little bit just how much he loves his fans.
Just before heading into "Loner," where he was asking for audience participation in a sing along to chorus, he noticed a fan struggling due to the heat. With a second's hesitation, he checked in to see how she was doing, before ultimately having security get her and the rest of the fans water, in order to stay hydrated during the show.
In may have been a simple nonchalant moment that some artists might not even think about later. However, to those in the crowd, it was meaningful, as he truly cares.
At one point during the set, accompanied by his security guards, Yungblud performed a song in the middle of the crowd. His guards built a makeshift stage, blocking off a portion of the crowd, where the singer, took his guitar and played "Kill Somebody," with the audience by his side.
As he continues to further his outreach, it's going to be interesting to see what the future has in store for Yungblud. Already this year, he's built a larger audience, while simultaneously growing his name, so we'll have to wait to see what 2020 has in store for the singer.
Prior to the headliner taking the stage, MISSIO performed a 10-song set, opening the night. Confetti fell from the top of the venue during "I See You," one of the band's biggest hits.
MISSIO closed out their 45-minute set with a crowd favorite "Middle Fingers," which drew exactly that from the audience. While the band received cheers from the audience as it headed off stage, they also received several middle fingers, which in this rare case, was a total compliment.