TULLAHOMA NATIVE RAYMOND HAGOOD TO SPEAK
Raymond Hagood will be speaking on the Historical Perspective of Christianity at the Manchester/Coffee County Conference Center on September 6 and 7, 7:00 each night. Hagood, a native Tennessean, was born in Pulaski and grew up in Tullahoma; he graduated from Tullahoma High School and holds a BA degree from David Lipscomb College. His parents were Mr. and Mrs. Cleatos Hagood of Tullahoma, and his father was a well-known businessman in Tullahoma for many years. Hagood himself is a businessman, writer, editor, lecturer and historian. He currently resides in Steubenville, Ohio.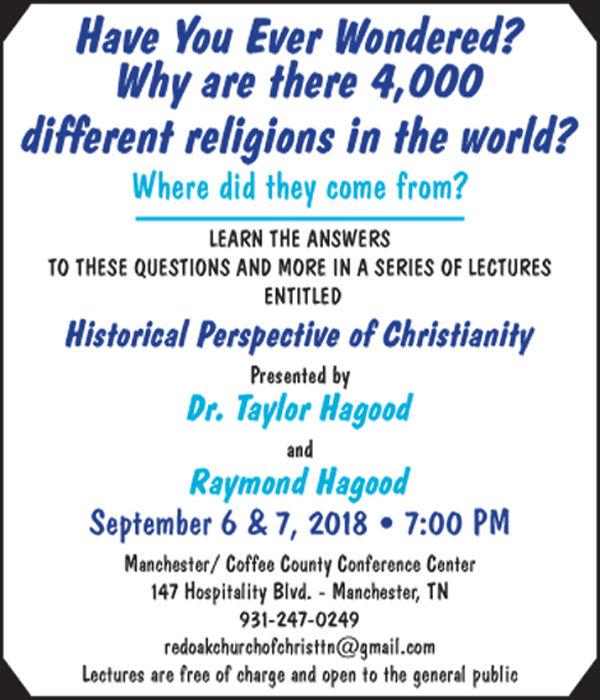 Dr. Taylor Hagood will also be speaking in the September 6-7 event in Manchester; he holds an MA degree from Ohio University and a PhD from the University of Mississippi. He is a professor of American literature and an expert on William Faulkner. As a Fulbright Scholar, he spent a year teaching at the University of Munich in Germany. He, too, is a lecturer, historian, and writer, having published a number of books. He currently resides in Palm Beach Gardens, Florida.
Together, these two speakers over the 2-night period will discuss the historical basis of religions. People start with the recognition that a religion exists, but most of the time have very little understanding of where that religion came from. Yet the origin of religious groups is an extremely important subject in light of the fact that there are over 4,000 different religions in the world, of which only one branch is Christianity. Then an estimated 10,000 different religious bodies claim to be Christian. Not only that, new religions continue to proliferate at a fairly steady pace.
Faced with a confusing array of options in the world of religion, vast numbers of people have little or no knowledge of what has created this situation. These lectures will trace the facts and theory of the origin and development of religion through history and present an understanding of the current state of affairs in the world.
The lectures are free of charge and open to the general public. For more information visit www.redoakcoc.org.