Music lovers will be making the trek to Shelby Farms Park in Memphis on Saturday as the second annual Mempho Music Festival will open its weekend.
After a strong first go, the two-day festival lineup presents plenty of variety for concert attendees. Headliners include Post Malone, Beck,Phoenix, Nas and Janelle Monae, but the bill is stacked from bottom to top. The music history of Memphis will also be included into the festival, as the founders wanted to recognize the city's culture. 
Before the concert got underway, The News was able to talk to Mempho Fest Founder Diego Winegardner (DW) about putting together the second year of the festival, what's new about the festival and what fans should be expecting this weekend. 
TN: It's just a few days until the music festival gets underway. How excited are you to get this underway for the second year?
DW: Oh, we're super excited. We're really looking forward to building up from the momentum from year one, and we think that we've got a terrific line up this year. We've increased the overall programming. We had some great artists last year, but we've got some even bigger name artists this year. And the overall production quality is going to go up as well; our stages are bigger, our lights are brighter, our sound is louder, and we certainly have plenty of visuals for everyone to enjoy as well. So, the overall experience I think is going to be an enhanced from the first year.
Most notably, we're adding camping. So the camping element we think is going to be very attractive to a lot of people that not only enjoy camping but maybe wanting to come in from out of town, and prefer to try camping versus staying in a hotel room.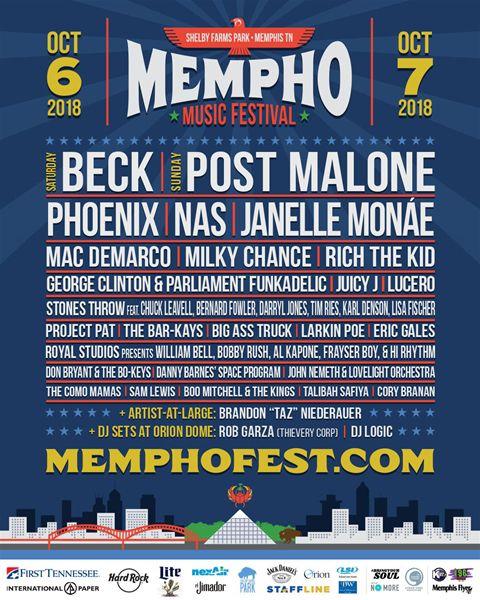 TN: How did this festival come about, because this is only the second year of its existence, right?
DW: Yeah it is. This festival came about really from a bike ride I was on. Visiting with a couple from years ago and reacquainted myself with the city. I had some friends take me on a bike ride on the Greenline from Memphis, which I think didn't exist when I was growing up, and the Greenline took us up to Shelby Farms Park. It was a beautiful day, the sun was setting on Pine Lake and it was a lightning bolt moment. I thought 'Wow, what an amazing setting, this park's incredible'. It had just gone through a $70 million redevelopment, so it was in pristine condition, I think the nicest urban park in America.
And then I started to think about all that great rich history of Memphis music and that legacy, and its place in American music. And I thought Memphis deserves a world class music festival and this was the perfect site for it. That was how the idea came about. That was about two years ago. It took about 4 months to put the festival together. We were really pleased with the outcome of that first year and the fans seemed to really enjoy it. So we just wanted to build on that momentum and enhanced experience in there too.
TN: You sort of mentioned integrating the culture of Memphis. How were you guys able to do that for this festival?
DW: Well, it started last year, so we decided that every year we wanted to tribute some aspect of Memphis musical history. So last year we did a tribute to Stax Records. We had a reunion between Booker T. Jones and Steve Cropper.  It was very cool. Eddie Floyd was there with Stax artists. We had John Popper and his travelers. We had Jason Isbell, who was one of the headliners last year for them.
It was really a very cool moment when we decided let's just do this every year and let's find an aspect to tribute every year. The music history is so vast, the music catalog is so incredibly deep and broad for musical genres that we could spend the next 100 years doing tributes and we still won't get to the bottom of that list of great contributions from Memphis artists.
So this year we decided we're going to tribute Willie Mitchell's Royal Studios, which is now Boo Mitchell, his son. He has the masterful job of keeping that legacy and that studio alive. Boo most recently produced and recorded 'Uptown Funk' with Bruno Mars at Royal Studios. That studio is really quite legendary and if you've never been I'd highly recommend visiting. That's where Al Green had some hits from out of that studio.
So this year, it's Royal Studio, we're visiting some aspect of that. But also we're creating a platform for a lot of local artists and current musicians that live and work in and around Memphis. So a lot of talent there. We just want to provide a platform that will allow them to showcase their music.
TN: You mentioned the music part of it. I also wanted to ask about the food aspect of it as well, because those are a lot of local eateries that you guys have brought in. So how good was it to incorporate those eateries into the festival?
DW: I think it's an important part of it. We don't believe a music festival is just about music on the stage. It really has to be a complete experience and so food for us is a very important component to provide an enhanced culinary experience to the festival. So that we're not just about corn dogs and beer. We are able to showcase all of the amazing flavors and tastes and culinary experiences and from here in Memphis.
We'll have a dozen or so food trucks. Karen Carrier is one of the top chefs in Memphis and she's done an amazing job developing restaurant souvenirs, and has a great catering service. She's over the VIP/Super VIP culinary experiences. We're going to provide as much of the great food of Memphis that we can.
TN: I guess my last question for you is, for those who are heading out there for the first time, what are some of the things that people should be expecting or things that maybe they should know beforehand heading into this festival?
DW: If you haven't bought your tickets you might want to do so, because the tickets actually go up as you get closer to the show. I would say come prepared if you're going to camp out, make sure to bring clothes for both daytime and nighttime. It can get a little chilly at night. We're going into October. October is a cool month of the year in Memphis, in the south, I think the weather should be great.
Come prepared to have a lot of fun and we have an in and out policy so you can go visit other aspects of the park. There's tons of activities to zip lining, to kayaking, fishing, canoeing etc. There's hiking. There's a lot of things to do at the park.
Or if you want to go toward Memphis and visit all the great sights from that rich musical history here, from Graceland, to Sun Records, to Stax, to Beale Street, the Blues Museum. There's just so much to see in Memphis if you're a music fan that it should be a great weekend.
So, if you're planning on coming to camp, you can come in on the Friday night and leave Monday. So you can actually camp for three nights, unless you're going to come in and stay in the city. That would be an important point to make, is that campers can come in on Friday night when the festival doesn't start until Saturday.