5 Loaves 4 Kids is a local nonprofit organization that provides a food bag to students with a breakfast, lunch, dinner and two snacks to bring home every weekend to ensure that they have proper nutrition.
"In our small and wonderful town a serious and very real problem exists. Many of our school children go hungry each weekend as families struggle to stretch their dollars in order to provide food for them," according to their website.
The organization began in 2007, when a local teenager named Chandler Lawson heard about a similar program started by a teacher at a large inner city school providing food to children who had little or no food at home to eat on the weekends. After finding out that Tullahoma had a need for this as well, Lawson, with the help of school personnel, was able to identify a large sum of children who were in need of the program.
Lawson began a pilot program and in the fall of 2007, TCS Nutrition Director Jan Moore teamed up with retired elementary school counselor Jeannie Williams to expand the pilot program into an established nonprofit.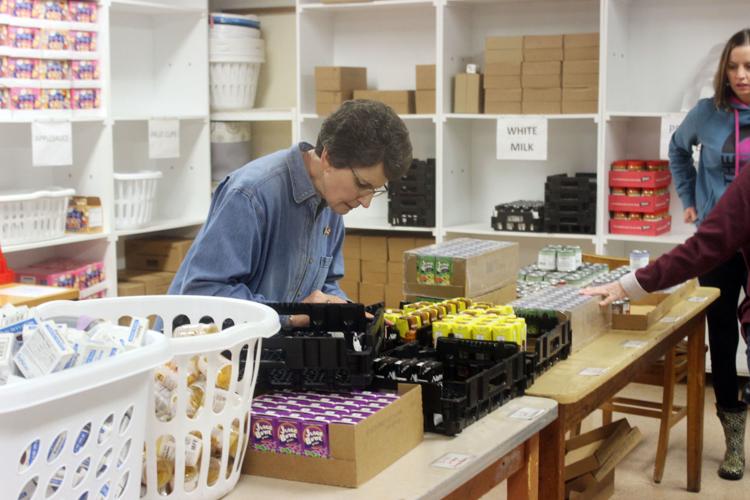 According to their website, a needs survey was completed at each school, a board of directors was formed and funds were solicited from local churches, civic organizations, business and individuals. The organization has been growing ever since. There are currently nine board members.
Different organizations within the community including SmartBank, the Lions Club and more come by weekly to help out with bagging the items as well as restocking the shelves with food products and unloading the truck.
The team and volunteers assemble at 8:45 a.m. in the old West Middle School building.
"It is like a whirlwind because we all get here and there is a cyclone of people in a tiny room," board director Jessica King said. "But we all know what we are doing so we get it done within 30 to 45 minutes."
 "We buy from Second Harvest here in town through donations. We have a whole list of corporate sponsors and supporters," King said. "But the bulk of all of the food comes from Second Harvest."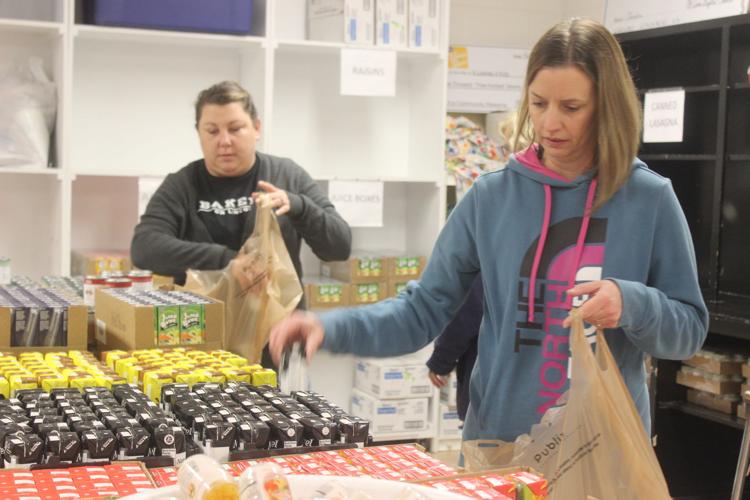 "Tennova provides raisins for us. We purchase our own apple sauce. Trader's Bank purchases pudding for us with donations from the community," she said.
"Having help unloading the truck is a huge relief because we have approximately 3,000 pounds of food every month," King said. "Second Harvest delivers to us and we appreciate volunteers coming down to help us unload it."
"We deliver around 200 food bags total to every school within Tullahoma City Schools," King said. "The alternative school students in the building are kind enough to come down and help us out sometimes as well. We are very thankful that their teachers allow them to do that because there is a lot of heavy lifting involved in this process."
"There are still a lot of people in town that do not know we exist," King said. "To me, that is a little sad because we could always use more volunteers and if more people knew about us, we could reach even more children in need. We are a population of 20,000 people and I do not feel like there are only 200 children that need help."
Every school has a liaison that 5 Loaves 4 Kids stays in contact with. "At a lot of the schools we liaison with the counselors," King said. "However, a cafeteria worker, teacher or anyone at a school can identify a child that may be in need and all they have to do is get one of the sign-up forms to the student to take home and get a parental signature. That is all it takes. We do not know who any of the kids are. We only get a number from each school of how many bags they need."
For more information on how to get involved or make a donation to 5 Loaves 4 Kids, visit www.5loaves4kidscharity.com. Those interested can also donate by selecting a percentage of their purchase at Kroger to go directly toward the nonprofit when they shop with their Kroger rewards card. Users who shop with Amazon Smile can also chose to donate a portion of their purchase to go toward the organization at checkout.