Not everyone has famous friends. Not everyone utilizes those famous friends in a plan to propose to their girlfriends.
But Tullahoma's Matt Lawson isn't everyone.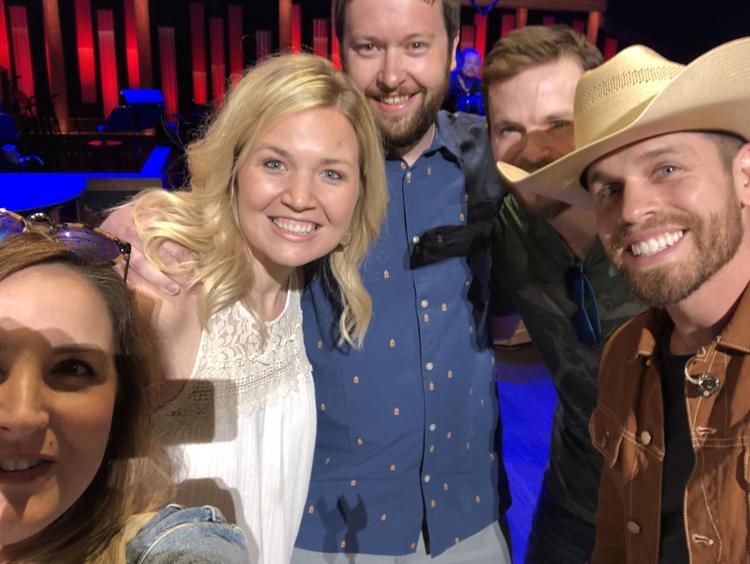 In a now-viral video, the East Middle School seventh grade teacher asked the love of his life to marry him on the stage of the Grand Ole Opry, and he had the help of country music star Dustin Lynch in pulling it off.
Modern beginnings
Lawson and his fiancée, Courtney Aldrich, met the way many Millennials do – on a dating app.
While the idea of online dating or dating services is not a new concept, the evolution of smartphones has seen a number of new dating applications gain popularity.
Apps such as Tinder, Bumble, okCupid, Hinge and more connect people all over the world, including Matt and Courtney.
"We met online," he said. "It works!"
Their courtship has been going on for a little more than a year, Lawson said, and he'd had the idea of proposing around this time.
He let the idea slip to Lynch, who he and Aldrich were going to see perform in Nashville with some friends.
"It was my plan to do it that night, but it was [Dustin's] idea to come up on stage," Lawson said.
A pal's plan
When Lawson told Lynch he was planning on proposing that night, Lynch took over and came up with the idea of having the couple on the stage.
"He was like, 'Well, we can do it before the show or during the intermission – you can come out to The Circle and it'll be kind of a quiet, intimate thing – or you can do it in front of the studio audience,' and I was like, 'Well, let's go big,'" Lawson said of the plan.
Lawson said he and Lynch had been communicating for more than a week about the initial plan. Lawson admitted he gave Lynch an out if the country star didn't want to interrupt his set, but Lynch brushed off the concern.
"I was texting him the last few days of my school, 'Man, I really appreciate this. I hope you're excited about it. If you want to do something different, we totally can,' and he was like, 'Dude, let's do this. This is awesome,'" Lawson said.
It was certainly a "go big or go home" moment for Lawson – that night was his first ever visit to The Opry.
"It was my first time ever being at the Opry, so that was exciting," Lawson said.
He and Aldrich were able to spend some time backstage and in Lynch's dressing room, Lawson added, though he was nervous about the big moment.
"When we first got there, we were walking around backstage and then we were kind of off to the side [of the stage], just Courtney and I, to where we could see [the performers and the audience], and that's when I realized, "There's a lot of people here. This is a big deal,'" Lawson said.
Courtney's side
For her part, Aldrich said she hadn't really suspected that the moment would come at that time.
"I was hoping it was going to happen soon, but I had no idea that Matt would pull off what he pulled off – had no idea it was going to be in the historic Circle at the Opry," she said.
In an interview two days after the proposal, Aldrich said she was still "speechless" and in a state of "shell shock."
That day had been an ordinary one, by her typical standards. The summer is a "really busy season" for her, professionally, so she had been in a rush to get home when Lawson said he had a surprise for her.
"Matt told me that night… 'I've got a surprise for you: Dustin was able to get us backstage passes,' So I thought that was the big surprise," she said.
Aldrich said she'd noticed Lawson acting nervous for most of the night. While she now knows what brought on Lawson's nerves, she said she originally thought he was nervous to be on the stage at all for the photo.
"Looking back I recognize why Matt was sweating so much and why he was pacing so much that evening," she said with a laugh.
The big moment
Under the guise of taking a selfie on the famous Circle on the Opry stage, Lynch called the couple and their friends onto the stage in front of thousands of people.
They all crouched together for the photo, then Lynch handed off a microphone to Lawson, who immediately dropped down onto one knee to ask the woman he loves to marry him.
"As soon as Dustin handed me the mic, I was like, 'Okay, I've got to talk.' And I didn't go a good job of waiting, because I went down on the knee and started talking instead of waiting for the crowd, because they kind of erupted," he said. "Nobody could hear. It was kind of garbled talk."
In the end, the crowd noise and the "garbled talk" didn't matter, because Lawson got the question out and received a "yes" from Aldrich.
Lawson proposed to the cheers of several thousand people in the crowd, including his parents, who recorded the moment for Lawson's family, as well as two of his best friends from high school.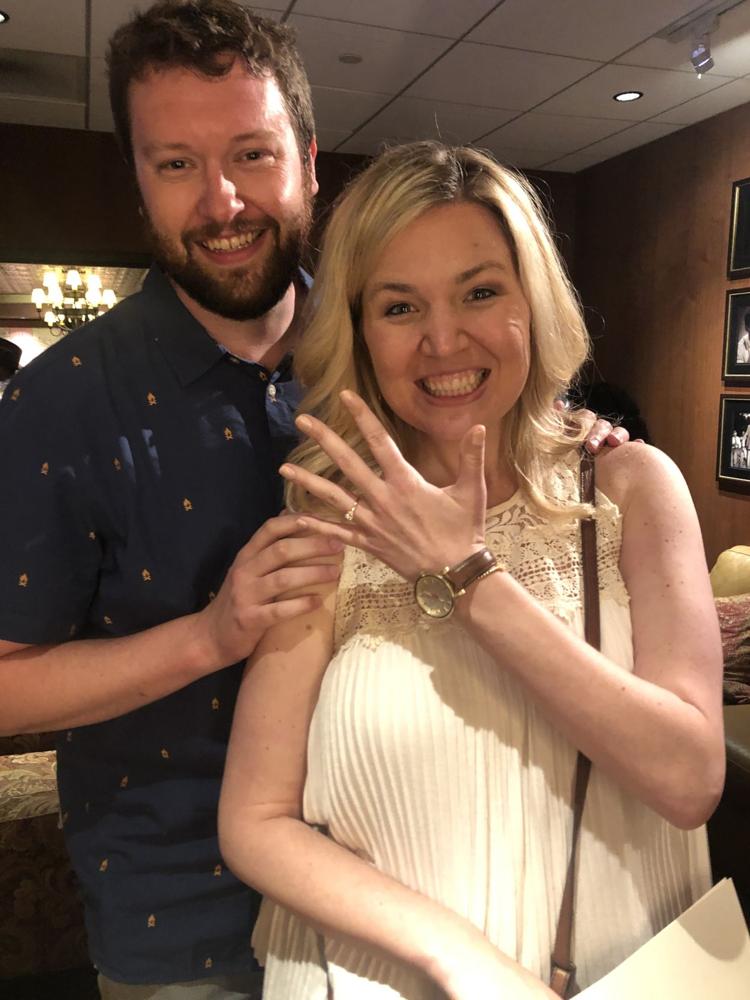 Reaction
If you watch the video on The Opry's Facebook page, Lawson is correct about the "garbled talk." As soon as he moves down onto his knee, the crowd erupts into shrieks and applause.
One can barely make out a soft, "Will you marry me?" before Aldrich and Lawson embrace on stage.
That night and since, Lawson said the reaction he's gotten from friends, family and social media followers has been nothing but positive.
"[I got] lots of feedback on Twitter; lots of feedback on Instagram," he said with a laugh the day after the big moment.
He saw that The Opry itself posted the video onto Facebook and made mention of it on Instagram, which he liked.
"That was so cool, and it was a great shot, too," Lawson said of the image on Instagram. "It was Courtney – her face up there on the JumboTron, and when you click down on it, it's got me on my knee in the Circle. It was a surreal thing."
He's also heard from some of his East Middle School students, as he'd let the plan slip to a few of them before they let out for summer break.
"I told a few of my students the last couple days of school last week, so they were excited, too," he said.
Both Lawson and Aldrich are excited to being the next phase of their lives together.
"I get to marry the love of my life – I'm very thrilled," Aldrich said.
Check out the moment it all happened here:
Erin McCullough may be reached at emccullough@tullahomanews.com.