The cola wars have no place in Jim Raabe's home.
There, vintage signs advertising Coca-Cola share the same wall space as classic displays for Pepsi. Hanging alongside signage for these rivals are colorful ads once used by now-defunct soft drink companies to catch the eyes of potential customers.
These signs surround shelves and cases containing toys and trinkets from decades past.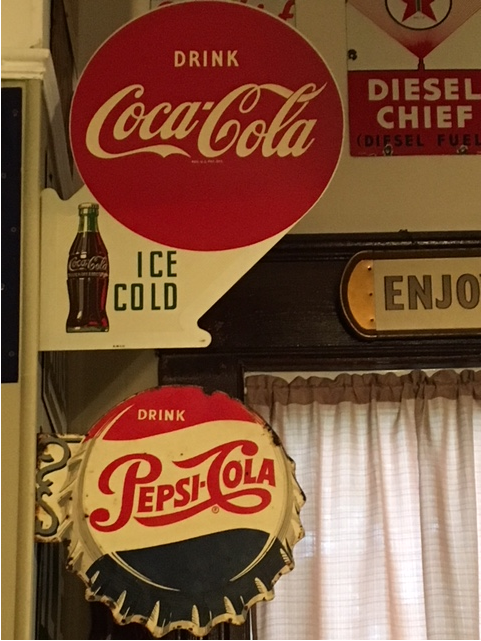 Along with the sights, there are sounds. With just a few cents, one can spin a record from the swing era on Raabe's still-operational 1936 Rock-Ola jukebox.
Raabe likened entering his Coffee County house to stepping into a museum, and that's just the way he likes it.
For nearly 40 years, Raabe has searched shops, markets and sheds throughout the land in search of antiques and, during that time, he has managed to amass a considerable collection.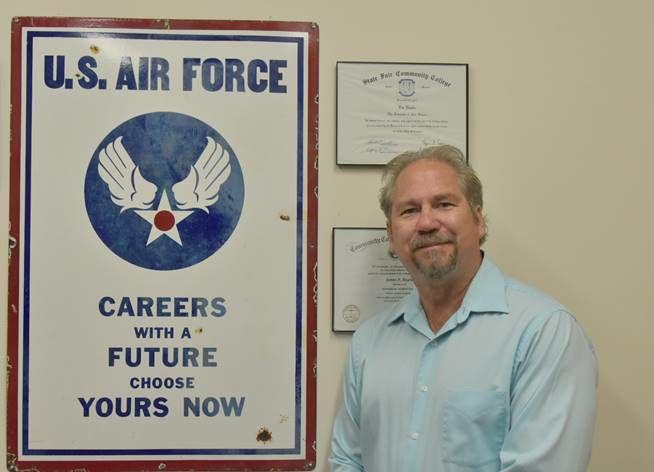 Raabe, who has been employed at Arnold Air Force Base for almost 15 years and currently serves as the Capital Improvements Branch Systems Safety Program manager, was first introduced to antiquing in 1981.
"A friend of mine turned me on to it, and I quickly fell in love with old things and associated myself with them, to the fact where my wife and I have a Victorian house now and it's full," Raabe said. "It looks like a museum inside."
Raabe added his wife Beth has supported his hobby, came to enjoy the search and has since amassed collections of her own.
Raabe was initially interested in collecting classic Coca-Cola signs and other antique Coca-Cola memorabilia. Coca-Cola was first introduced in 1886. Raabe said this longevity, coupled with the prolific advertising for the soda, meant that there was plenty of Coke collectibles for him to get his hands on.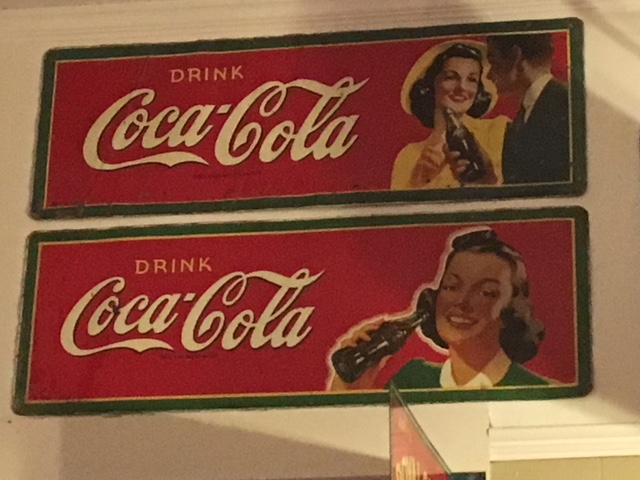 To get the cash for some of the rarer items he wanted, Raabe would often purchase antiques unrelated to the pop and later sell them.
"To help pay for my collection, I bought other things and sold them for profit so I could buy what I wanted," he said. "So most of the hobby has paid for itself."
Eventually, Raabe expanded the breadth of his collecting to include any and all antiques he found interesting, with a particular focus on acquiring old signs advertising a wide variety of products.
Much like the crew on the "American Pickers" TV show, Raabe has spent time rummaging through homes and barns throughout the country in his search for interesting items and classic curios. Raabe has "picked" in South Dakota, Missouri, Maryland, Nevada, Tennessee and throughout the east coast of the U.S.
"I just knocked on doors when I saw something hanging on fences or garages and made offers," he said.
Along with his bevy of signs advertising soft drinks and gasoline, Raabe is particularly proud of an Air Force recruitment sign from the 1940s. Raabe has displayed the sign in every office in which he has worked since purchasing it. Also included in his gamut-running antique collection are furniture, gumball and peanut machines, pinball machines from the 1930s and other coin-operated devices, and other items that date back to the Civil War era. He also owns some Camp Forrest and early Arnold Engineering Development Complex (AEDC) collectibles.
Raabe said his collection is fluid, as he hangs onto items he finds especially interesting while selling others when the profit is acceptable.
"For the collector, what's the thrill is not just finding a rare item, but finding something and then reselling it for a hundred times more, sometimes, than what you buy it for," Raabe said.
As an example, Raabe recalled the time he purchased a pair of 42-inch signs for $75 each. The porcelain signs were mostly covered with paint. However, the few uncoated areas revealed to Raabe what was originally displayed on the signs. With some chemicals and a little elbow grease, Raabe was able to remove the most-recently applied layers of paint to uncover the NASA logo on each sign. These signs were originally hung around NASA buildings.
Within a week of acquiring them for a total of $150, Raabe was able to sell the signs for $3,000 apiece.
"It's those kinds of deals that keep people going," Raabe said. "Sometimes it takes work to discover the value beneath the surface."
Raabe said the people he has bought from over the years have, overall, been accommodating and easy to work with. He said sellers are a big part of the appeal of the hobby, as they often share the story of how they came into possession of the antique they're now looking to part with.
"It's the people and the story that make it interesting, as well," Raabe said. "I can remember almost where I got every single sign. I've got that kind of memory when it comes to that kind of stuff because I can associate it with people, places and experiences."
And Raabe has shared a story or two himself over the years. From 2005-09, he owned a store called Tullahoma Antiques. He has also maintained booths in several antique stores.
Raabe said he still occasionally goes out scoping for a deal but added the antiquing hobby has changed, as modern advancements have affected the hobby of collecting the old. While the internet has driven down the costs of some items, as it has been discovered such items are not as rare as once thought, it has also led to significant increases in the prices of other antiques. Raabe said this is especially true of vintage signs, which have continued to increase in popularity since he began the hobby.
"Stuff I used to be able to buy for $100 or $200 is now $3,000 or $4,000," he said. "Nowadays, auctions can sell signs for more than retail. It's crazy."
Despite these higher costs, Raabe said he would recommend antique collecting to anyone looking to pick up a new hobby. He said not only has collecting been an investment for him, but it is also a great way to establish friendships.
"It is fun to share your collection with someone who understands what you have and appreciates the effort that was taken to find it," Raabe said.
Raabe does encourage those thinking about taking up the hobby to do their homework and learn about the items they wish to collect. He said there are resources such as books and websites that will help prevent buyers from purchasing items designed to deceive collectors.
Raabe is soon departing AEDC and the area for another position so he can help with aging parents, who have also supported his hobby over the decades.
"I loved the mission, the opportunities and the people at AEDC," he said, "but it's time to make a sacrifice for those who mean so much to me."