For the 11th year, the Tullahoma Downtown Lions Club invites the community to ring in the holiday season with a musical concert presented by the Tullahoma Civic Choir.
Again under the direction of retired THS music teacher Ann Baldwin, the 80-voice choir will present "Celebrate in Song – Jesus is Born!," a variety of choral arrangements both sacred and secular at 7 p.m. on Saturday, Dec. 1, at Grace Baptist Church.
 The program, Baldwin said, consists of challenging repertoire from "some of the best composers and arrangers of choral music" including Dan Forrest, Craig Courtney, Howard Helsey and Mark Hayes.
Soloists this year include Zoe Stinson and David Woodfin; Mark Bymaster and his daughter, returning soloist Anna Bymaster; Kristie Beavers; Erica Petersen; Geron Brown; and Michael McGee.
Pianist Vickie Collinsworth and percussionist Kyle Copeland have returned to provide accompaniment, joined by fellow pianist Lisa Maurer and a host of instrumentalists.
"We are fortunate to have wonderful instrumentalists accompany the choir," said Baldwin. "They will also perform in the middle of the concert."
Those instrumentalists include David Bethea and Doug Clark, trumpet; William Bridges, French horn; John Harris, violin; Lisa Maurer, viola; John Cook, guitar; Baily Johnstone, bass; and Todd Nichols, flute.
Doors will open at 6:30 p.m. Visitors are advised to arrive early as seating in the sanctuary is limited.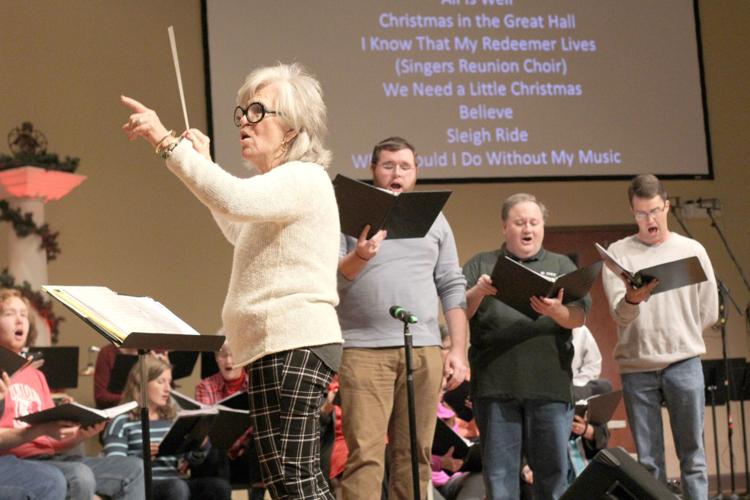 Admission to the concert is free but donations to the Lions Club are encouraged.
The concert is part of the Lion's Club budget, but with the aid of donations it often becomes a self-sustaining operation, freeing Lion's Club monies to support a number of local nonprofit organizations.
Though Lions Clubs are best known for fighting blindness, the Tullahoma club also supports organizations such as Horse Play, Inc., 5 Loaves 4 Kids, Partners for Healing, and Toys for Tots.
The Downtown Lions Club meets at noon on Wednesdays at Lakewood Golf and Country Club. Anyone interested in joining the club is welcome to attend a weekly meeting.
The club and choir say they are again "very grateful" to the members of Grace Baptist Church for allowing the use of their facility for rehearsals and public performance. For the 12 weeks between the Sept. 10 first rehearsal and the Dec. 1 performance, the church opened its doors to weekly choir practices and provided microphones to the singers.
Donations of non-perishable food items for Grace Baptist Church's Attic Outlet will also be accepted the night of the concert.
The church is located at 1901 Ovoca Road.
Kelly Lapczynski may be reached by email at klapczynski@tullahomanews.com.