As he continues his filmmaking journey, Tullahoma High School student Colin Shuran now has physical accolades to display for his efforts.
Colin took part in 54 Film Fest, a limited-time, Murfreesboro-based film festival, at the beginning of this month, adding another short film to his portfolio and taking home a runner-up award for one of his actors.
Colin's suspenseful short film, titled "Burn," went up against 22 other short films in the festival, garnering him three nominations and one award earlier this month.
This was Colin's second entry into the 54 Film Fest, he said, and another great experience for the budding filmmaker.
"It's a great experience for a young person like me, and it's really a ton of fun," he said of the festival.
Under pressure
Films, even short pieces like the ones Colin makes, can frequently take multiple days or even weeks to complete, depending on their complexity, Colin said, but being able to produce something he was proud of in just 54 hours was an invaluable learning experience for him.
"Being put under a small time limit for something that usually takes weeks to prepare for is a part that makes the festival really exciting for me," he said.
Per the rules of the 54 Film Fest, production teams have just 54 hours to write, direct, edit and submit a short film approximately two to five minutes long.
All the teams attend a concept meeting at MTSU and are given certain parameters for their films – a specific line of dialogue that must be used, a particular action one of the characters must perform, a specific prop that must be utilized at some point and a specific genre. Once teams have the information in hand, the clock starts and teams immediately begin work on their creations.
According to a blog post on his website, Colin said it took him about four hours to come up with a five-page script for his film.
Filming took place the day following the MTSU meeting, according to Colin, and took around five hours.
"That's five whole hours of footage, yet only a five-minute film produced in the end," Colin said.
After filming wrapped, the "hard part" was editing all the footage together. It took approximately seven hours for Colin to completely edit his film, working from 6 p.m. to 1 a.m. to put things together the way he wanted it.
"I had my crew sit behind me and watch me do the magic," he wrote. "They were amazed but slightly confused about how the process worked. They were awestruck by the fact that it took me an hour to edit the first 30 seconds of the film."
54 Film Fest
According to its website, the 54 Film Fest was created in Knoxville by "perennial timed film competitor" James Thayer in the summer of 2011. Soon the competition was expanded to include the Murfreesboro area and has since allowed thousands of filmmakers to network with each other and inspired hundreds of short films.
Film screenings for the "spontaneous movie making experience" have taken place in multiple theaters in the Middle Tennessee area, including Wynsong 16 and Premiere 6 theaters in Murfreesboro, the Hollywood 27 in Nashville and its newest home at the Malco Smyrna Cinema.
The festival bestows awards for several different categories, including best picture, best direction, best cinematography, best editing, best writing/story, best make-up, best visual effects, best actors and actresses and more, with runners-up also awarded in each category.
More information on the festival can be found at 54filmfest.org.
Screening and awards
Colin's film, along with all the other entries, were screened at the Malco Smyrna Cinema on Tuesday, March 12. Awards were given out following the screening block, Colin said.
"Burn" was nominated for Best Visual Effects in both the student and overall categories, Colin said. His lead actor, Jeff Banks – a first-time actor, according to Colin – was also nominated for Best Actor at the competition.
Though "Burn" lost out on the visual effects award, Banks received a runner-up award for his category, something Colin was particularly proud of. His other actor, Vollie Stone, wasn't nominated, though Colin said Stone "is also Best Actor in my book."
When asked about the audience reaction to his film, Colin said he was proud to garner the reaction he did.
"The reaction that I mainly noticed was strong applause, but I was more pleased with the 'ooohs' that followed after the twist-like ending," Colin said. "It was really cool to hear everyone clapping, of course, but it was even cooler to hear the people around me going, 'I did not expect that.'"
Comments like those, he said, confirmed that Colin told his film's story well.
"I was happy to see the audience enjoyed it," he said.
Colin also took to heart the constructive criticism of the judges for the festival. He said the judges gave him "the answers for what was done off screen," and told him what things he's doing well and what things he might need to change as he moves forward in his filmmaking career.
"I do appreciate all the feedback from all the judges … and will consider their suggestions for future films," he said.
Colin has already learned some lessons from his previous visit to the festival, including how to better edit his films, he said.
"I definitely learned how to tell a better story and definitely learned how to edit better and [to tell] the story through the edit rather than through the dialogue," Colin said of his previously-learned lessons.
Even before the screening took place, Colin knew he had become a better filmmaker just for going through the process again.
"This opportunity has granted me with the experience and knowledge I need to keep creating films in the future," he said in his blog post. "I'm really passionate about it, and I get really passionate about this festival, too. It means a ton to me for people my age to be granted with amazing opportunities such as this one."
When asked if he wants to continue submitting films for the 54 Film Fest, Colin enthusiastically confirmed he would.
"This experience will only help me get better, regardless of the outcome," he said.
Where to find Colin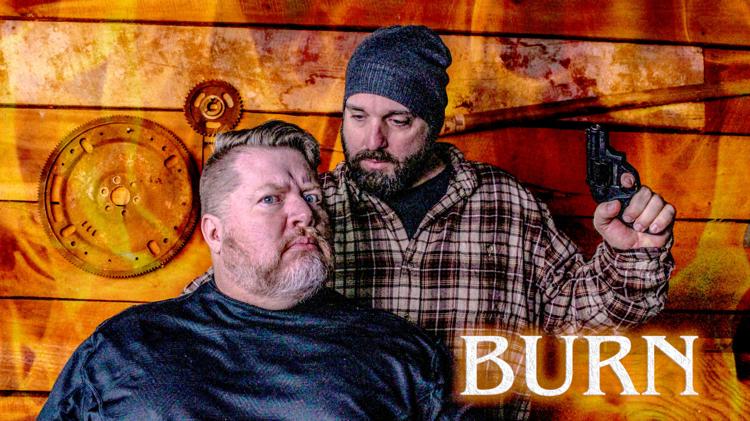 "Burn" is available to watch on YouTube. Visit youtube.com/colinshuran to view it and Colin's other films. Colin can also be found at colinshuran.com, as well as on social media @colinshuran.
Erin McCullough may be reached at emccullough@tullahomanews.com.