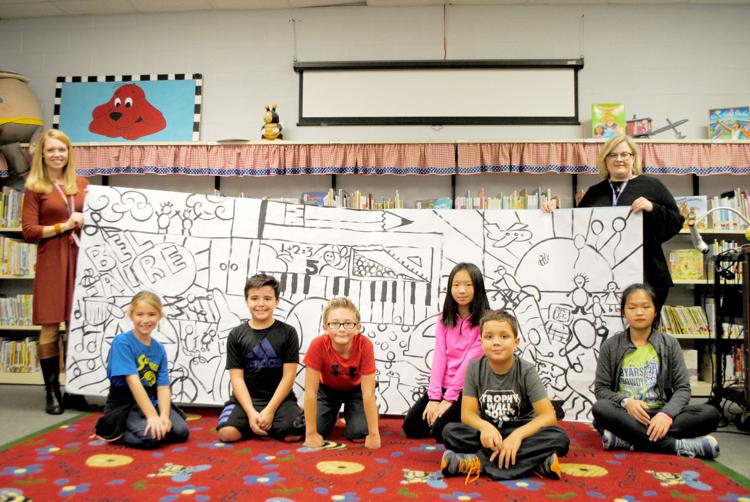 Isn't it crazy when you strike up conversation with a stranger and you realize that the two of you have more in common than you thought? From the people you know, the places you've been and the things you like, it's easy to see that the world isn't such a big place after all.
Students at Bel-Aire Elementary School are currently discovering that the world is much smaller than it seems, and they're doing it creatively.
Bel-Aire students are working on a collaborative art project with other students throughout the country. All students are reading the book "Maybe Something Beautiful" by F. Isabel Campoy. This book is based on a true story about how a mural changed a dreary section of San Diego into a beautiful work of art. In doing so, the mural not only brought color to the city, but it also brought the community together.
In conjunction with reading the book, the students are creating and painting their own mural. This mural will be cut into nine sections and will be sent to schools all across the country. Once a school receives its piece of the mural, they will paint it and return it to Bel-Aire. At the end of the project, the students will have a completed mural that has traveled around the country, thus bringing students from all over the United States together to create something beautiful.
In addition to the mural, students at Bel-Aire are making connections virtually with other students across America. On Thursday, Nov. 1, Bel-Aire's fifth-grade students participated in a mystery Skype. During this mystery Skype, students on both sides of the conversation were given maps of the United States, and they had to ask each other questions to figure out where other class was located geographically.
In this particular mystery Skype, students virtually met third-grade students from Van Meter Elementary located in Iowa. Students asked questions relevant to figuring out their geographic location, as well as questions about their culture – about popular foods, accents and weather. Students were able to obtain a tiny glimpse of how people around the country live.
This mystery Skype took place in the school library where students were able to see their virtual guests on a projected screen. This allowed the students to feel like they were actually face-to-face with the students of Van Meter. Both sides were able to talk and laugh together while discovering new things about the country and the people who live in it.
"This is such a great opportunity for our students to connect with other students across the country," said librarian Lisa Winton. "Some students don't get to see much outside our town of Tullahoma, and it's so great for them to be able to communicate with other kids around the United States. This is the perfect way to see that there are many similarities that connect us all even if the other person is many miles away."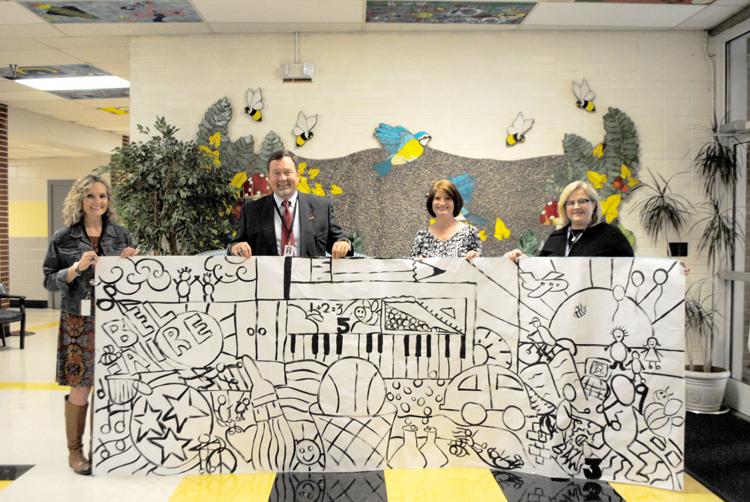 However, Van Meter Elementary wasn't chosen by accident. To show students that connections are easily made, the district's director of schools, John Carver, was present during the Skype call. At the end of the call, Carver explained to the students that he used to live in Van Meter and was the director of their school system at one point, too. Thursday was Carver's first day on the job as Director of Tullahoma City Schools. Students on both ends of the call were amazed by the connection.
Earlier in the week, art teacher Jennifer Uselton had some of her students connect with an artist in Nashville who is currently working on a mural at 2706 Natchez Trace. Andee Rudolff, along with two other muralists, Andy Grimm from Germany and Gabi Bianchi from Argentina, Skyped Uselton's students and allowed them to ask questions about art, their jobs and what it's like to be an artist. While the students and artists were Skyping, the artists were also working on their collaborative mural.
Uselton wanted her students to see that art can be made anywhere, by anyone, and most importantly that it can bring people together. Not only were the students able to connect with others nationally, but this allowed them to connect with people from all over the world who just happened to be in Tullahoma's northern neighbor, Nashville.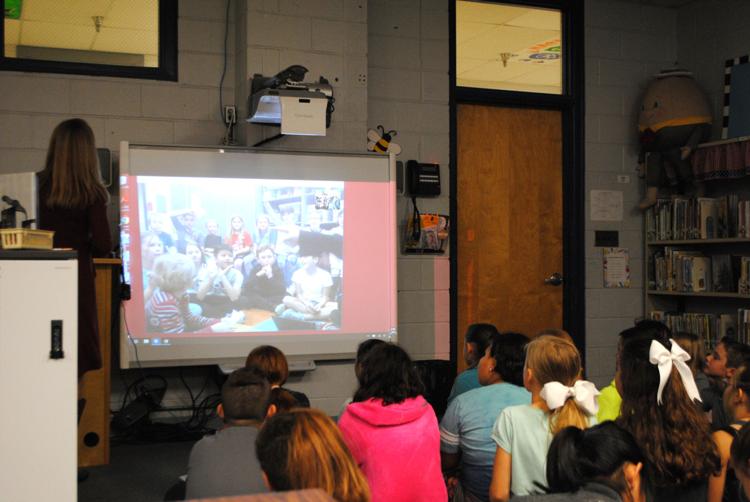 "I thought the idea of this project was perfect," said Uselton. "Murals can bring a community together. This project brings several communities together through our children. I love the idea of opening our children's minds to explore the world through visual art."
Art is present throughout the entire school. Sidewalks entering the school are covered in chalk with welcoming messages as students, teachers and guests alike enter the building. Upon entering the Bel-Aire Elementary, there are stained glass pieces, a stained glass chair, painted ceiling tiles and portraits decorate the walls with messages of what it means to be a student there. From the floor to the ceiling and every hallway in between, art is present for the Bel-Aire Bees.
In addition to the traveling mural, students at Bel-Aire will get to paint a full identical mural to keep for themselves. Once all pieces of the traveling mural are returned from the other schools, Bel-Aire students will be able to hang the two murals side by side to see how the two differ.
Principal April Norris is extremely excited for her students to have an opportunity like this.
"It's a small world and utilizing opportunities like that allow students to make global connections that can't be taught in a textbook," she said.
Norris' office is also decorated in such a way that allows her students to feel comfortable, safe and inspired.
For more information on "Maybe Something Beautiful," visit www.maybesomethingbeautiful.com.
To keep up with the students at Bel-Aire, their academic adventures and the traveling mural, follow Bel-Aire Elementary on Facebook.
Faith Few can be reached via email at ffew@tullahomanews.com.