As children are getting back in the swing of the school year, one group of dedicated individuals is ensuring they can walk to and from school safely.
The crossing guards stationed at the schools in Tullahoma serve the community in their own special way, keeping school zone traffic flowing smoothly and assisting walkers and bicycle-riders on their daily commutes to and from school.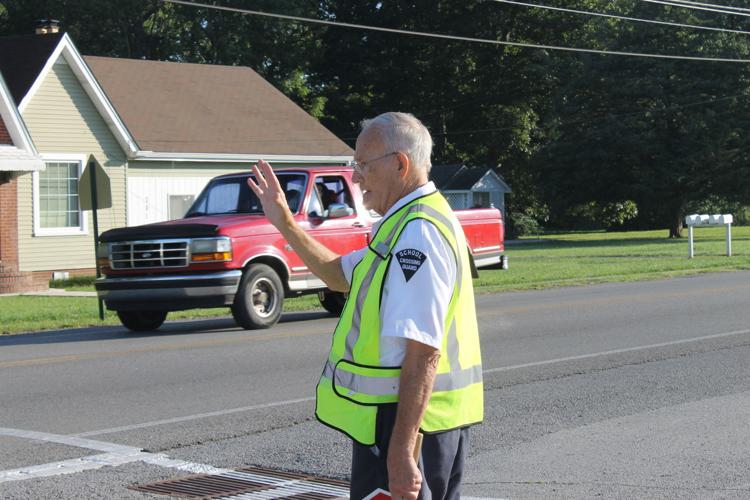 According to Tullahoma Police Sgt. Rana Pawlowski, who oversees the crossing guards, there are currently seven individuals assigned to ensure the safety of the district's students on the roadways.
Some schools, such as Jack T. Farrar Elementary School, have multiple guards while others rely on a single guard to keep pedestrians safe, she said.
"At Farrar school there's two, because you've got [Hwy 55] going one way and you've got Westside Drive going the other way … and the school access is on both [sides]," she said. "By the high school, there's only one … right there in front of the high school."
According to Pawlowski, these seven individuals have been serving their respective schools for many years.
Not only do they serve these schools in an official capacity, Pawlowski said, they even start to think of the children they help across the street as theirs.
"The Ferrells – Mr. Bobby and Mr. Billy – they're brothers," she said. "They consider those schools theirs. They consider those children theirs."
In general, the corps of crossing guards in Tullahoma is made up of longtime residents who have always had a desire to help children.
"These are all community-minded people," Pawlowski said. "Whether these people are in retirement mode and they're done at their other job, they still serve our community, and we're proud of them."
In fact, the crossing guards are considered just as important a part of the Tullahoma Police Department as all the officers.
Pawlowski said the guards and their families are always invited to the annual employee celebration and treated like a member of the TPD family.
That familial tie seems to be what causes each crossing guard to want to serve the children of Tullahoma in their capacity as crossing guards for many years.
Because of that dedication, there's not a high turnover rate for crossing guards. Once they're hired, Pawlowski said, "They tend to stay."
That's just as well. Each guard develops a camaraderie with the children they help cross the streets every day.
"They're close to the people at the school," Pawlowski said. "They know them. They're invested in the children of this community."
Some crossing guards even step in to help the police department itself, she added.
Bobby Ferrell, who serves Bel-Aire Elementary School, also serves the front desk at TPD as a public service officer if someone calls in sick.
The nature of the position has changed over time, Pawlowski admitted, as a growing portion of the crossing guards' job involves traffic control.
"They do more than is required of them," Pawlowski said. "At the high school, there's not a whole lot of walking traffic that crosses where the crossing guards are, so they help keep the flow of traffic going. They've taken on a whole lot more responsibility than they used to have."
While the original and "traditional" role of the crossing guard was primarily to help children cross the street, Pawlowski added, the job has evolved and changed over time.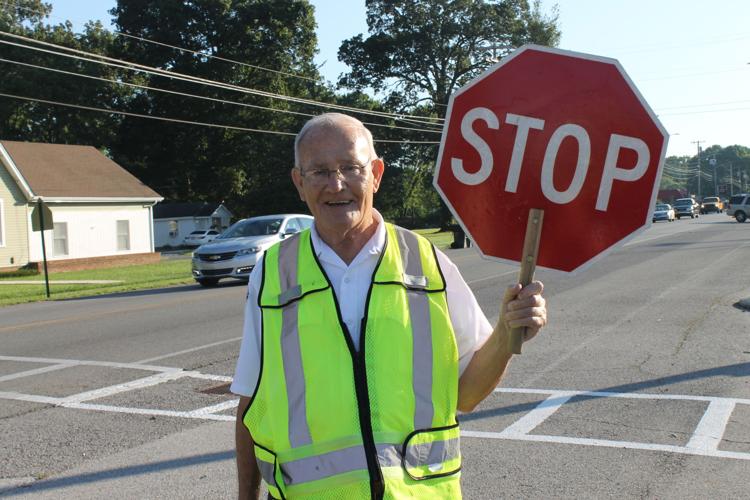 In years past, crossing guards watched a dated training video, but Pawlowski said she is currently researching more updated training materials for her guards.
Because the job grows and changes as time goes on, Pawlowski said the initial training is "not very long."
"It's just a basic of how and the timing for the traffic," she said.
TPD officers will go out with the newly-trained crossing guards until such a time that everyone feels comfortable, at which point the guards will begin working school zones alone.
Some crossing guards don't need any additional assistance, while some might request a longer apprenticeship with TPD, Pawlowski said.
"It depends on who it is," she added. "We've had some ex-military people come in here who did that in the military, so they're great at it."
The guards also help TPD stop vehicles violating school zone laws, Pawlowski said.
"In reality, they obviously can't stop a car going down the road, but when there's a problem, those crossing guards are the first ones to know what's going on," she said.
If a crossing guard notices a pattern of bad behavior from certain cars in school zones, they frequently alert TPD officers to the vehicles in question, Pawlowski said.
"They might not tell you a name or a tag number, but they can tell you what the car looks like and what time [they drive by]." she said.
That partnership between the crossing guards and the officers, she said, helps make the community safer, and it's just one more asset to the police department.
According to Pawlowski, all crossing guards are outfitted with a uniform shirt and coat, as well as other adverse-weather gear in order to do their jobs efficiently and safely.
Because crossing guards work in every kind of weather, certain tools are necessary to gain the attention of potentially distracted drivers.
For instance, the rainy-weather coats given to each crossing guard are made with fluorescent, reflective material to make them visible in darker conditions when visibility might be low.
Some guards also have whistles and hand-held stop signs to get the attention of drivers.
In fact, one crossing guard was gifted a special stop sign earlier this year.
B.I. Staples, the Farrar crossing guard stationed on the Highway 55 entrance to the school, was given a special LED stop sign from members of the Tullahoma Public Works crews.
According to public works officials, one member of the crew noticed Staples's original hand-held sign wasn't as visible in cloudy weather. After pooling money together with some of his coworkers, they were able to purchase Staples a brand new, LED-lighted sign that would be visible no matter the weather conditions.
Pawlowski said she is currently looking at potential grant awards that could help furnish all her crossing guards with the hand-held stop signs or whistles that might make their jobs easier.
"We're not going to let them go without what they need to have to do their job," she said. "We want to keep them as safe as possible."
She said if members of the community want to help, they may contact her at TPD to discuss options.
With "everybody working together," she said, she would be able to help all her crossing guards help the community.
Pawlowski can be reached at the Tullahoma Police Department headquarters at 201 W. Grundy St. or by phone at 455-0530.