Strums of instruments and laughter can be heard among the halls of First Christian Church on a Thursday morning. Members of the local musical group, Tullahoma Dulcimers and More, take out their dulcimers, hammer dulcimers, bass, and harmonica and tune them in preparation for their weekly practice.
For the past year, the group has been meeting at 10 a.m. each Thursday at the church to enjoy a time of fellowship and music. Over the past year, they have grown in number and in skill and are inviting others to come and join the fun.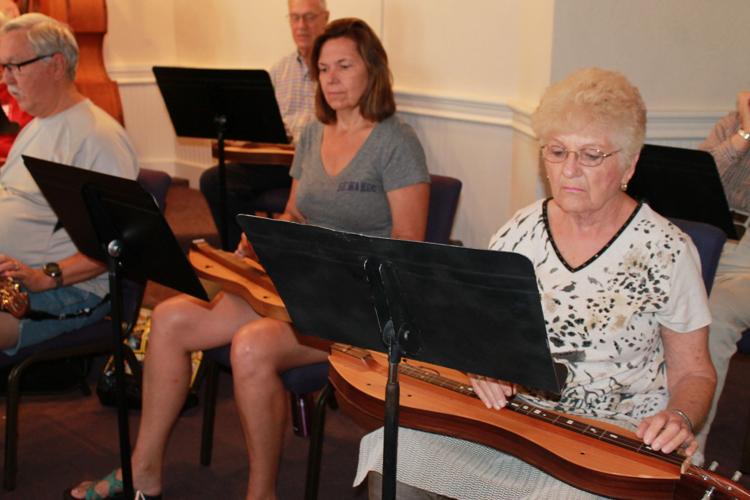 A Single Beginning
Tullahoma resident Peggy Glass began putting word out about the group last year. She had been asked by church music director, Vicki Collinsworth, to perform during the Sunday morning church service.
"Our music director wanted three dulcimers to accompany her during a Sunday service," she said. "She asked me along with two others. One had played, but not recently and the other had never played. From that day, this group began to form. Caren Teichman was interested in the instrument and decided she wanted to play. My husband, Scott, told me if I was going to teach Caren, I might as well teach him."
From that point, the Glass said the group just continued to grow. 
"The actual group built from one to two to three and so on. So basically, for a year now, we've had 12-15 people meeting here each Thursday morning," she said.
Glass said that no skill is required to join and members are happy to assist newcomers who are learning to play.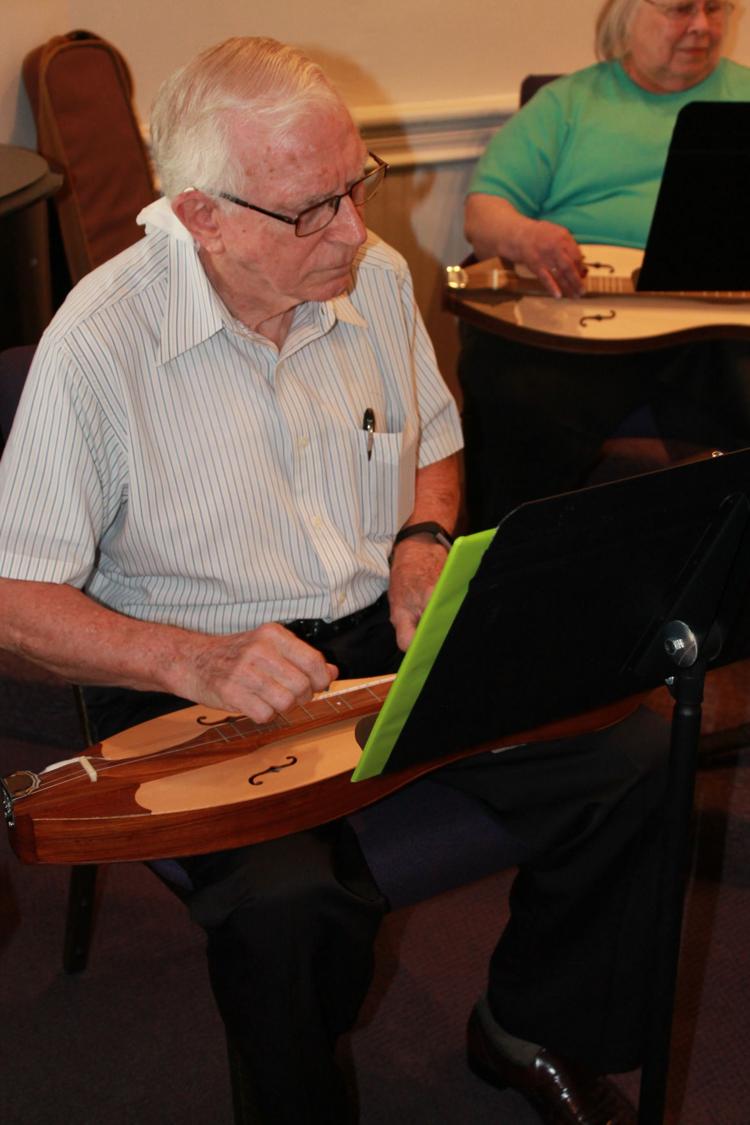 "We have beginners that come in each week," said Glass. "We welcome anyone who wants to learn to come in and learn. I think it's one of the easiest string instruments to play. I can take someone who's never played a string instrument and have them playing chords on the dulcimer in no time, depending on how fast they pick it up."
She added that she's excited that the group continues to grow and she hopes to see many more people join in future.
"I think there are probably more people out there that are playing that don't know about us. So it would be really nice to have them learn about us and then be able to join us. I think it's great. Since 1992, I've had a dulcimer and had no one to play it with. So now I have a whole group to play and learn with."
Dulcimer Workshop
The group will be holding a dulcimer workshop at 1 p.m. on Saturday, Aug. 4, at the First Christian Church. Well-known dulcimer musician, Steven Siefert, will be on hand to teach the class. The cost of the class is $40 in advance and $45 at the door. For more information about the event or about the club, contact Peggy Glass at 247-5947.
History of Dulcimer
The Appalachian dulcimer or mountain dulcimer is a uniquely American addition to the fretted zither family. A zither is any instrument featuring strings running across a body without a neck. The name is a combination of Greek's dulce (sweet) and Latin's melos (song), so it means 'sweet song'.
The Appalachians were initially largely populated by settlers with German or English backgrounds. Many of them came from Pennsylvania, traveling through the Shenandoah Valley in Virginia. The Germans brought with them a fretted zither called the scheitholz. Many of these were found along this route.
The other popular instrument of the time was the fiddle, which was used to play lively tunes that the scheitholz could not keep up with, as it was mostly used to play slower songs and hymns. Some scheitholz have been found that were apparently damaged by trying to play them too quickly. So the settlers modified the design, and the new instrument was born. It then needed a new name, and this was probably provided by the English settlers, who were familiar with the hammered dulcimer, even though the mountain dulcimer is quite different from the hammered dulcimer.
The dulcimers were made from the woods easily available in the area; poplar, walnut, or cherry. Frets were made from the wire on hand for making staples or brooms, or sometimes iron or brass. Sometimes the frets went across the entire fretboard, and sometimes they were only under the melody string. Dulcimers were made to have 3 or 4 strings and were played on the lap, strummed with a turkey feather or a pick, while the melody string was fretted with a finger or a small wooden tool called a noter.
Dulcimers were usually painted, not the grain-display finishes we see in today's instruments. They were usually built in either an hourglass shape or a teardrop shape, though examples in other shapes could be found.
Appalachian dulcimers were the first major instrument that was created in America, rather than copied from instruments known in Europe, and it became an important part of the society and traditions of the southern Appalachian region.
Source: dulcimer.net