A marquee sign sitting on the curb of Westside Church of the Nazarene reads "You're welcome here." On any given Wednesday afternoon at 2 p.m., a passerby can see the doors open on the right side of the church with a long line of people waiting to get a food box. The church calls this program The Tullahoma Family Food Ministry.
 "We started out by picking up some bread and deli stuff from a store and then we had a few bags of pinto beans," co-founder David Statum said. "It just kept growing and today, we are able to provide a well-rounded food box with meat, vegetables, juices, and all kinds of things we never thought we would be able to get on a weekly basis."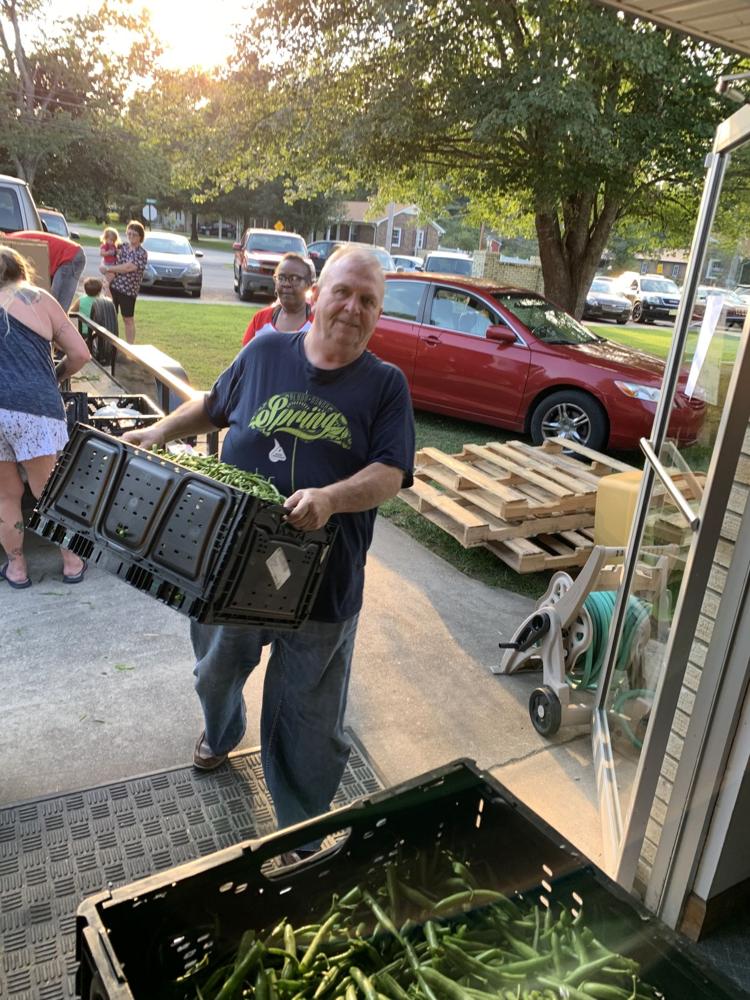 "On February 27 of last year, I got a call asking 'Teresa can you come up here and help us?' I have been here every single Wednesday since then," coordinator Theresa Steele said. She coordinates and organizes the volunteers as well as the boxes. The fellowship hall contains five long tables covered with almost 200 food boxes, all organized and numbered in preparation for the weekly giveaway.
"We pack boxes or bags, whichever we have, every Wednesday. It is open to anybody. We do not have any qualifiers or conditions that people have to meet in order to get food," Statum said. "Anyone who comes here will get food. We do not turn anyone away."
"Since we started, we can easily say that we have brought $1 million worth of food back into the com-munity," Statum said. "We work through monetary or food donations, whatever people are able to give. It is a large community effort."
 "Everyone can be comfortable sitting inside of their church," Pastor Bobby McBee said. "You have to get on the other side of these walls and get out to the people. I have been teaching this to them for the past 12 years. When they came to me saying that they wanted to start this program, my response was 'Well, it's going to take work.' We never dreamed that the volunteers we have now would come in to do this."
Back in the summer, the ministry brought in 10,000 pounds of green beans. "We sent out a text message asking if anyone could help us organize them and 30 minutes later, our fellowship hall was full of people there to help out," Statum said.
"We are so blessed to have such amazing volunteers. They are the ones that do everything. Teresa and I just get to be a part of it. They do all of this hard work each week. It's just amazing what people do," Statum said. "I get really emotional thinking about it because it has been a long time dream to be able to help our community and we are getting to help people where they need it the most: with food. Food is an important thing in the lives of people. Not only does it sustain you and help keep you going, but it also allows you to focus and be the person that you are meant to be."
Volunteers sort through the food on Monday, drive trucks to go and pick up food, bag or box the food and also number them in preparation for distribution. They put the frozen food and meat in as people come in and walk out the door with their boxes.
The church itself only has about 40 members. Most of the volunteers come from other churches or are community members that come in to help out, according to Statum. The ministry does a lot of networking and sharing with different organizations as well.
Jeff Jenkins is one of the co-founders of the growing ministry. Six days a week, Jenkins stops by two Kroger stores in Murfreesboro after work and delivers baked goods to the church to put into the food boxes.
"The ministry also partners with Christian Lighthouse and Jamie Cunningham to ensure that the same box giveaways can happen on the other side of town," Statum said.
 "We have a combination of all denominations working together to put food back out into the community," McBee said. "We never realized how many people are living homeless in Tullahoma. This is my hometown. To be such a small community with such a large amount of homelessness, we knew something had to be done to help. So, we open these doors once a week to invite them in."
"Sometimes, a family has to decide if they should buy medicine, pay their light bill or buy food for the week. We become the middle person that provides the food and allows them to be able to pay for the other things they need," Statum said.
"On Wednesdays, all of the volunteers show up at 11 a.m. We are given a short message by Pastor Reid, who has become the chaplain of this program, and then we eat lunch together and prepare for the giveaway," McBee explained. "Some of us deliver food to other places whether it be someone's home or another organization that we help."
Reid also volunteers by delivering food boxes for the church on Wednesdays. Several volunteers help deliver to people who cannot make it to the church every week. About 10-15 families have their boxes delivered weekly.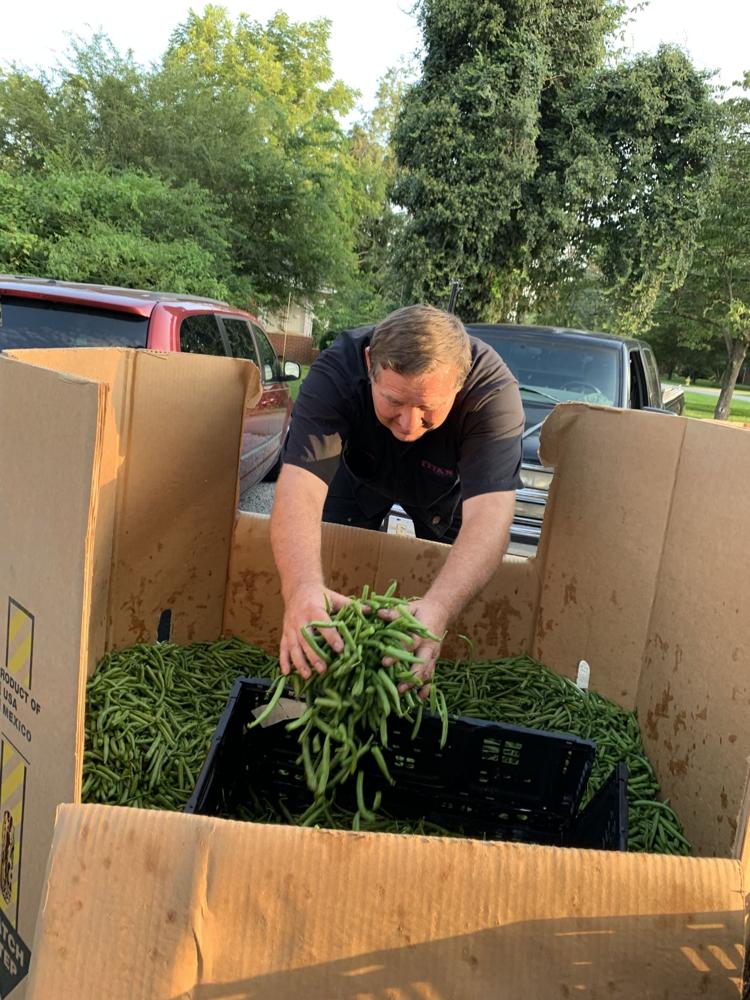 "I am amazed at the number of hours that these people put in. One volunteer, Bill Statum, is retired but he works more now than he did when he was on the job," Reid said. "I know these people. They do not always wake up having a great day. They are going through their own struggles but they still show up every week to help others."
The ministry has quite a few touching stories that they will continue to carry with them from their first year of the food ministry.
"One day, there was a young pregnant woman driving around Tullahoma trying to figure out how she was going to find food for that night and she saw our sign out front that says 'Come get a free food box,'" McBee said. "When she walked in, I asked her if we could help her and she just started crying."
"Another woman walked in a few weeks ago with her young son and as soon as I said "Can we help you?" she immediately started crying because she had no food for her child. We were able to help her," he said.
"Last week, an elderly lady came in and told us that she did not know the church had the program and proceeded to explain that she had not had anything to eat for three days. We were able to help her out as well. That is our payoff for all of the work we put in. It is more than enough," McBee said.
Another touching story is of a woman who came in to get a box back when the program first started. Now, she cooks the food for the volunteers' lunch on Wednesdays. She also volunteers her time to pack up boxes on Tuesdays.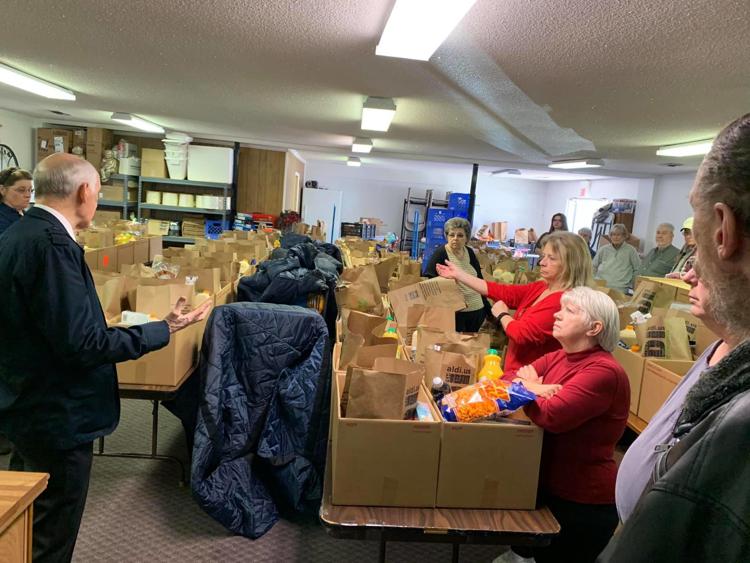 "I walked in so ashamed and everyone looked at me and said 'Come on and eat,' and I have been coming back ever since that day to volunteer," the woman said.
"My friend asked me to come down to the church to get a food box and I was hesitant but I brought her anyway. The next week, I came back to volunteer and have been coming here ever since," volunteer Sarah Stovall said. "I take the food that I get from here to my son who has Multiple Sclerosis (MS). I have been truly blessed by this organization."
"Every week it gets bigger and bigger. We got in three truckloads of food last week and were able to give every bit of it away. That is our goal every week so that we can fill the warehouse and the trucks back up the next week. No one in Tullahoma should be hungry," Statum said.
"We are in need of another building to store and organize the food in. We also need a refrigerated truck," McBee said. "We have been praying for them. The Lord has blessed us with everything we have so far and we know he will provide it for us."
"The people who come in are treated like family because they are our family. We are happy to see them leave smiling when they came in worried about not being able to feed their children," Statum said. "It could be any one of us in need of food tomorrow."
Donations can be made on www.gofundme.com. Go to the website's home page and search "Giving groceries to our neighbors" or "Tullahoma, TN" to find the food ministry's logo at the top of the results page.