The fire and law enforcement surprised a local boy for his birthday.
Jaxx Jones celebrated his sixth birthday July 21 with a surprise visit from the Tullahoma Fire Department and Franklin County Sheriff's Department.
Jaxx's mother Windi Jones said he has Down syndrome and a weak respiratory system. Other than going to daycare while she goes to work, Jaxx hasn't been able to go out and be around his friends and family during the COVID-19 pandemic. Jaxx's sister, AddiGrace Jones, a Tullahoma High School sophomore, reached out to the local fire department and law enforcementto see if they could stop by during his party with a drive by parade so Jaxx could have a memorable birthday.
Windi said AddiGrace and Jaxx are really close.
"With COVID and us quarantining, we weren't able to have a party for him," Jones said, "She wanted to something special for him that would be memorable."
Windi said the Tullahoma Fire Department was interested and a friend of the sister reached out to the Franklin County Sheriff's Department since they lived in Tullahoma City but in Franklin County. They got a response immediately.
"They called back immediately and we're ecstatic," Windi said. "They said they are never invited to do anything like that they would be honored."
The fire department came by first and gave Jaxx some coloring books, a fire hat and a badge. They stayed around to spend some time with Jaxx and take pictures with the kids in the neighborhood. Then 20 minutes later the Franklin County Sheriff's Department came by to join in and let the neighborhood kids ride in the patrol car. They gave Jaxx a shirt, badge, coloring and sticker books.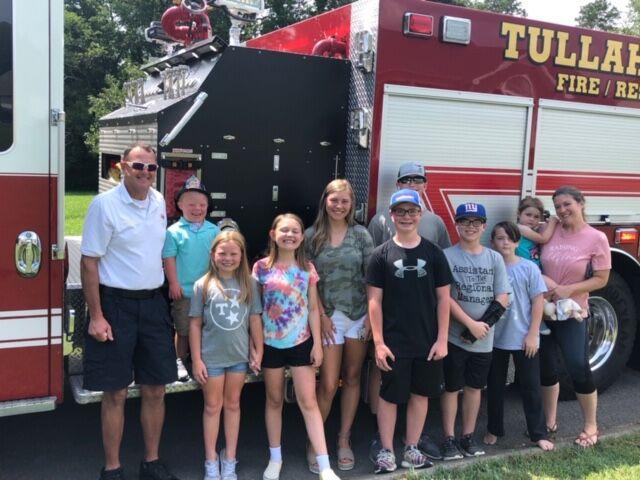 "They spent not only time with him but with the other kids and made his birthday," Windi said.
Windi praised both departments for taking time out of their day to come by and see her son.
 "He's just a six year old boy but to him it was the best birthday ever, especially during COVID," Windi said. "I just really cannot say enough for Tullahoma Fire Department and Franklin County Sheriff's Department, to take time out of their day to come by and see Jaxx."
Windi mentioned when the sheriff's department posted the photo on their Facebook page and someone made a comment like "don't you have anything better to do than host a birthday party?" She was taken aback by the negative comment after the department made such a goodwill gesture for the community.
"They don't host birthday parties, but what they did do is put themselves out there to a neighborhood, who has probably never had interaction with the sheriff's department other than a school function, and let them know they are not just there for the bad times they're there for the good times too and they are their friends," Windi said.
Even though she couldn't give Jaxx a normal birthday party Windi said he was telling the neighborhood kids about his fire fighter friends visiting him.
"That kind of took the edge off of everything and everyone got to relax and have a good time," Windi said.