To start off the New Year, the Tullahoma Art Center (TAC) will be hosting two classes with the newest resident in Tullahoma.
TAC's new resident artist, Gina Witten, has been in the arts for most of her life, starting when she took dancing as a young girl and, as she became a teenager, she began working in visual arts. Witten has been teaching art for many years and has been the program coordinator at the art center in Shelbyville. 
Even though she has an interest in all kinds of art, she earned her education in metal arts and she began working in a new medium in the mid 1990's: metal clay.
"It's metal in clay form," said Witten.  "You actually mold it like clay but when you fire it, the binder fires away and it leaves you with a pure metal."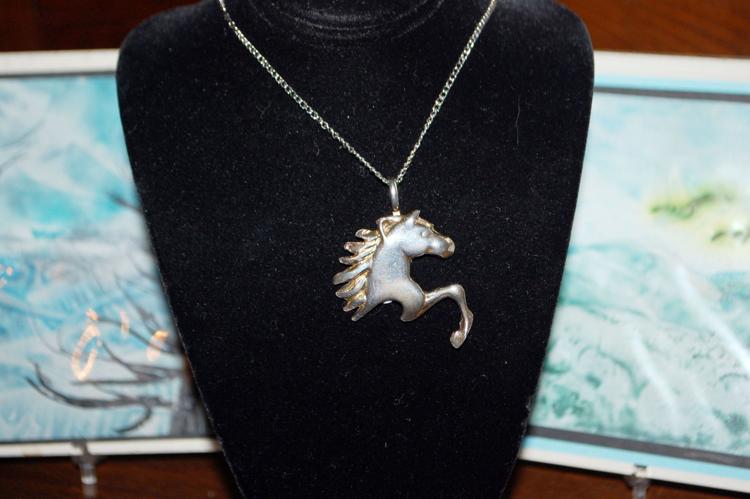 Witten wanted to make jewelry and tried to take classes in soldering, without much success.  She then heard about metal clay and decided to give it a try. 
"I've heard about this so I got involved in it and it's been wonderful," said Witten.
She's been teaching metal clay classes since 1997 and became one of six masters.
Witten says metal clay is easy to work with but it can be expensive if the metal is gold or pure silver.  She said now, with copper and bronze coming out as options, it has become more reasonable to get into the craft According to Witten, since the firing time for each metal is different, some metal clay can be done in one day.
"It's nothing like what the old silver smith used to be," said Witten. "It took hours and hours and hours to file and polish and that kind of thing."
Witten said the metal clay class will be a one day class where attendees will be able to take their pieces home.
Witten will also be teaching a Dichroic Fused Glass class later in the month. Unlike the metal clay class, attendees will have to come back the next day to get their pieces as it will take three to four hours to fire. 
"I'll give the basics and the tools we use, that sort of thing, and firing temperatures, because fused glass needs fire.  That piece you have to come back as I'll fire the piece after the class."
Fused glass is where pieces of glass are joined together in high temperatures by using a kiln. Dichroic glass is a glass which displays two different colors by undergoing a color change in certain lighting conditions. 
"What's really neat about dichroic is you can mix a piece and do a blue piece but if you put it on a red shirt, it'll pick up the colors so you can wear that kind of jewelry with anything," said Witten.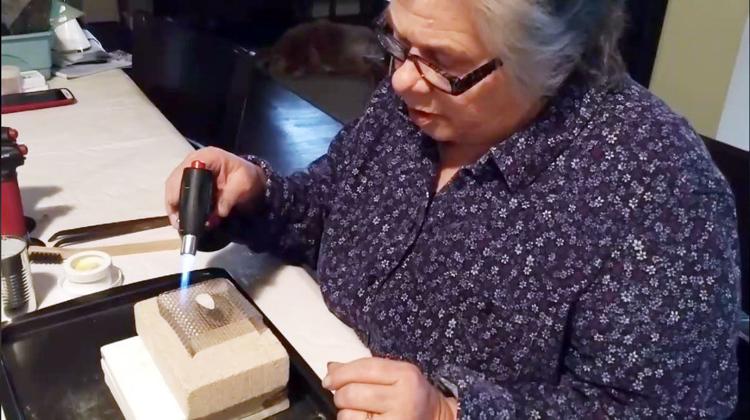 Witten is hoping to do more classes, whether it be one day classes or three to four-week sessions, and teach a variety of art lessons in glass, painting, and pottery.
Before moving to Tullahoma, she and her husband lived in Wartrace on their mini-farm where they grew their own food.  When her husband died, she couldn't take care of the farm and decided she needed a change and moved to Tullahoma.  
She said she downsized too small and didn't have room for a studio. She went to the art center and talked to the staff and became a resident artist after they showed interested in her work. She has only been in Tullahoma for just over a month. 
Witten says she sees a bright a future with her classes at the art center.
"I see them expanding.  I think people, once they find out the different classes I'm going to offer, will be excited."
The metal clay class will be held Jan. 18 at TAC from 10 a.m. to 2 p.m. Tuition will be $100. The fused glass class will be Jan. 25 from 10 a.m. to 2 p.m. the tuition for that class will be $45. Seats for the classes are limited so anyone interested in the classes can register for the classes at tullahomaartcenter.com, by phone at 931-455-1234 or in person at TAC.