The staff at Tennova Healthcare – Harton recently celebrated one of their own on her 40th anniversary at the hospital.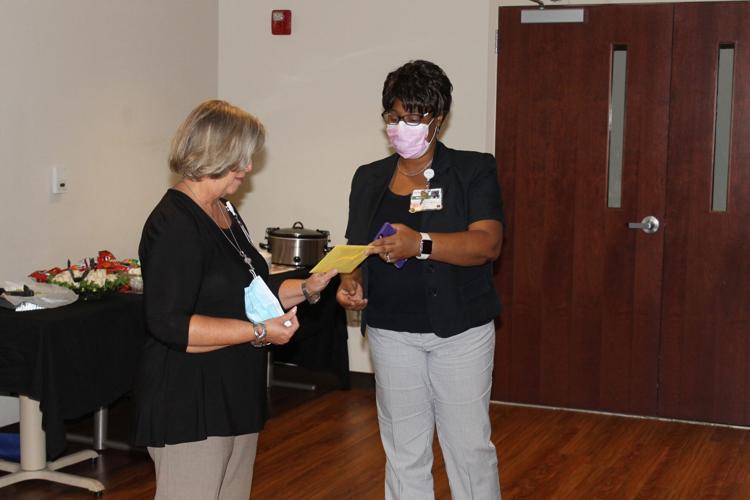 Director of Quality and Risk Pam Goodwin was honored by her colleagues and friends in a surprise celebration of her four decades of service as a nurse at the hospital.
Harton CEO Rich Ellis told The News that Goodwin, whose service outlasts his own at the hospital, has been a vital component of the hospital team throughout her entire career.
"Pam is completely dedicated to our patients and our staff and our doctors," he said. "She has a vibrant, positive energy about her that is very infectious. Every day is a good day. Pam takes all challenges and all problems and works her best to come out with a solution that's good for everyone, that focuses on patient safety [and] that focuses on our team and, again, supports our doctors. She's a blessing to the hospital."
Goodwin was surprised by her hospital team with a special party attended by administrators, nurses and other colleagues, all wearing masks to keep with COVID-19 guidelines inside the hospital.
During the celebration, Ellis spoke to the crowd, calling Goodwin "a fantastic sounding board" and "a devoted mom and grandmother" who is "completely dedicated to our patients."
"We couldn't ask for somebody better in this role," he said of Goodwin's service to the hospital. "Congratulations, Pam."
Goodwin said her time at Harton has been "very interesting" over the last 40 years. She shared a story about going through decades' worth of old photos that encapsulated her time at Harton.
She said her mother, who recently passed, had clipped out every time her daughter was in the newspaper and compiled those clippings into albums that Goodwin went through. While sifting through them, Goodwin said she was able to look back at the history of the hospital during her time there.
"It reminded me of a lot of people who are not here anymore that used to be here and were very special to me, and I've enjoyed every day," Goodwin said. "There have been some very trying times, but overall, I love nursing. I've always loved nursing, and I love the hospital. I've enjoyed working with every one of you over the years. I think what we do is very important, and I think every day we make a difference."
She said working with everyone at the hospital each day bonds everyone together, creating a family, and thanked all her Harton family for being there for her every day.
Chief Nursing Officer Marilyn Smith thanked Goodwin for her continued support since she began her time at Harton.
"You really were there for me when I first got here," she said to Goodwin. Smith recalled to the group how Goodwin was ready and willing to put everything down to help Smith with a situation at the hospital after both had already left. That instance demonstrated Goodwin's willingness to help and to lead, Smith said.
"I look to you every time we have some decisions to make," Smith said. "I really do appreciate you and appreciate how you have been there for nursing and what you have done in this position. I thank you."
After receiving more heartfelt remarks from her Harton family, Goodwin told The News she was pleasantly surprised that her team put together the celebration for her.
"It's very sweet of them, and I appreciate it," she said. "I love them all."