Everyone has their own unique Christmas traditions. For some, its opening presents on Christmas morning in festive pajamas, while other people gather around the warm glow of the television to watch "Die Hard" — which is absolutely a Christmas movie, no matter what Bruce Willis says.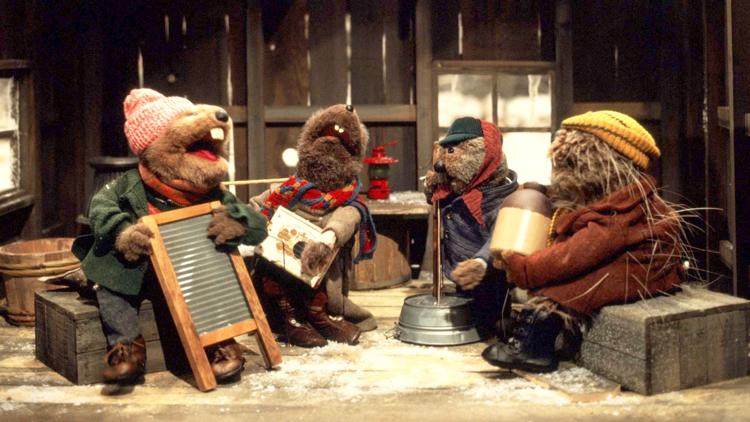 For me, a lifelong pop culture obsessive and a child of the 1980s, it's always been "Emmet Otter's Jug-Band Christmas."
The TV movie, directed by Jim Henson and featuring an entire cast of new Muppets, began airing on HBO in 1978 and was in heavy rotation on the cable network for years. I fell in love instantly and was glued to the TV every time it was on.
After disappearing for years, Emmet and crew experienced a resurgence in the late 1990s, thanks to home video and other networks airing the movie. I did a lousy job of containing my excitement when "Emmet Otter" was released on home video and rushed to the store to buy a copy for my nieces. I raced back to the house, gathered the girls in front of the TV and hit play. They couldn't have cared less. To say I was heartbroken is a massive understatement. The whippersnappers have no appreciation for the classics!
Based on the story by Russell and Lillian Hoban, "Emmet Otter's Jug-Band Christmas" tells the tale of Emmet, a poor otter being raised by a single mother. Emmet and Ma take on every odd job they can get to make ends meet. He uses his late father's tool kit to mend fences and staircases, and she takes in the laundry of Gretchen Fox, the snooty wife of the mayor of Frog Town Hollow, and barters handmade wool stocks for pumpkins.
By the time we meet them, money is so tight in the Otter household that it looks like there won't be any gifts at all under the Christmas branch. The Otter house isn't nearly large enough for an entire tree, you see.
The story takes a turn reminiscent of O. Henry's "Gift of the Magi" when Ma and Emmet learn of a Christmas talent show with a large cash prize. Ma pawns Emmet's tool kit to buy fabric to make herself a costume, with plans to use the prize money to buy back Emmet's tools and give him the used guitar with mother-of-pearl inlays he fell in love with when he saw it in a store window. Emmet and his friends form a jug band, which required Emmet to put a hole in Ma's washtub in order to make a bass. With his share of the prize money, Emmet plans to put a down payment on a piano for Ma.
Throw in a gang of ne'er-do-wells from Riverbottom, a bunch of acrobatic squirrels and some really catchy songs by Paul Williams, and voila! Instant holiday classic.
I had the opportunity last weekend to relive a little piece of my childhood, thanks to Fathom Events, which brought a Jim Henson Holiday Special to a movie theater in Chattanooga. The double feature also included "The Bells of Fraggle Rock." I like the Fraggles just fine, but for me it was all about the jug band.
I was absolutely astonished to discover that my boyfriend, also a lifelong Jim Henson fan, had never seen "Emmet Otter." I even sang "Bar-B-Que" for him, hoping the jug band's best song would jog his memory. No dice, although it's possible that my singing voice is so terrible that he couldn't pick out the melody. So, when I saw a story online a couple of days later about the Chattanooga showings, I immediately bought us tickets. I even considered buying a kazoo to play along with the band, but thought better of it.
Last Sunday afternoon, I was giddy as we settled into our seats. I danced and mouthed the lines silently to myself and tried to keep my singing volume as low as possible. Every so often, out of the corner of my eye, I'd catch my boyfriend trying his best not to laugh out loud at me basically making a fool of myself in public. I didn't care. We've been together long enough that he knew what he was in for, I'd been very clear about that in advance. I'd waited more than 30 years for this day and I wasn't about to let the possibility of some stranger thinking I'm a total weirdo ruin my good time.
And then it happened.
I have absolutely no idea how I about forgot this, but "Emmet Otter's Jug-Band Christmas" always makes me cry. Every single time. And last Sunday afternoon was no exception. I can't put my finger on exactly why it gets to me, but something about watching puppets fondly remember a lost loved one through song and taking extreme measures to make each other happy is like a gut punch.
About halfway through the story there I sat, weeping in a movie theater. I'm not talking about a single tear rolling down my cheek. I mean full-on, mascara-destroying, desperately-trying-to-contain-heaving-sobs ugly crying. It was glorious and I can't wait to do it again.
As we were leaving the theater, I got into a conversation with a man who had brought his son to the show. The kid, who was maybe 10 or 11, hadn't ever seen "Emmet Otter" before and really liked it. His dad and I were lamenting that there weren't more people there. I honestly believe that "Emmet Otter's Jug-Band Christmas" has the potential to be a family-friendly version of the "Rocky Horror Picture Show" experience.
So if you're looking to spend about an hour being a kid again, or if you're looking for a new holiday film to add to your family's watchlist, give Emmet and the fellas a shot. I promise you won't be disappointed. And if you invite me over to watch with you, don't worry. I'll bring my own tissues.
Andrea Agardy can be reached by email at aagardy@tullahomanews.com.