The cool and smooth sounds of jazz will fill the hall of the historic South Jackson Civic Center as South Jackson presents the annual Jazz on Jackson at 7 p.m. on Thursday, Nov. 15. The evening will feature the Jamey Simmons Duo/Trio Project.
Frontman Jamey Simmons will be making his return to the center after performing there in 2016. He recently spoke with The Tullahoma News on getting another chance to share his love of jazz with Tullahoma.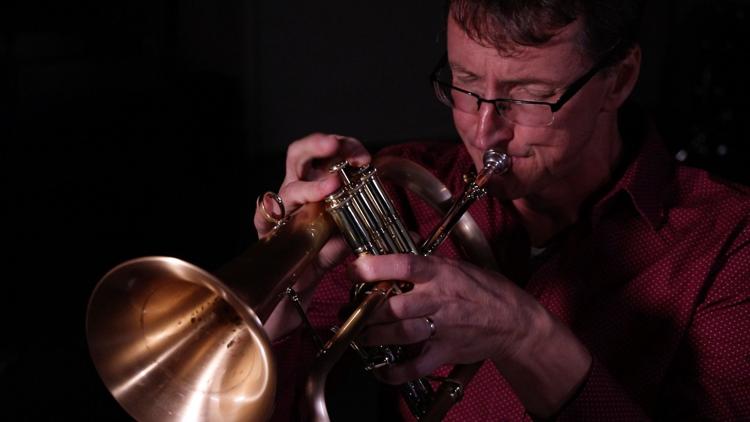 "I really do look forward to playing again," he said. "The sound of the room is really good as a trumpet player - nice and resonant. And the audience was so appreciative last time. Tullahoma is fortunate to have a theater in town that hosts jazz."
About the group
According to Simmons' website, the Jamey Simmons Duo/Trio Project became a reality through the intersection of three musicians in Nashville educational and jazz performance circles: trumpet player Jamey Simmons, pianist Matt Endahl and guitarist Rory Hoffman.
Simmons said the trio format of trumpet, guitar and piano is a rare one, challenging the players in unique ways.
"With the goal of bringing a unique group sound to the audience, we balance the tradition of jazz with the urge to explore new territory. Also, a duo/trio project performance features solo and duo playing as well, reflecting the members' varied tastes in repertoire," said Simmons.
Simmons said the group began by chance with an unexpected lunchtime jam session with Endahl at Simmons' MTSU office
"Never before had the upright office Steinway sounded so good," he said. Other lunch break opportunities arose for jamming and we started getting a list of arrangements." The first duo recording took place in May 2017, with all four tracks available free on YouTube.
The intersection of Jamey and guitarist Rory Hoffman happened at the Sunday night traditional jazz jam at Dalt's American Grill in Nashville. Simmons said that Hoffman's style and feel fit so well with his interest in traditional jazz styles that a spring 2018 collaboration seemed natural.
The two recorded a few tracks, one of which is available on YouTube. The other two tracks, Simmons said, are "waiting for release on our upcoming recording."
The trio session naturally followed in August 2018 and is currently in the post-production process. An album will be available in 2019.
For the upcoming show at South Jackson, Simmons said folks can expect a little bit of everything from the jazz genre.
"The Duo/Trio Project plays a variety of different styles of jazz, ranging from older sounds like Django Reinhardt and Benny Carter to bebop musicians like Jimmy Giuffre and Horace Silver, to some of our own original compositions and arrangements. Whatever we do, we make each song unique in some way to connect with people using our own individual styles," he said.
Simmons said he is excited to get to take what started as impromptu session and bring it to a stage, performing a genre of music that he is devoted too.
"So much of the music is improvised, that is where the true sound of a group comes from," said Simmons. "That's how jazz should be.
"I hope people notice that we love this music by the way that we play, and that we respect and enjoy each other as players. All three of us have a profound love for jazz. The music demands group discipline and individuality, with the understanding that anything could happen."
If You Go
The concert will take place from 7-10 p.m. on Thursday, Nov. 15 at South Jackson Civic Center. Tickets are $15 for adults and $10 for students. For more information, call 455-5321.