Armed with popsicles and paint brushes, the little artists of Tullahoma spent two hours on Thursday painting the driveway behind a Tullahoma art studio, The Painted House.
"We wanted to invite the community to come out and, if they haven't ever been to The Painted House, to see The Painted House, but also just to put their mark on it," said studio owner Annie Rone.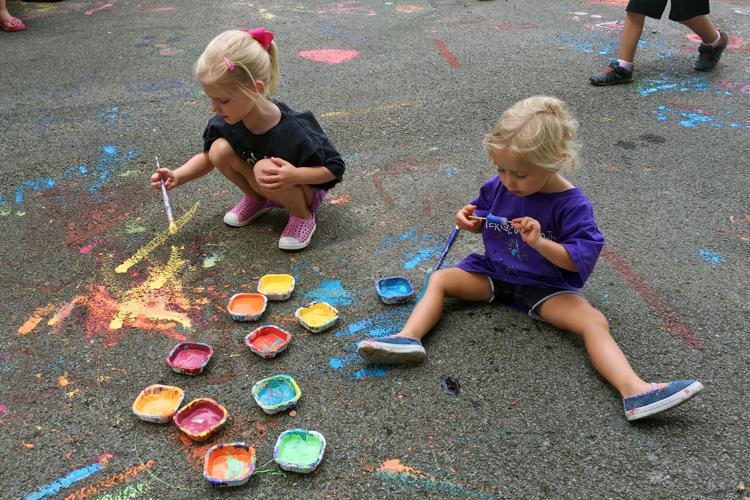 According to Rone, the annual event was originally designed to celebrate the beginning of the Tullahoma school year, as well as to let people's creativity take over for an afternoon.
The event is also a time for parents to reconnect with friends, she said.
By inviting people to drop by for a little bit and paint for fun, Rone said she was encouraging people of all ages to be creative and "do a little art … whatever they want."
During the two-hour event, Rone said children and adults were encouraged to paint anything they wanted anywhere they saw fit, including the wooden back deck or the pavement behind the building.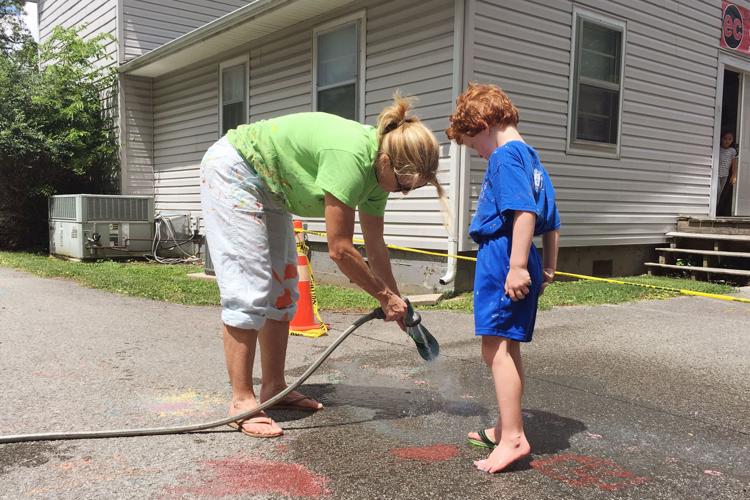 "Our motto is 'perfect is boring,' so we don't worry about getting paint on stuff," Rone said. "The more the merrier."
Since the deck and driveway are routinely splattered with excess paint from various classes and camps, Rone said the idea of painting directly on those surfaces seemed like a natural thing to do.
"We have a deck, and a lot of times that deck gets a lot of paint on it, and sometimes the pavement does, too," she said,  "So we were like, 'Let's just add to it!'"
Though the event is scheduled to coincide with the first day of Tullahoma City Schools, Rone said the entire community was invited to stop by and get a little paint on their hands.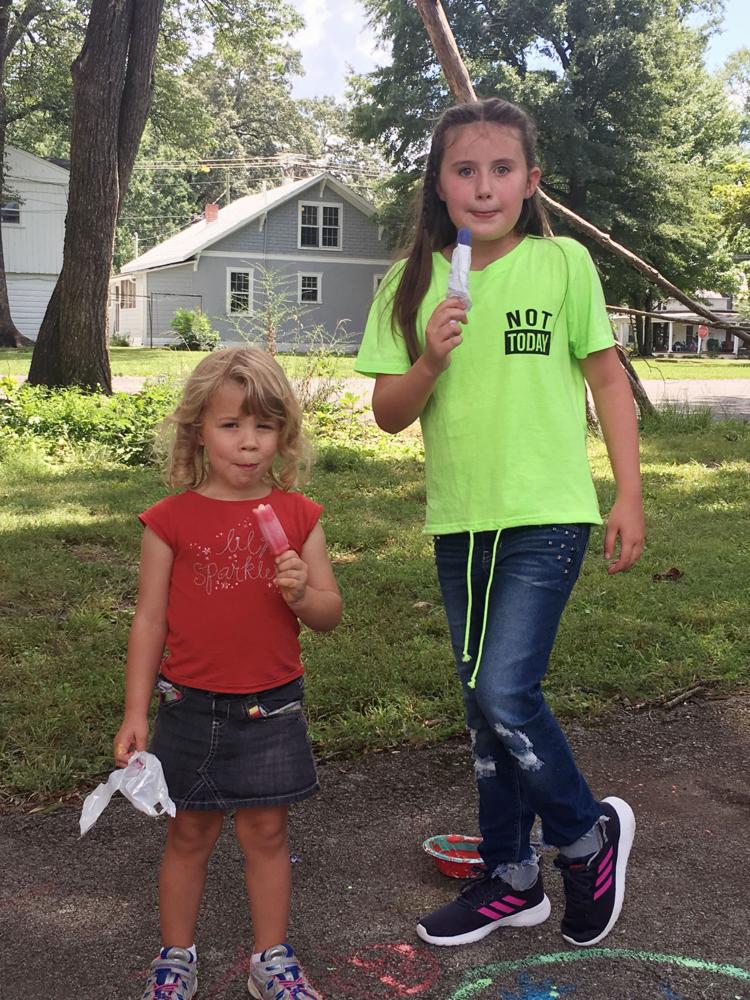 "Of course, other cities are welcome," she said. "We have students that come from Fayetteville, Winchester and all around. They're welcome to come, too."
Over the last two years, the event has grown steadily.
"It definitely has grown," Rone said. "I want to say last year there were, like, 120 people that ended up coming. It was a large number for sure."
Two people who enjoyed the afternoon were Angela Campbell and Stephanie Jacob. Their children are no strangers to The Painted House, but they said they'd never been to the Paint the Driveway event before.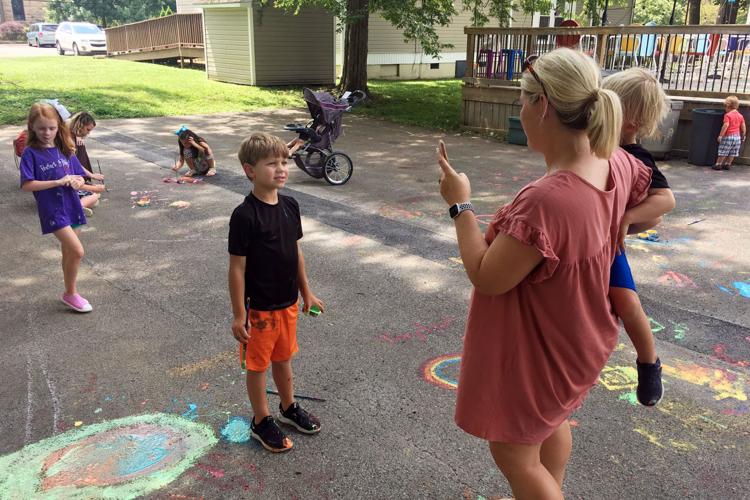 Campbell said her children have been attending classes at The Painted House for about five years and loved every visit.
"My kids just really enjoy being able to do their own are and have it hanging up at the house," she said.
Campbell said the Thursday event was a nice chance for her children to paint freely, as well as an opportunity for her to catch up with other mothers.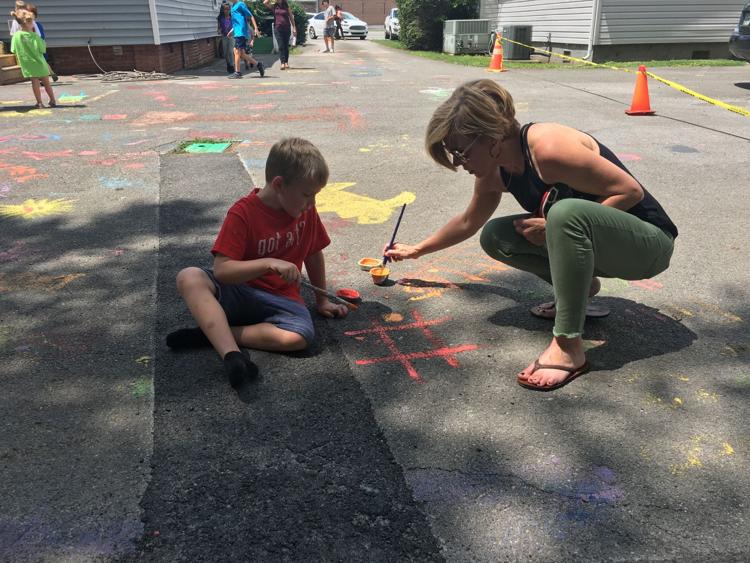 Jacob echoed Campbell's thoughts, saying the Thursday event was "a great way to get everybody together."
"It was so much fun to see friends right before we go back to school," she said.
Like Campbell, Jacob's daughter, Zoe, is a fan of The Painted House, though this was their first time painting the driveway.
"We've never been to this event before, but Zoe's done the monthly painting events and she did the camp over the summer and had a great time."
This year's event differed from past events in the form of a donation incentive, according to Rone.
If guests brought an old towel for the house to use, they would receive a discount coupon for August classes.
"We've never asked for towels before," she said, but if people were receptive to helping out, it was worth a try.
"It's like, let's just do this and, you know, if we get some, great; but if not that's okay, too," she said.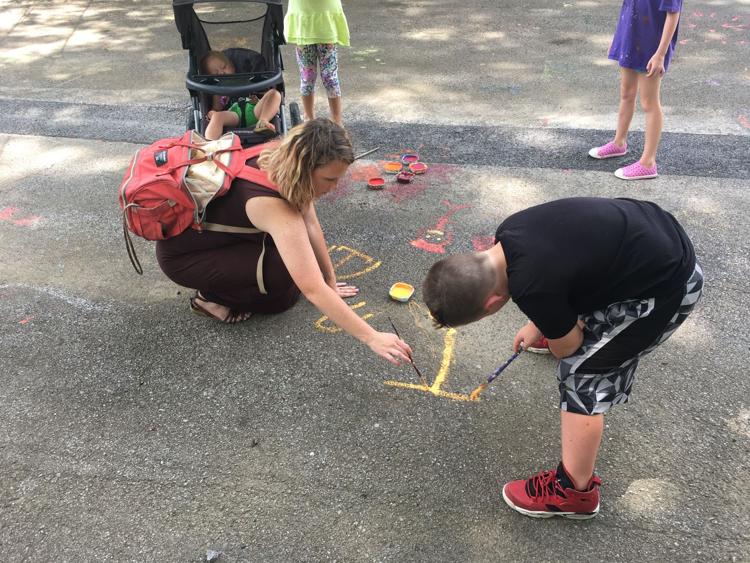 Towels are hot commodity at The Painted House, according to Rone.
"We are always in need of old towels," she said. "We put them on the tables to soak up the paint and the water during classes."
Because of the nature of their use, Rone said the towels she was requesting were absolutely not anything new.
"Just an old towel that's laying around," is what she said she was looking for – something that would not be considered 'damaged' by its use to clean paint spills.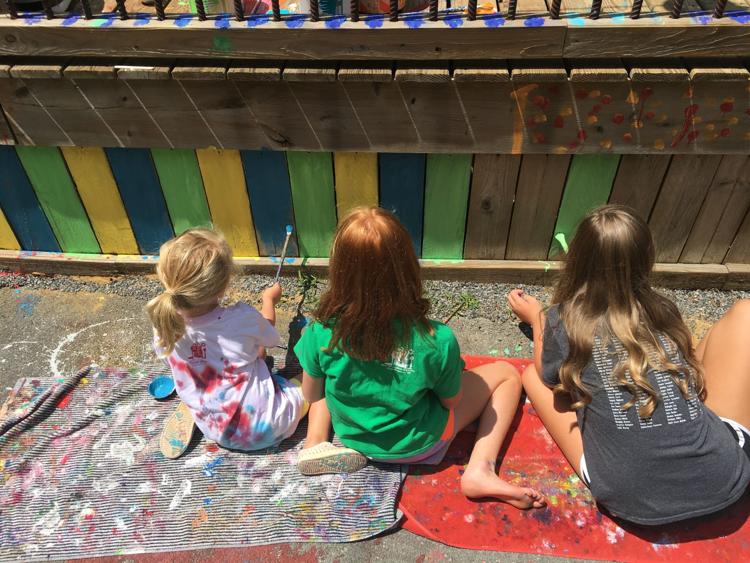 Another benefit of hosting the summertime event, Rone said, is allowing parents and children who might not know about The Painted House to get a glimpse of what the house has to offer.
"We want people to feel like this house is their home," Rone said. "We want it to have that feel when they get in there."
By hosting a free event in the summer, Rone is able to connect with people and show them the paint-covered artistic space their children could enjoy.
"We don't have open hours for people to just drop in," she said, "and I think that's a little frustrating to some people. This is an opportunity for people to come in and kind of see what it's about without having to schedule a class first."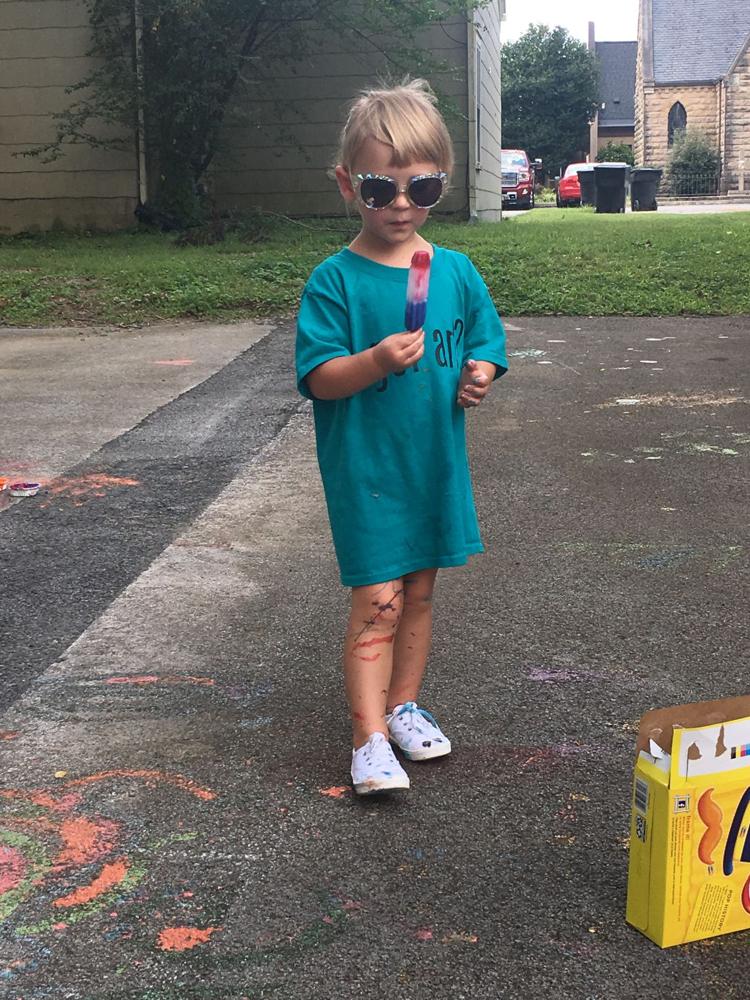 Those classes are for children of all ages, Rone said, though the majority of the art classes provided at The Painted House are marketed toward small children.
"We mostly do children's classes, but we do have adult classes that we do once a month here," she said.
The Painted House hosts art classes for every age, including preschool-aged children (3 to 5 years old) and adults (18 years old and up).
Preschool classes are scheduled "once or twice a month," according to the website.
Once a month, The Painted House is filled with "the best and most fun adults" to "have a big paint party" via a sip 'n stroke. A full calendar of upcoming painting classes can be found online at www.thepaintedhousetullahoma.com/calendar.
The Painted House is at 204 E. Lincoln St. For information about classes or other issues, visit The Painted House online or find it on Facebook.