Lifelong friends and former THS students Houston Tanner, Will Holder, Matthew Cox and Kyle Gouthals spent their summer hiking and backpacking some of the most well-known tourist destinations in the country.
The avid hikers began planning the trip one year ago, reading several travel guides and studying maps of national parks.
"We have backpacked in The Great Smoky Mountains three or four times and decided we wanted something more," Tanner said.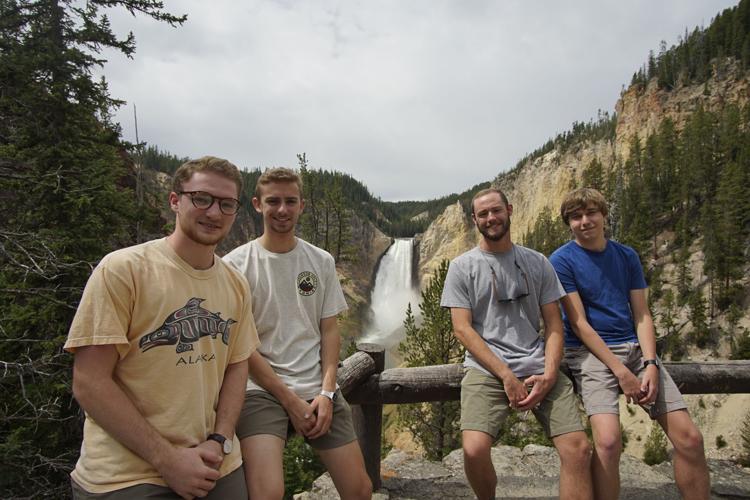 "We knew that all of the best places were out West, so we planned the trip around hiking in Yellowstone National Park and Glacier National Park," Holder said. "For both trips we did a three-day backpacking trip where we had mileages around 20 miles over three days, with each of us carrying 20 pound backpacks."
The group began their trip on Thursday, Aug. 2 at 4 a.m., traveling through Tennessee, Kentucky, Missouri, Kansas, Colorado and Montana, making their first official stop in Jackson Hole, Wyoming. "Jackson Hole is a ski-resort town, right outside The Grand Teton National Park. Tourists have to drive through all of that in order to get to Yellowstone," Holder said.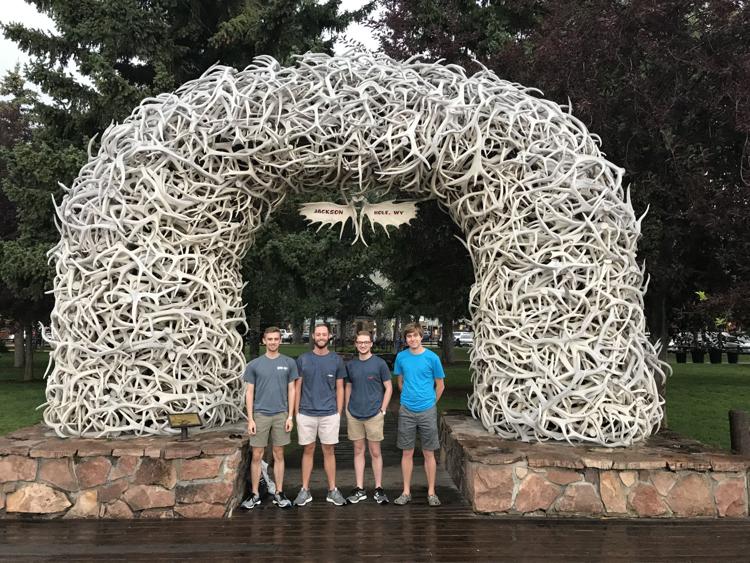 "While exploring Jackson Hole, one of the best spots we visited was in the downtown square park where each entrance had an archway made entirely of elk antlers. There was also a forest fire burning right next to the town and while we were there, a rain storm put it out."
The group of students then spent the next few days sight-seeing from their car as well as taking a three day backpacking trip through Yellowstone National Park, while camping out in tents.
"Backpacking Yellowstone was very treacherous," Tanner said. "We came prepared but when we were actually up there at 9,000 feet of elevation, it was very intense."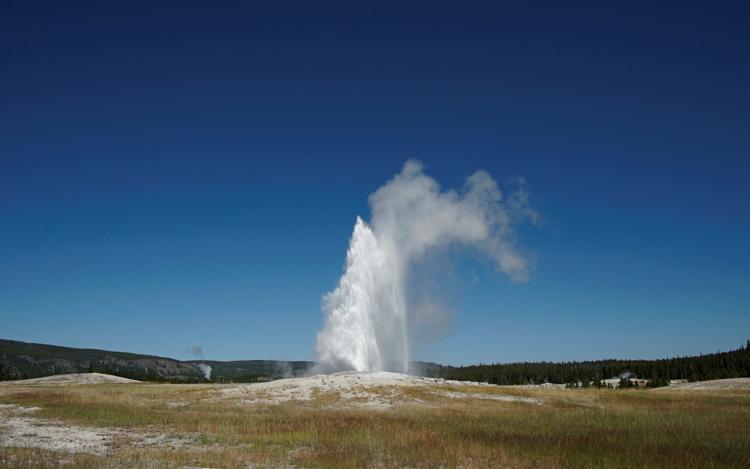 "We camped in a field one night in Yellowstone and were looking for a tree to hang our food packs up on in case of a passing bear, and we had snakes and mice just running across our feet while we were walking," Tanner said. "That was an interesting night."
 "One of the biggest highlights of the Yellowstone trip was hiking the Sky Rim trail. We had never done anything close to that. We could feel the altitude. It was a little harder to breathe up there" Tanner said.
"In the Smoky Mountains, we were unable to hike above the tree line, but The Sky Rim trail gave us panoramic views of the mountains," Holder said. "We also saw a lot of wildlife: bison, elk, bighorn sheep and a huge grizzly bear. We were pretty close to the bison on our hike and this was about a week after news reports had come out about people being attacked by the bison. It was definitely an experience. Thankfully, we were in the car when we encountered the grizzly bear."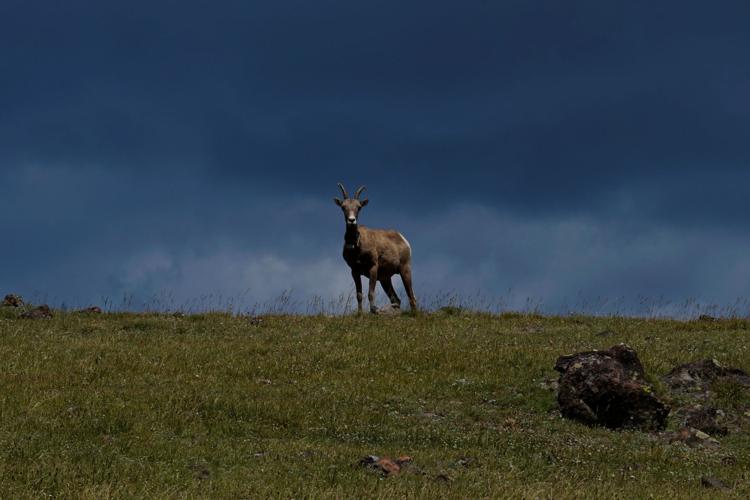 Other highlights of their trip include Old Faithful geyser and the Grand Prismatic hot spring, both features created by a super volcano located beneath Yellowstone National Park.
The group headed to West Glacier, Montana following their Yellowstone visit. "The town is right outside of Glacier National Park. We spent the day driving the full length of Going-to-the-Sun Road which is a must when visiting West Glacier," Tanner said. "We then went on another three day backpacking trip through Glacier National Park."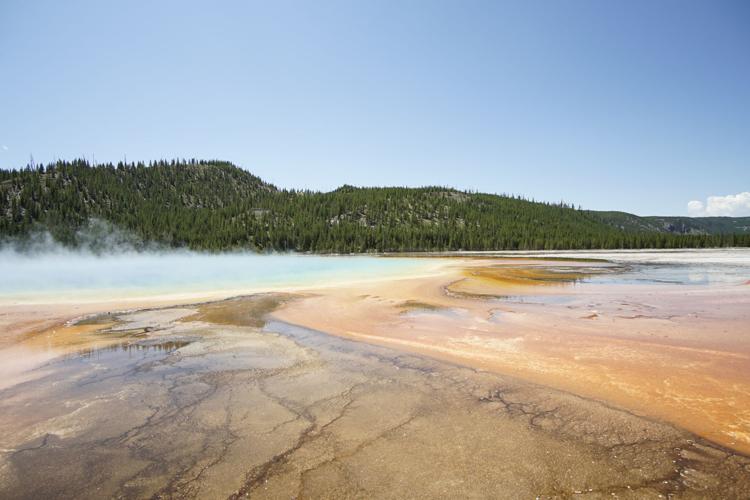 "The mountains in Glacier are only 2,000 to 3,000 feet high but they look huge. On an overcast day, we were driving a narrow road through the clouds not far from the edge of the cliff," Tanner said. "The parks were very busy. The parks close in October and open back up in May or June.
"We learned that Glacier is the deadliest bear national park in the country, including Denali in Alaska," said Tanner.
"One of our favorite places that we stayed in was Fort Collins, Colorado," Tanner said. "It was a really pretty town about 30 minutes outside of Denver. We could see the Rocky Mountains so well. It was a gorgeous tourist town to stay in."
On their way back home, the students also stopped in Deadwood, a town located in the Black Hills of South Dakota where the HBO Show "Deadwood" was filmed. They also stopped at Mount Rushmore.
The group traveled 5,000 miles round-trip through 11 states during their two week journey.
The former THS students graduated in 2017 and are now juniors at The University of Alabama – Huntsville. Houston Tanner, son of Ross and Jennifer Tanner, is majoring in Civil Engineering and hopes to have a career in structural engineering when he graduates. Will Holder, son of Scott and Kathrine Holder, is majoring in Accounting and will go on to get his master's degree, working toward becoming a Certified Public Accountant. Matthew Cox, son of Dave and Cindy Cox, and Kyle Gouthals, son of Brenda and John Gouthals, are both majoring in Aerospace Engineering and plan on continuing their graduate education at University of Alabama – Huntsville as well.
The group is already planning a similar trip next year with hopes to travel farther West toward Yosemite in California and the national parks in the state of Washington.