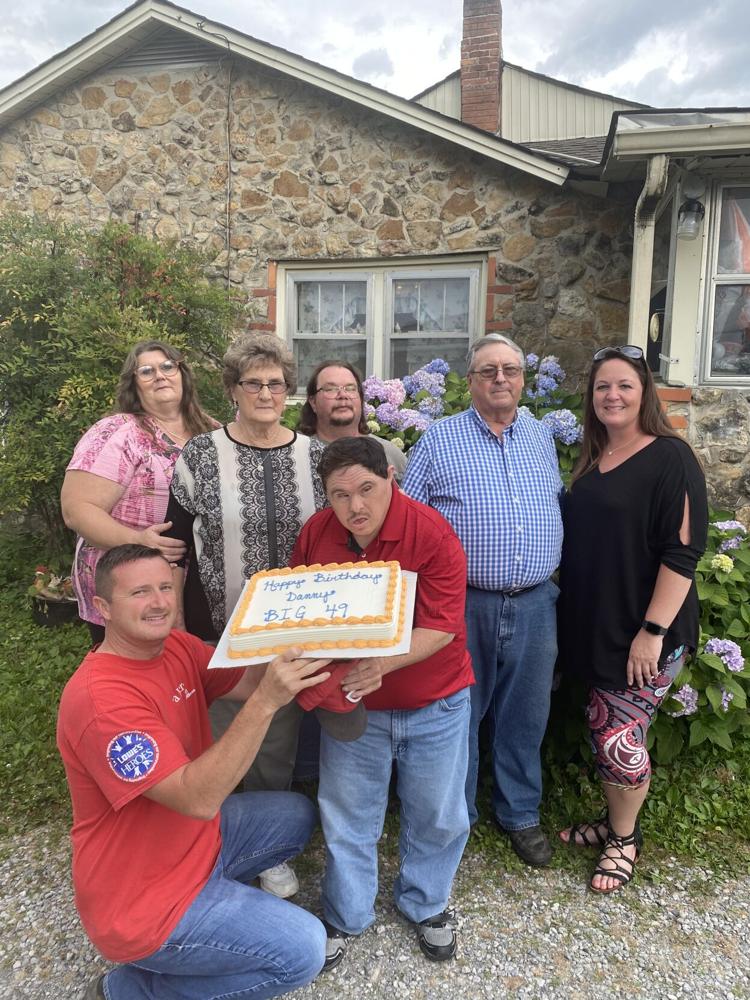 A special local resident was able to celebrate a major milestone after a lifetime of medical issues.
Tullahoma resident Danny Chamblee celebrated his 49th birthday June 23 with his family and friends. It was a special moment for his mother Elizabeth Chamblee.
"I know turning 49 is not a big deal to everyone, but it is for us because Danny has had a rough life and I just want to show our proud we are of him," said Chamblee.
What makes Danny special?
Danny is the son of Elizabeth and Freddie Chamblee. He was born in 1971 with Down syndrome.
According to the CDC, Down syndrome is a condition in which a person has an extra chromosome. Babies are normally born with 46 chromosomes but babies with Down syndrome have an extra copy of a chromosome - chromosome 21. This extra chromosome changes how the baby's body and brain develop, which can cause both mental and physical challenges. The CDC says each year, about 6,000 babies born in the United States have Down syndrome, which means about 1 in 700 babies will have Down syndrome.
Despite having Down syndrome, Danny has had an eventful life. 
The poster child and Mrs. Carter
In 1977, at five years old, Danny became the poster child for The Arc of Tennessee, as it is known now, and got to meet then First Lady Rosalynn Carter, wife of then President Jimmy Carter. He was supposed to meet then-President Jimmy Carter but he couldn't make it.
According to Elizabeth, the organization held a photo contest once in a while and picked a child to represent their state. A committee in Nashville representing the organization received the photo of Danny for the 1977 poster child contest and won out of over 30 entrees.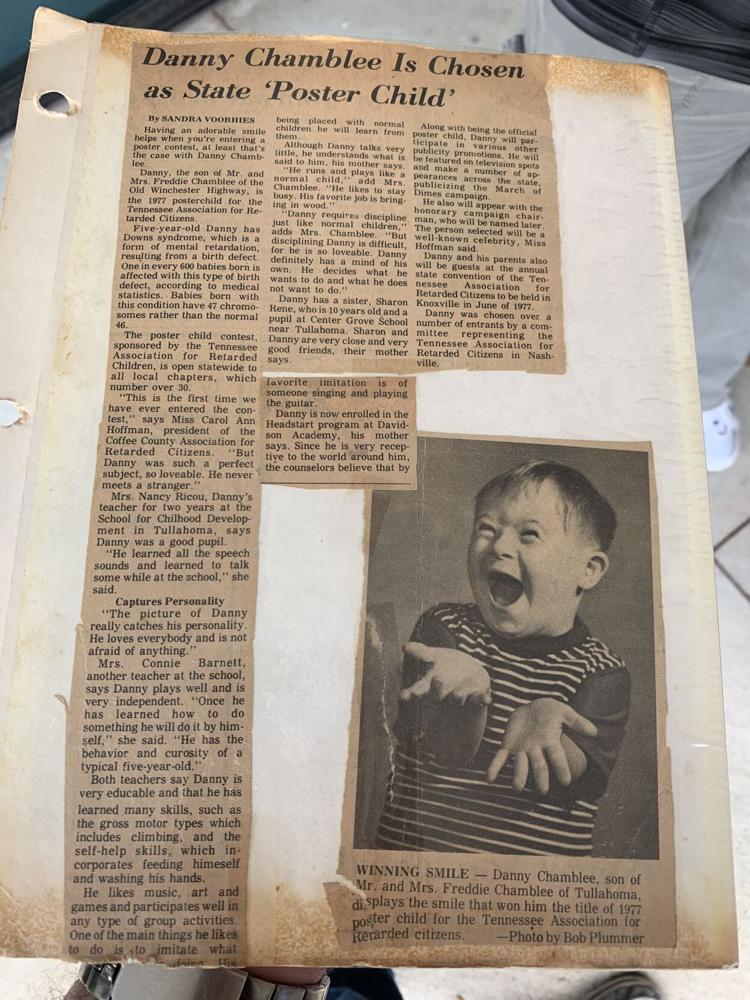 According to an article that covered Danny's contest win, former president of the Coffee County chapter at the time, Carol Ann Hoffman, said it was the first time they, as a chapter, had entered in the contest. She said Danny was the perfect subject as he was so loveable. One of his teachers at the time, Connie Barnett, said the picture submitted captured his personality.
"Danny was laughing, smiling and had his hands out," said Elizabeth. "That's is the one that really got him to be the poster child."
After winning the contest, Danny met Mrs. Carter May 25, 1977 when she was in Nashville for a hearing regarding mental health and mental disability services as an honorary chairman of the president's Commission on Mental Health.
According to Elizabeth, President Carter couldn't make it at the time.
In another article, Danny greeted the First Lady with open arms and a smile. He followed up with a hug and kiss. She talked to his parents and 10 year-old sister Sharon as well.
As time went on, Danny developed more medical issues and challenges that's made life challenging.
Elizabeth said although Danny turned 49, he does have Alzheimer's.
According to the Alzheimer's Association, early onset Alzheimer's affects people younger than 65, with many people developing early onset in their 40's to 50's. The Alzheimer's Association said about five percent, or more than five million Americans with Alzheimer's, have early onset.
 Other challenges Danny faces include having part of his right lung removed, getting e-coli and losing his eyesight. He's had numerous surgeries for his eyes, including two out-transplants and cataract surgery in both eyes. His right eye is completely glazed over. 
With these challenges and being told he wouldn't make it past 12 years old, Elizabeth said Danny has persevered. However, that doesn't mean Danny hasn't kept life interesting for his family.
Elizabeth recalled when Danny got lost in the woods behind their house five years ago. She called and reported it to the police. Danny was gone for several hours while the family searched for him.
They had help from the rescue squad, North Franklin Fire Department, helicopters with infrared sensors and an ambulance on standby.
"These woods, behind our houses, were 40 acres and there are ponds back there," said Elizabeth. "This was in July and you think of snakes and coyotes back there."
Elizabeth said it wasn't until about 10 p.m. at night when they found Danny safe. He only had a few scratches.
She said her son's friend Eric and his wife Sharon were riding down the road next to a corn field calling for Danny when Eric saw the corn moved.
"He stopped and Eric started hollering 'Come here Danny; it's Eric,' and he wouldn't come out," Elizabeth said. "Sharon got out of the car and she's about the size as my daughter. She said 'Danny, this is Sharon. Come to me this is Sharon.' He thought it was Sharon.'
Sharon was able to get Danny to come out and they took him to the ambulance where they met up with his brother, Terry.
Elizabeth said he was so happy to see Terry.
Elizabeth was contacted by police to let her know that Danny was safe and they brought her to him.
"My heart was pounding so fast. I was hyperventilating. I was really glad to see him," said Elizabeth.
Elizabeth mentioned it was strange because they and their granddaughters were out in the backyard with Danny before he disappeared.  She said he somehow got past them and went to the gate, where someone had cut the lock off, behind the house.
Challenges by the pandemic
Elizabeth said Danny went to New Life, a non-profit agency providing services for individuals with intellectual, developmental, and other disabilities, in Winchester and they would do Meals on Wheels and Danny would help with taking food to the people before COVID-19, which Danny calls work. He kept papers where it listed the places they went and the people they served.
 "With the virus going on, that's hard for him not to do," said Elizabeth.
With the pandemic going on, Danny couldn't go to the center and he wanted to go to work. His parents had to tell him there's a virus out there and everyone is sick so he can't go to work.
Elizabeth said he would go to the car and sit, wanting to go. They would get him out and start to take him driving. She said he would point, showing that he knows where work is.
When the care center opened back up and Danny was able to go to work after staying home, he forgot where to go. He's since gradually starting to remember everything.  
Regardless of the virus and the challenges of raising him, Elizabeth is happy to be able to raise Danny and for him to be able to be in their lives.
"I was just thinking how lucky we are to have him, with all of his medical problems," said Elizabeth.