While the city's Independence Day fireworks show is delayed due to the COVID-19 pandemic, Tullahoma residents can still buy fireworks and have a stay-at-home show.
According to Tullahoma Municipal Code, Title 7, Chapter 6, sections 612/613, the following guidelines are in place, spelling out specified periods and regulations for shooting fireworks.
No person under 16 years of age is permitted to purchase fireworks.
The time period that fireworks may be ignited in the city begins July 1 and extends through July 3 between the hours of 10 a.m. to 10:30 p.m.
On July 4, the hours are extended from 10 a.m. until 11:30 p.m. These hours may be modified by order of the Tullahoma Fire Department during extreme dry periods.
Anyone shooting fireworks onto or from someone else's property must have permission.
Clean up is required of any residue left by fireworks; failure to do so is a violation of the city's littering ordinances.
For those wanting to enjoy the rocket's red glare over the Fourth of July, there are several local fireworks stands to choose from, including one run by a pair of teachers who celebrate their summer break with a bang.
Amanda and Dustin Hazlett have been selling fireworks during the summer at Cherokee Square Shopping Plaza for seven years alongside their friends Katie Kimzey, Morgan Kane and Carrie Bennett. Amanda and Dustin work as teachers for East Lincoln and Bel-Aire Elementary schools, respectively, while Kimzey is a math teacher at Tullahoma High School.
For them it's a chance to do something together during the summer.
"Since we're teachers, it's something extra to do during the summer," Dustin said. "We enjoy being around each other so that it gives us a chance to spend more time with each other."
Kimzey said they get to meet all kinds of people, whether it be locals or people passing through. They have met many unique characters throughout their time selling fireworks, including one man who tried to barter vegetables for fireworks late one night. Hazlett said it did not work.
"We take cash and credit cards," said Dustin.
"He did end up buying fireworks and brought us some vegetables out of the kindness of his heart. It wasn't a trade situation," said Kimzey.
This year they have teamed up with the Kona Ice shaved ice truck. If customers make a $25 purchase, they'll receive a coupon for Kona Ice, which will have a truck on site until June 30.
"The little kids love that, and a lot of the adults love that, too, since it's been so hot," said Dustin.
Amanda said they are working on other giveaways for customers as a thank you for shopping with them.
They work with LaVergne-based Mad Fireworks, which has 82 tents across Tennessee and Kentucky. Mad Fireworks provides fireworks for them to sell and then they take back what isn't sold. They do not get to choose what is delivered to them so they get a chance to sell new fireworks along with their bestsellers.  These best sellers include a box of reloadable fireworks called Excalibur, One Bad Mother and One Bad Mother-in-Law.
Dustin said sales have been steady and consistent throughout the years with sales picking up when it gets closer to Independence Day.
"Just like Christmas shopping, everyone waits to the end," said Dustin.
Even during the current climate of the COVID-19 pandemic, they haven't seen a difference in sales but they have taken precautions to follow social distancing guidelines. They set up Plexiglas shields at the registers and have hand sanitizer on display tables for anyone to use. There are signs that encourage customers to keep six feet apart.
Because of the pandemic, they decided to offer a ten percent discount to first responders and healthcare workers, along with active military personnel and veterans, as a way to show appreciation and thanks for their work during these times.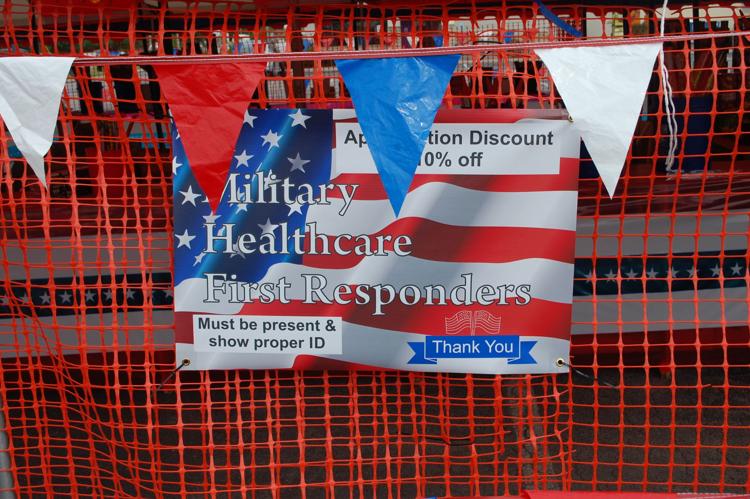 "We just want to show our support for anyone who has worked in healthcare with all of this COVID-19 stuff and first responders, we wanted to show our support for them too," said Amanda.
Amanda said they got approval from their bosses at Mad Fireworks and said people are excited about it.
"We've seen a lot more people coming in early and buying their big things, and I really think it's because we've given that discount to those people and their families," said Amanda.
The hours for the fireworks stand at Cherokee Square Shopping Plaza is from 8 a.m. to no later than 11 p.m. The last day to buy fireworks is July 5.