Outdoor enthusiasts, avid hikers and those looking for more places to reconnect with nature were treated at the Tullahoma Parks and Recreation's latest Lunch and Learn seminar on Wednesday.
Nature-lovers of all types gathered for a meal and a presentation led by Tennessee State Naturalist Randy Hedgepath at D.W. Wilson Community Center as part of the monthly programming sponsored by the parks and recreation department.
Hedgepath, a 37-year veteran of the state parks service, gave listeners a statewide virtual tour of all the beauty of the state's public parks and natural areas, highlighting some of the lesser-known areas that hikers and outdoorsmen may not visit as often.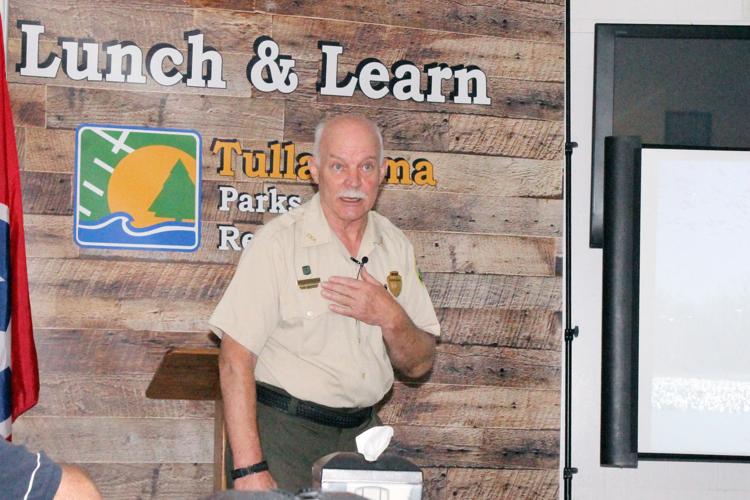 According to Parks and Recreation Program Manager Lyle Russell, this month's Lunch and Learn was part of a larger celebration of National Parks and Recreation month.
"The month of July is National Parks and Recreation Month," Russell said, "so the NRPA (National Recreation and Parks Association) is promoting all of the parks and recs across the country, to promote things that have to do with park-related [activities]."
Russell said parks and recreation has a good working relationship with the Tennessee State Parks Service, so he wanted to include a program about all 56 state parks and the scores of natural areas in the state for the month.
While he hadn't met Hedgepath in person previously, Russell said he knew Hedgepath was willing to come talk about all the parks in the state.
"He has offered to come down when he could, and the schedules lined up," he said.
Hedgepath started in the westernmost portion of the state and moved east, highlighting multiple different activities for state parks enthusiasts.
Hiking isn't the only thing people can do, Hedgepath said.
For example, those who love canoeing and kayaking could take some time to float along the Wolf River in Fayette County. When the time is right and the water is high enough, canoers and kayakers alike can traverse through the forest in the unchanneled portion of the Wolf known as "Ghost River."
According to Hedgepath, the Wolf River contains about a two-mile section that looks nothing like a river. Instead, the river disperses around a section of forest. Following the forested section, a lake-like portion about a mile wide allows for relaxed water travel. The river then comes back together seemingly out of nowhere, Hedgepath said.
Hedgepath also highlighted the Natchez Trace State Park, a 48,000 acre public land established in the 1930s under President Franklin D. Roosevelt's New Deal.
According to Hedgepath, Natchez Trace State Park contains an interesting lake bed – instead of having rocks line the Earth underneath the water, there is only sand.
This, he said, is due to the way the ocean used to come up to the land there. The sand from the ocean from eons ago had stuck around with nowhere to go.
There are even more state parks that contain New Deal-era facilities, including Pickwick Landing State Park in Hardin County. In fact, Hedgepath said, 17 of the state's public lands have picnic shelters or other facilities built by the Civilian Conservation Corps in the '30s.
Following his photo tour of the state's parks, Hedgepath told The News he was happy to come down and do the program.
"I love doing programs and sharing my knowledge of the parks and of nature with people," he said.
He joked that while he doesn't "know a whole lot about other subjects," he does know a great deal about nature and parks and enjoys sharing that information with others.
"I make them smile by teaching them something about nature, and it makes me smile," he said.
Hedgepath's Lunch and Learn isn't the only Parks and Rec Month celebration Russell's department has planned.
In fact, this Saturday Tullahoma Parks and Recreation is teaming up with the local libraries to host a tree identification hike in the Short Springs Natural Area.
Building off a previous nature journaling hike, Russell said the tree identification hike will consist of two teams of hikers walking two miles throughout the day.
"We had a very successful hike last year where we had the nature journaling, with the library," he said. They wanted to do another hike this year, so we got together with them and came up with this [hike]."
Additionally, the hike will feature the city's state forester Tyler Wakefield from the Tennessee Division of Forestry, Russell said.
"He's going to teach people about how they harvest trees and why they have to do it," Russell said.
In celebrating Parks and Recreation Month, Russell said the hike will get people doing things outside as opposed to simply attending meetings and seminars indoors.
"It's an informational thing as well as a Get Fit! Tullahoma initiative to get people out," he said.
Space on the tree I.D. hike is limited, so all those interested in attending should contact Russell at 455-1121. For more information on the hike, visit Tullahoma Parks and Recreation Department on Facebook.