Tullahoma Parks and Recreation has a new free fitness class available for veterans, service members, first responders and their family members beginning tomorrow morning, department officials have announced.
Aquatics director Sheila Rico said she will be leading a new, trauma-conscious beginner's yoga class called Connected Warriors each Monday morning from 9 to 10 at D.W. Wilson Community Center.
Connected Warriors (CW) is a national nonprofit organization that offers "evidence-based trauma-conscious yoga" to members of the military, veterans and their families at no cost, according to its website.
Founded by Florida yoga instructor Judy Weaver and Marine Corps veteran Ralph Iovino in 2010, CW aims to empower those who have been through significant trauma.
The programs offered by CW offer a "progressive teaching system" as well as a "network of veterans and volunteers that promote community, self-empowerment, health and well-being" for those who participate in the classes.
For Rico, this class is all about giving back to the community and helping those who may want a calming physical activity to help clear their minds.
While yoga studios can charge large fees for classes, the CW classes will be a complete free option for veterans, service members and first responders in Tullahoma.
"We're a community center," Rico said, "We care. We want to help them, and if going yoga helps them work through their trauma, we are more than glad to offer that to them."
She added that she was excited to start offering the class, saying it would be a great addition to the rotation of fitness classes at D.W. Wilson.
"I think it will be real good for the community," she said.
While most yoga classes utilize Sanskrit for poses and breathing instructions, Rico said the CW class is designed to pose the least risk of affecting triggers for those who take the classes.
"All the words [for poses] will be in English," Rico said. "There won't be any Sanskrit used."
Additionally, Rico said the class will be set up in a way that allows all participants to feel safe in the classroom.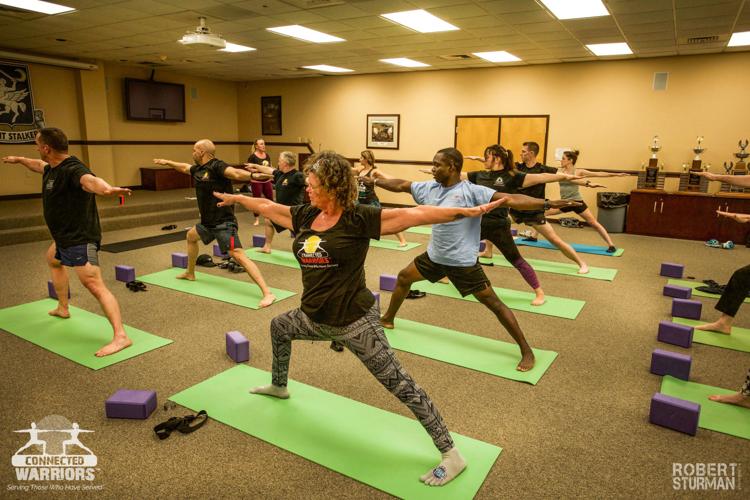 "They'll be facing a door at all times," she said. "For trauma victims, they need to be able to see where they can leave."
Even her job as the instructor is altered for maximum student comfort. Instead of moving about the room, assisting patrons with the poses from behind or the side, Rico will be at the front of the room and clearly visible at all times.
Not everyone can be a CW yoga instructor. Rico traveled to Huntsville, Alabama, to attend an extensive, specialized training course to become a CW-certified instructor.
 "I went to special training for teaching people with trauma and PTSD," she said.
That training has helped her become a better empathetic voice in life – not just in the yoga class.
"There are certain things that you don't think about with your words – how a foreign language could affect somebody who's been deployed … or how just walking around a room really bothers people who have been in traumatic situations," she said.
She added how she gained a "deeper understanding" into her life for trauma victims.
Although the classes haven't started yet, Rico said she's already fielded multiple questions about the upcoming class.
"I've had several calls and several people interested," she said, which she was excited about.
The most common questions she's received thus far have revolved around the wardrobe for the class, she said.
For the most part, some interested patrons are worried about whether they'll be required to take their shoes off or purchase any particular type of clothing, but Rico said the class doesn't require that at all.
"They can leave their shoes on in this yoga class," she said. "There's no need to wear anything special. They don't have to go buy special yoga clothes. They just need to be able to move."
The class will take place from 9 to 10 a.m. Mondays at D.W. Wilson Community Center, 501 N. Collins St.
Active service members, veterans, first responders and their family members are able to take the class at no cost. For more information on the Tullahoma class, contact Rico at 455-2111. For more information about Connected Warriors as an organization, visit www.connectedwarriors.org.