Despite the city assisting in the opening of a new evening farmers market, vendors at the Tullahoma Food Fair say things are still going strong on Wednesday mornings.
The Tullahoma Food Fair is a familiar sight for those in the area, as it's been set up in the parking lot of Trinity Lutheran Church for decades.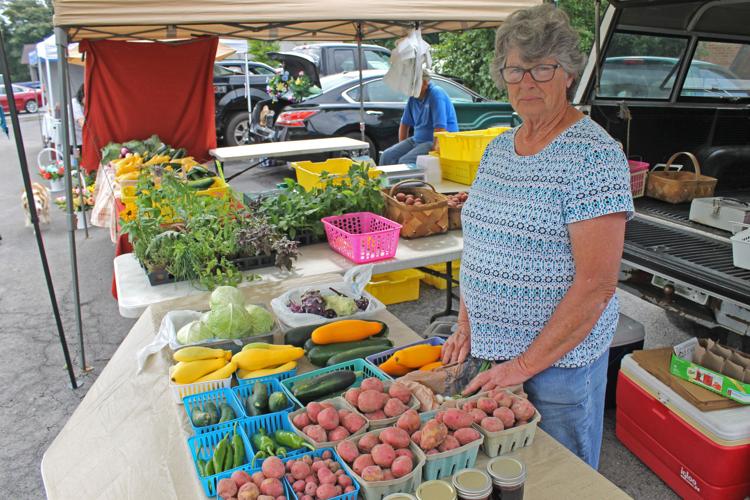 In fact, the Food Fair has been setting up shop in that same parking lot for 40 years – since 1979.
Something that contributes to the longevity of the farmers market is both its location and the quality of the goods sold there, according to market president Wilma Kane.
"Everybody knows that we're here," she said. "What we sell, we grow ourselves. People just like to come and buy the stuff that's locally grown."
Kane has been the president of the Tullahoma Food Fair for the last three years, she said, but she's been attending the Wednesday morning market for 10 times that long.
"I've been here probably 30 years," she said.
In that time, Kane's brought a respectable spread of homegrown vegetables and fruits, as well as canned items and some breads.
"We do all kinds of vegetables, and then I do sourdough bread and zucchini bread," she said. "I make all kinds of jellies and jams; I do pickled squash and squash relish."
A newer face at the Wednesday market is George Martin, from Manchester.
He's been coming to the Tullahoma market for a little over a decade.
Those in the area who don't know his name certainly know his products: he's the man with the local honey.
All that local honey is the reason he started setting up at the Tullahoma market, he said.
"I was doing honey and I needed an outlet to sell it all," he said.
His first market was the Manchester market on Saturday mornings, but he eventually branched out and added the Tullahoma market to his weekly stops.
He also said the location of the market was a factor in his success over the last decade.
"It's a good location," he said. "It's on a main street."
But the person who has been attending the Tullahoma Food Fair the longest, by far, is Kelly Prince of Winchester.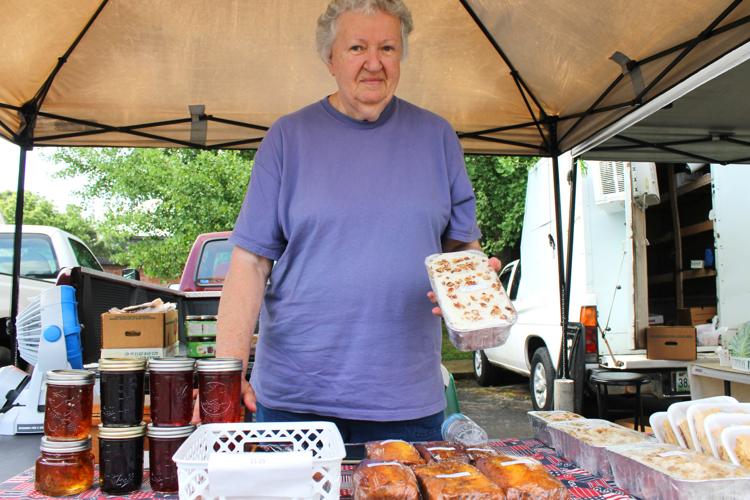 She first heard about the market when it was begun – in 1979.
A neighbor of hers first told her about the market that year, and she decided to check it out with her husband.
They enjoyed the location, the quality of the products being sold and the camaraderie at the market, so she's stuck around ever since.
Prince has been selling baked goods and jams since she first started coming to the market.
She even sold homegrown vegetables with her husband during his life, she said.
"When my husband was alive we had a big garden and sold vegetables, but he's been gone several years and I don't have any now," she said.
Even without the vegetables, she still does well at the market with her baked goods. Items like cookies, breads, muffins and her special Key Lime Cake still get her returning customers.
Having the new market in town doesn't concern those at the Wednesday market, Kane said.
Because the Food Fair has lasted for so long at Trinity Lutheran, Kane said the market has its own loyal customers.
"It's a good intersection, and people can see that we're here," she said. "We've been here for years, and they know that it's a good location. It really is."
The Tullahoma Food Fair is set up from 6:30 to 11:30 a.m. each Wednesday morning from May through October.
The new farmers market will be set up from 4 to 7 p.m. on Mondays at South Jackson Civic Center.
Do you shop at the Tullahoma Food Fair?
Erin McCullough may be reached at emccullough@tullahomanews.com.