The Tullahoma Animal Shelter has any number of homeless pooches ready to find their fur-ever home. But helping these lovable lugs stay socialized and ready for their new families is no easy task for the limited shelter staff.
That's where volunteers like Richard DeTeresa, a Navy veteran and Tullahoma resident, come in.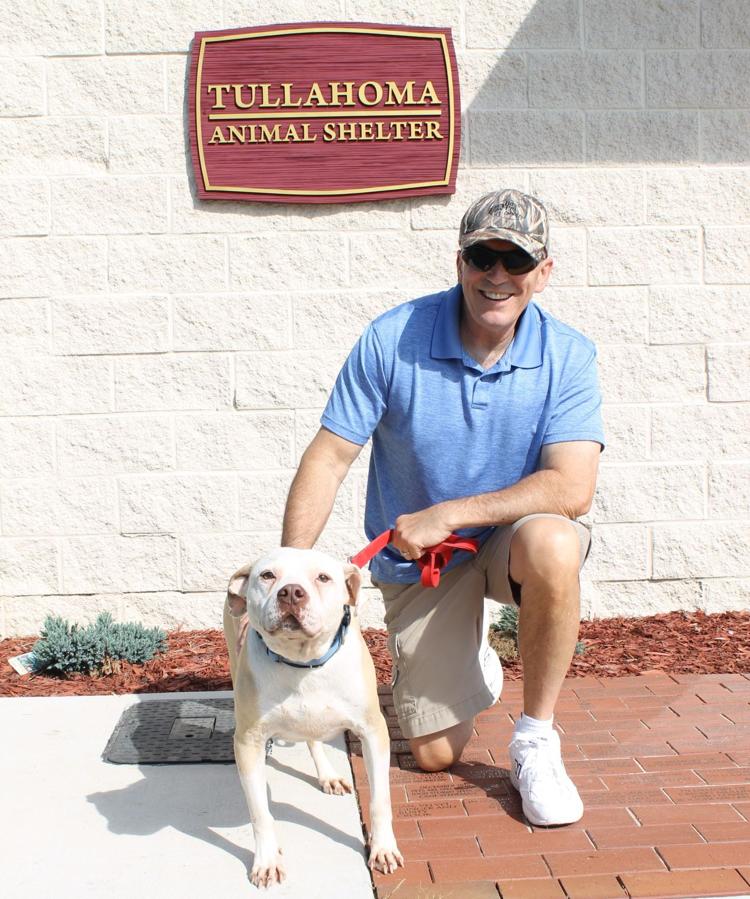 DeTeresa has been volunteering with the shelter for nearly a year. He stops by the shelter multiple days a week in order help all the dogs stretch their legs and get socialized.
According to him, he's always had a soft spot for Spot.
Dogs were even a part of his work with the military while he was deployed to the Middle East, he said.
"It was my responsibility to go and inspect the dog kennels … to make sure they were cared for properly," he said. Caring for the bomb dogs in the Middle East was "one of my favorite things," he said.
"That was the one good thing that I got to do over there," he added.
DeTeresa said his time helping out at the shelter started with a stray dog in his neighborhood.
"We picked up a stray last September," he said. "It was hanging around the neighborhood."
When he brought the pup over to the shelter, he asked if there was anything he could to do help out.
That answer, he said, was an enthusiastic "yes."
"They said, 'Sure, any time you can come over and walk the dogs, you can help us out with things,'" he said.
Now he's got a routine down.
He stops by the shelters on Tuesdays, Thursdays and some Saturdays in order to get each and every dog out of their kennels.
"I've been coming out and taking the dogs out of their enclosures, giving them some human interaction and walking them," he said.
DeTeresa added that he will "on the very rare occasion" be asked to help out with other tasks around the shelter; otherwise, he's happy to socialize with the dogs and help get them used to people.
Something that simple can truly make a difference in a dog's life, he said.
"The thing is, the dogs are in the enclosures [a lot]," DeTeresa said. "For them just to get out of the enclosures once in a while is good for their psyche. The more human interaction they get, the more adoptable they are, because they become more social."
DeTeresa doesn't want any dog to stay cooped up in the kennel for too long – he'd rather see every dog happily adopted and loved by a family in the area. And if taking each of the dogs for a walk a couple days a week is what will help the dogs get adopted, that's what he'll continue to do.
"Being locked up all the time is not great," he said. "It's not great for people. It's not great for dogs, either, so that's why I do it. The more interaction they have with people, the more used to people they get [and] the more adoptable they'll be."
Because the dogs in the shelter come and go as they are adopted or found in the community, DeTeresa said he hasn't gotten too attached to any of them – except one.
"The one that I like here now is named Bubba," he said. "He's really mellow; really cute. I really like him."
Bubba is a senior Pit mix – a "senior baby," according to his profile on PetFinder.
Neither DeTeresa nor the shelter staff know how old he is, but his calm demeanor make him a great pal while being walked.
"He's very friendly," DeTeresa said.
Though DeTeresa is happy to see Bubba and hang out with him, he said it's a shame Bubba is still in the shelter.
"It's always a shame when the older dogs are here," he said.
Older dogs belong in a loving home – not a city shelter, DeTeresa said.
Bubba is just one of more than a dozen dogs with their own personality, something DeTeresa admires.
"Every dog has their own personality, just like people," he said. "There's always one or two that, for some reason, just hit you the right way, and you become bonded with them."
He's still hoping Bubba will be chosen to be adopted, though.
"Hopefully he'll get a home soon," he said.
Bubba isn't the only dog waiting to be adopted at the shelter. According to PetFinder, there are currently 18 furry friends waiting to be adopted, including Bubba. To view all the adoptable dogs at the shelter, visit www.petfinder.com and enter Tullahoma in the search bar.