This past season was nothing short of special for Tullahoma on the football field. The Wildcats ended the 2020 campaign with a 12-1 record, only losing to Nolensville 15-14 in the quarterfinals of the playoffs.
That success on the field led to many former Wildcats remembering their playing days. Included in those reminiscing were members of the 1968 Tullahoma High School football team, which compiled an overall record of 7-4 that season.
In letters to The News, Stan Lindsay and David Perry both detailed their playing days. As Perry put it, back then he and his teammates really enjoyed being out there on the field together.
"We could not get enough of football and other sports," Perry said. "It was a great time for us and the years in high school went very quickly. Our football team was like one big family who cared about each other and we have kept up with each other whenever possible."
That 1968 football team was already going to be a different year for the Wildcats, even before that year kicked off. During the offseason, Tullahoma went through a coaching change on the gridiron as Bobby Morton took over the program, replacing longtime Wildcats' coach W.C. Cooper.
It didn't long for the Wildcats to see a change in philosophy, more so on the offensive end.
"Our junior year was 1967, the last single-wing offense. The Tullahoma Wildcats changed their offense from single-wing to the I-formation under new head coach Bobby Morton," Lindsay stated.
"It was more wide-open attach which relied on more passing than in the past," Perry added.
The change in offensive style paid off and Tullahoma put together its first winning season since 1965. In those 11 games in 1968, the Wildcats combined for a total of 259 points scored, an average of 23.5 points per contest. Tullahoma's defense surrendered just 201 points that year, as an opponents averaged 18.27 points a game.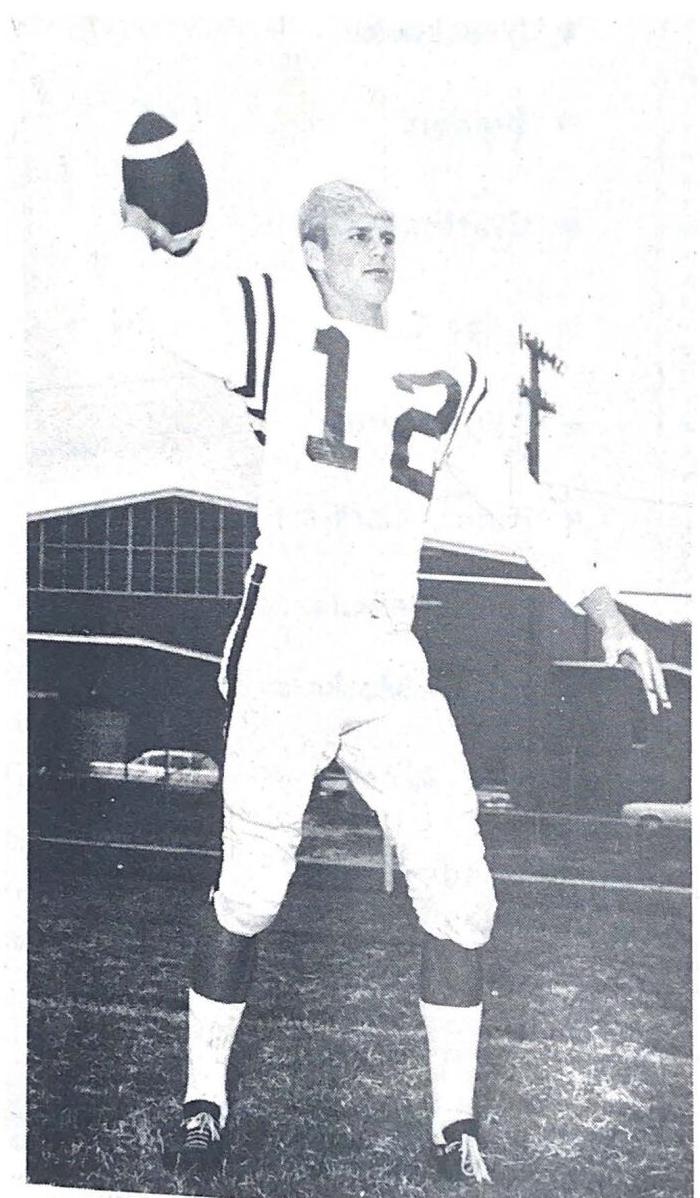 According to Lindsay, starters on the offensive end included Randy Tipps, Tommy Spears, Tom Copeland, Dale Woosley, Don Finger and John Ray. That backfield consisted of Willie Tolbert, Paul Cooley, Marvin Painter and Lindsay.
The 1968 season got off to a strong start – particularly on the offensive end – as the Wildcats routed Smyrna 43-19. Following that game, Tullahoma was ranked in the top 10 across the state.
However, that ranking didn't last long, as Wildcats dropped their next two contests. Tullahoma followed the season-opener with a 33-0 loss at Murfreesboro Central, before falling to Shelbyville 28-13.
"All of us were very disappointed in our performance, especially Coach Morton," Perry said. "This was supposed to the season when we turned our fortunes around. We were certainly not playing to our potential. We decided to turn our season around by dedicating ourselves, practicing harder and playing more as a team."
The Wildcats followed those two losses with back-to-back wins to improve to 3-2 on the season. Tullahoma notched a 27-6 home win against Columbia, before following that with a 41-21 home win over Lewisburg.
The following week, the Wildcats were pitted against one of the top teams in the state when they hosted Franklin County. After a close first half, Perry said the Rebels began to break the game open late to seal the 26-7 victory.
"The score was close until the Rebels pulled away in the fourth quarter," Perry said. "Franklin County tied Murfreesboro Central 10-10 in the Tobacco Bowl and finished as co-state champions."
From that point, the Wildcats went on to win the remaining four games on its schedule, finishing the regular season with a 7-3 record. Following the Franklin County loss, Tullahoma notched a 32-14 victory at Fayetteville, before picking up a 41-7 win at McMinnville City.
The ninth game on Tullahoma's schedule was a thriller when it headed to Lawrence County. The Wildcats eked out a 21-20 victory during that trip to Lawrenceburg.
"Gary Lowhorn blocked a punt and later Tolbert scored," Lindsay recalled. "With less than three minutes left, David Perry scored [what turned into the game winner]."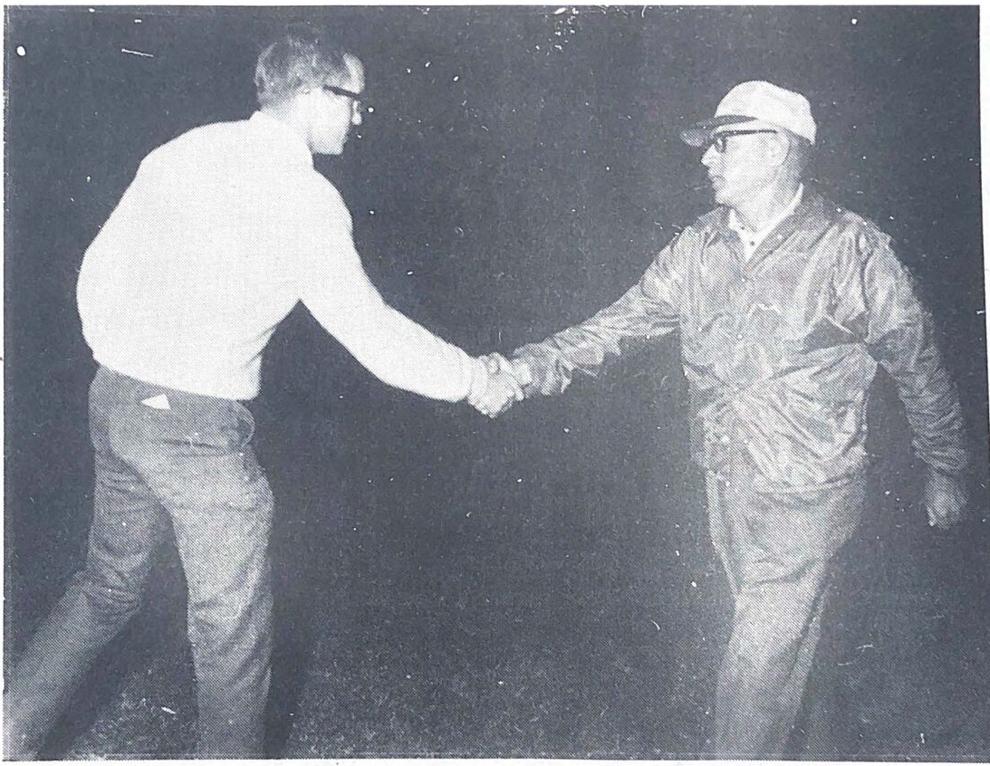 Shortly after pulling off the exciting win over Lawrence County, that joy turned into sorrow for Tullahoma. According to both Perry and Lindsay they were notified that a father of one of their teammates had passed away during the contest.
"Mr. Felix Waggoner and his wife would go to the away games. Mr. Waggoner did not sit in the bleachers, he enjoyed the games walking along the fence the entire game," Lindsay recalled. "When the game was over, we found out that he had died. We still cry about that today."
With one game left on their schedule, the Wildcats wanted nothing more than to capture a home win over its cross-county rival Manchester. Additionally, Tullahoma needed a win to get into a postseason bowl game.
"In the state of Tennessee in 1968, there were no playoffs," Perry explained. "Bowl games were the reward for teams who had fine seasons. Teams had to win at least seven games to qualify for a bowl game."
Heading into that contest, Manchester had an 8-1 record on the year. The only blemish for the Red Raiders came after a loss to Lawrence County.
During that regular-season finale, Tullahoma jumped off to a quick start and led 14-0. Manchester was able to cut into its deficit and at halftime, the Wildcats led 14-6.
"During halftime, an awful thunderstorm hit and the second half was played in sloppy conditions," Perry stated. "Because of the weather, our passing game became almost nonexistent. Both teams relied on their defense in the second half."
With the terrible field conditions, neither offense could reach the end zone again as Tullahoma secured the victory. Following the win, the Wildcats accepted a bid to play in the Lions Bowl game against Chattanooga East Ridge.
In that bowl contest, Tullahoma found itself in a close contest with the Pioneers. According to both Perry and Lindsay, the Wildcats had two long touchdown runs called back due to penalties, both clipping calls that hurt their chances to win the game. Instead, East Ridge went on to secure the narrow 21-20 victory.
"It was a great year for us in many ways," Perry said. "It was sad for the seniors who knew we would not play for the Wildcats again, but we had great memories of that season of 1968."
This past year, Perry said that he enjoyed keeping up with the 2020 Wildcats and enjoyed their historic season. He hopes the players on last season's squad cherish their playing days as much as he and his teammates did.
"The THS Wildcats football team of 2020 had a season that is unprecedented in Tullahoma history," Perry said. "Congratulations to them and we hope their memories will be as memorable as the THS team of 1968."