Partners for Healing (PFH) offers many life-saving services to the working uninsured, including medical imaging.
Bryan Williams, a diagnostic sonographer and owner/CEO of Allied Imaging, LLC volunteers once a month at PFH to perform ultrasounds for patients, bringing his own equipment with him. "The clinic is open every second Saturday of the month," he said. "I am always here then."
Williams does general scanning which includes imaging of the abdominal area, pelvis and thyroids. He does a lot of adult and pediatric cardiac as well as vascular imaging. "Pretty much any type of diagnostic ultrasound, we can do on a mobile basis," Williams said.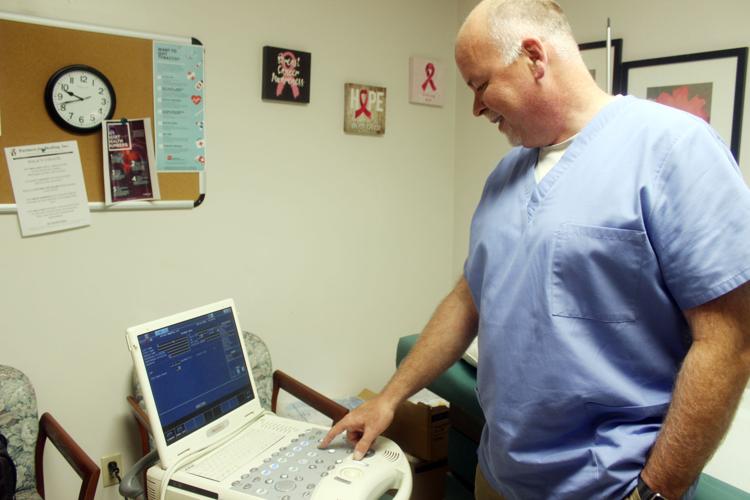 He has been with PFH since it was established in 2001, when Bill Starnes put the nonprofit together. "He was my preacher and did a sermon on how we should help others and presented the idea of the nonprofit. He was looking for some way for the community to coalesce and support those that are working but do not have insurance. I like the mission of trying to help people who are trying to help themselves," Williams said. "I thought it was a tremendous idea so we got a group of people together to help put it all together. One of the biggest needs they had at the time was medical ultrasounds, so I volunteered my services. I am a very small part of what is a tremendous group of individuals."
"We would never be able to afford that kind of equipment," Executive Director Lynn Brumfield said. "Bryan has given us $6,000 worth of medical imaging for free in 2019 alone. We are lucky to have him."
Williams saved the life of a woman named Rosie Mitchell back in 2012, when he gave her an ultrasound that identified a problems that could have killed her if he had not run the test and advised her to seek emergency medical attention immediately.
"Thank goodness for Partners for Healing because I did not have the insurance for doctor's visits," Mitchell said in a previous interview with The News.
"We made a difference in someone's life and that is the point of what we do here," Williams said. "Whenever you can do that for someone, it makes you feel good inside."
Another patient that Williams remembers came in with a very rare sarcoma on her leg that Williams noticed with his imagery. "If she had not come in, she would not be alive," he said.
Williams graduated from Tulane University in New Orleans in 1993 with a bachelor degree in History and a minor in Philosophy. "In college, everyone told me to major in what interests me and everything will fall into place. That is not really how it works in the real world," he said. "So I had to find something constructive to do. I was always interested in math and science and looked into the medical profession."
"In 1997, I did a training program and an internship learning how to do ultrasounds and I have been doing it ever since," he said. "I received my abdominal imaging certification."
Williams worked for a mobile diagnostic imaging company that ended up being sold to a larger company. He worked his way up the ladder there. After a few years, he decided to start his own mobile business Allied Imaging, LLC.
"It has been about 10 years since I opened," he said. "I live in Franklin so I do a lot of work in Nashville, Murfreesboro and Tullahoma."
For more information about Partners for Healing, visit their Facebook page "Partners for Healing," visit their website www.partnersforhealing.org or call 455-5014.
Partners for Healing is located at 109 W. Blackwell St.