Arnold Air Force base Commander Col. Jeffrey Geraghty has announced plans for a phase-in aimed at returning to normalcy at the local base provided COVID-19 numbers continue their downward trend.
The following is his announcement in full concerning plans to move forward with returning employees to work at the base.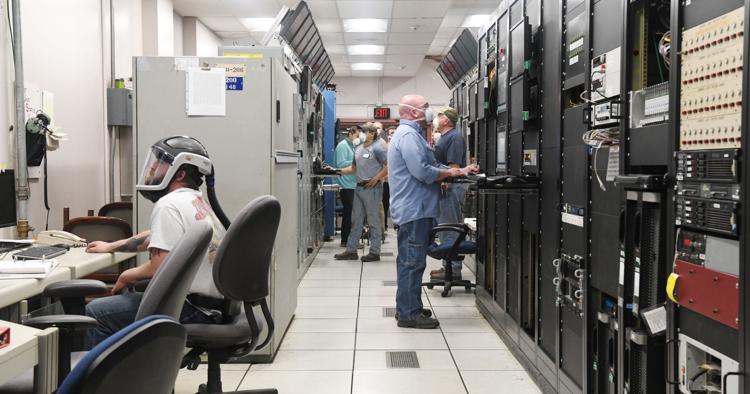 "I wanted to bring you up to speed on all the work the Return to Full Capacity (RtFC) Tiger Team has been doing and some decisions I've made to move us forward. As I mentioned in the Commander's Call, much of this information is Arnold AFB specific, but the basic framework is applicable across team AEDC, including at each of our geographically separated units, assuming those GSUs also adhere to the restrictions and policies put in place by those installation commanders.
Bottom Line Up Front: If the trend of active cases in Coffee, Franklin, Bedford and Grundy Counties remain flat or downward, I plan to initiate Phase 1a of the RtFC Framework at Arnold AFB on Monday, June 1. You can see the framework on the Arnold AFB Coronavirus webpage.
We would then enter the next step, Phase 1b, only after Rutherford County has had a 14-day downward trend. You will be able to see the trend data on the Arnold AFB Coronavirus webpage, and we'll update it daily once the state of Tennessee updates their data.
Those two paragraphs will probably raise several questions in everyone's mind, so I'll try to address what I think will be some of the big rocks. However, the big takeaway should be that you need to talk to your supervisor to understand in what phase you may be coming back to your workplace, and what you will need to do once in the workplace to continue to mitigate risk.
As many of you know we've been predicting a RtFC Phase 1 initiation on June 22. So, why the dramatic acceleration? The short answer is that the data implies that we can mitigate the risks involved sufficiently to maintain the physical health of the workforce – my number one priority – with a phased return to full capacity that starts sooner than June 22.
The model we used to develop the RtFC framework was based on state-wide trend data, because that was the most comprehensive look at the region where all our employees live and commute from daily. As the team drilled down into the data, I made the decision that if we rely on communities like Rutherford and Davidson Counties to trend downward, it'll be a long time before you can return to the workplace and secure the fiscal health of your families.
So, we modified the RtFC framework to better fit the demographics of our workforce while still mitigating risks. Seventy-five percent of the Arnold AFB workforce lives in Coffee, Franklin, Bedford and Grundy Counties. Ten percent live in Rutherford County, which still shows an upward trajectory of active COVID-19 cases, and is still one of the COVID-19 hotspots in the state of Tennessee.
A few words on hotspots and our risk mitigation policies: if you choose to travel to a hotspot, such as Rutherford County, you will still be subject to the screening procedures at the gate and you will still be accountable for your responses to the guard's questions. I encourage everyone to self-screen at home and have discussions about the impacts of your travel choices with your supervisor. The screening procedures can also be found on the Coronavirus webpage.
As I mentioned during the Commander's Call, we do have some people whose contribution to the operationally urgent mission is so time critical that, despite them living in a hotspot, they may be allowed on base after passing a set of Enhanced Screening Procedures (ESP).  If they meet additional screening criteria and commit to modifying off-base activities in a manner which reduces their risk of infection, we have the processes in place to bring them on base and continually re-assess the risk inherent with their activities. This additional screening criteria is also on the Coronavirus webpage.
The next question you may be asking yourself is: if the data shows we've already achieved a 14-day downward trend in the four counties where most of our Arnold AFB team live, why are we waiting until June 1st to enter Phase 1a?
Recall that we were planning to a 22 June RtFC model. To put it as transparently as possible, we have not yet verified that our RtFC plan is fully ready to execute. Next week will be a preparatory week in which supervisors of the Phase 1a workforce will return to base to validate the assumptions that the RtFC tiger team made in coming up with the plan (e.g. do we have the right PPE in place, do we have effective methods of enforcing social distancing and mask wear, do we know how to clean, can we prevent gatherings of people in break rooms, etc.).
Here, I'll pause for a moment to remind everyone that if individuals don't take personal responsibility for their own actions to protect themselves and their co-workers, supervisors have the responsibility to enforce safe practices and have the tools available to ensure enforcement – both physical tools like cleaning supplies and PPE; and administrative tools to remedy poor choices.
Please keep in mind that returning to the workplace is not a return to normal. There remains a significant health risk present when we begin our return to full capacity, but we have the planning, supplies, and local healthcare capacity to mitigate that health risk. Furthermore, a return to full capacity will take time. The Department of the Air Force anticipates we will likely operate in a COVID-19 global environment for the next 18 months. We will remain vigilant while we defend our nation.
Please discuss with your supervisor in what phase you should expect to return to base, and any concerns you have. Supervisors, elevate any concerns you or your team have up the chain, and let us work for you to address those issues.
Leadership remains committed to the three priorities that have guided our decisions throughout this crisis: safeguard the health of the workforce, execute the mission to the best of our ability, and take care of each other. I'm committed to working alongside you, with appropriate PPE or at a safe distance, as we Return to Full Capacity.
Thank you for your commitment to the mission and each other!"