Ten more cases of COVID-19 brings the Coffee County overall total to 558, according to the latest report from the Tennessee Department of Health.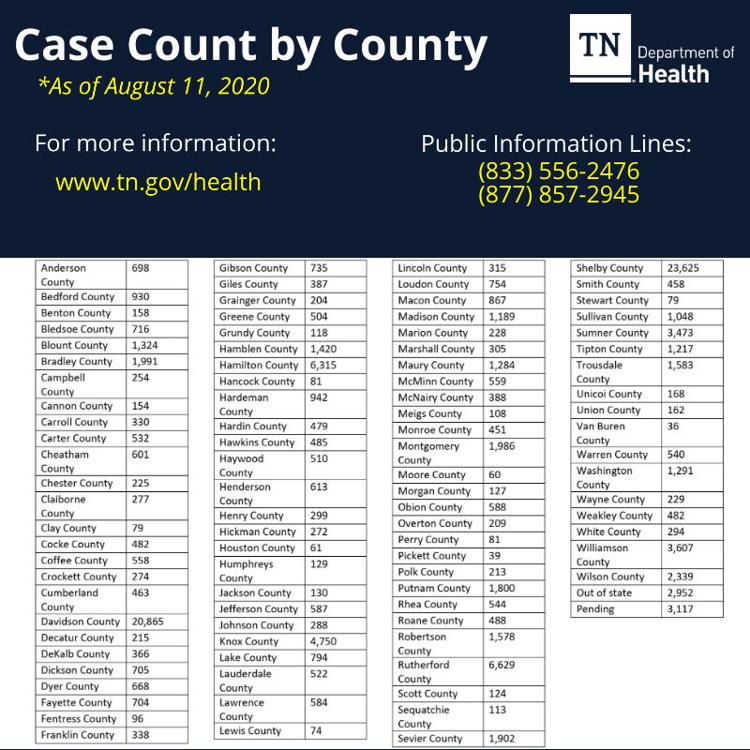 The Tuesday, Aug. 11 report listed Coffee County with 558 confirmed cases of the virus, with 298 of the cases active and 257 recovered. The county has also remained static with just three deaths reported.
The net change in active case numbers is -4, with 10 new active cases but 14 recoveries recorded over Monday, Aug. 10.
The active cases account for .527% of the total estimated population of Coffee County.
The active case numbers are still above the .5% threshold set by the three school systems in Coffee County, keeping them in the "moderate spread" category. This category sees all three school systems transitioning to the "hybrid" model of education, which varies by each district.
In Tullahoma City Schools, the transition will take place Monday, Aug. 17. Students remained in the "traditional" model yesterday and today; there is no school tomorrow (Wednesday, Aug. 12) through Friday, Aug. 14, in order to allow Tullahoma teachers time to switch gears and prepare for the hybrid learning.
In the Tullahoma hybrid model, elementary school children will still be in physical classrooms on staggered days throughout the week, while middle and high school students will be distance learning.
Coffee County Schools and Manchester City Schools announced they would transition to their own versions of the hybrid model tomorrow, Aug. 12.
In Coffee County Schools, students will be split into two separate groups: Group A and Group B. Group A students will attend physical school buildings on Mondays and Wednesdays and do distance learning Tuesdays and Thursdays, while Group B students attend on Tuesdays and Thursdays and do distance learning Mondays and Wednesdays. Fridays will be completely remote learning, and no student will be in a school building, according to school officials.
There is one exception to this rule for the district. North Coffee Elementary grades 3 - 5 will be on virtual/distance learning for the week of Aug. 10 - 14 due to staffing issues. This communication has been delivered to the affected families by the teachers at that school. Grades K-2 at North Coffee will rejoin the district schedule. Coffee County Middle School will also rejoin the district schedule and students should report to school at regular times, according to school officials.
Should Manchester City Schools also transition Wednesday, the hybrid schedule only applies to students in grades three through eight.
Students in Pre-K through second grade will remain in the classroom during regular school hours Monday through Friday. Grades three through eight will be on the same A/B rotation groups as Coffee County Schools, with Group A students attending physical classes Mondays and Wednesdays and doing distance learning Tuesdays and Thursdays, Group B students attending Tuesdays and Thursdays and doing distance learning Mondays and Wednesdays. Fridays will be completely distance learning for all third- through eighth-graders.