The overall COVID-19 case count for Coffee County is now 1,612, according to the latest report from the Tennessee Department of Health. It took just five days for the county to add 100 more cases and cross the 1,600-case mark.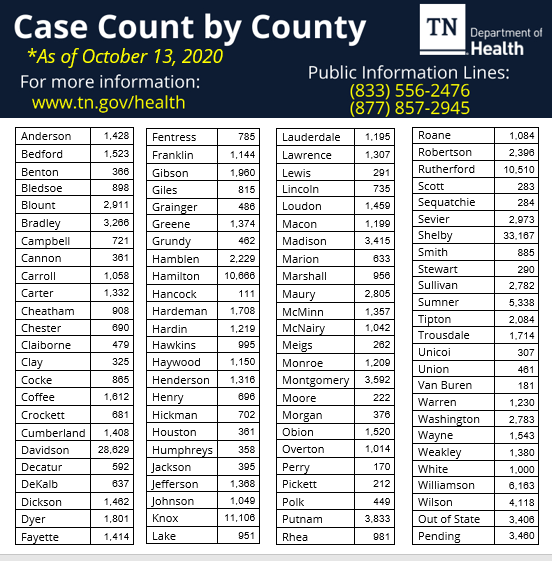 Of this, there are currently 276 active cases of the virus in the county, 1,318 inactive/recovered and 18 deaths.
Coffee County has outpaced COVID-19 case numbers in all neighboring counties, save Rutherford County, which has more than 10,000 overall cases recorded. The county with the next-highest case count is Bedford County with 1,523 total cases.
As of Tuesday, the city still has two nursing home facilities listed with cases of COVID-19 among residents or staff. NHC Tullahoma and Life Care Center of Tullahoma are still listed on the state dashboard for long term care facilities. Life Care is listed with six total resident cases of COVID-19, while staff member cases are at 19.
It has been 11 days since the facility's last positive case, according to the dashboard.
NHC is listed with 19 total resident cases, two resident deaths and 17 staff cases. Per the dashboard, it has been four days since its last positive case.
According to NHC Tullahoma's own self-reporting dashboard, 15 of the resident cases are recovered and only four are active. One patient had to be transported to the hospital, according to its dashboard.
The NHC dashboard also says 20 total staff members tested positive, though 12 have recovered.