The overall COVID-19 case count for Coffee County is now 1,760, according to the latest report from the Tennessee Department of Health. It took six days for the county to add 148 cases and to cross the 1,700-case mark.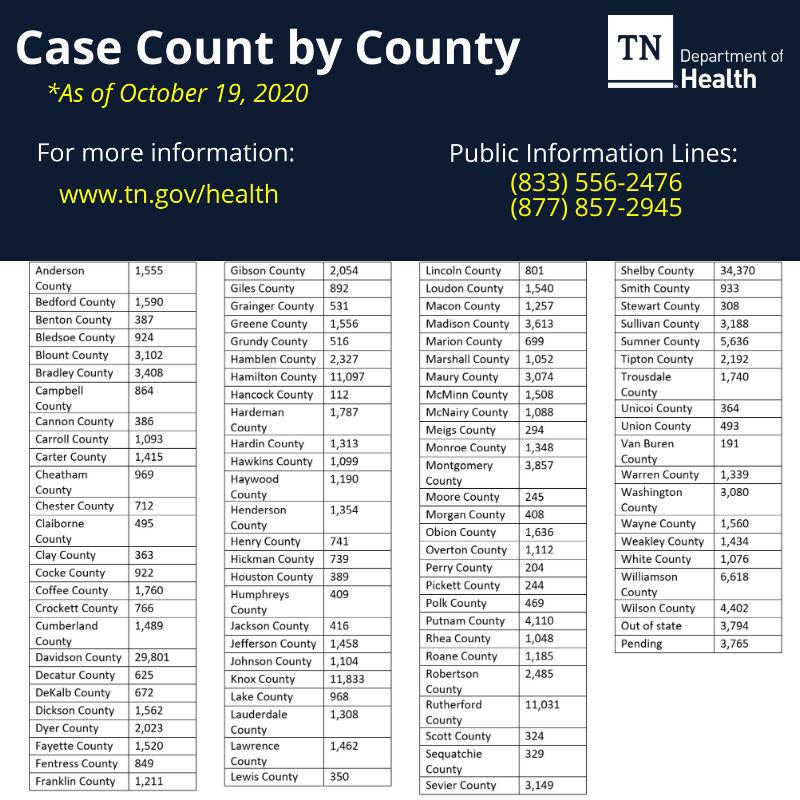 Of this, there are currently 300 active cases of the virus, 1,440 inactive/recovered and 20 deaths. The twentieth death was reported over the weekend. 
TDOH announced the reporting system infrastructure experienced a technical issue Oct. 15, which has resulted in lower test numbers on the Friday, Oct. 16 report. In the announcement, TDOH stated it would anticipate higher than normal numbers over the next few days as the backlog is cleared.
According to the county data snapshot provided by TDOH, the county has had a daily case rate of 41.2 per 100,000 residents over the last seven days.
The percent positive rate for the county over the same time period has been 11.1%
The county has averaged 24.9 new cases per day over the last two weeks, the snapshot said. The previous two weeks, the rate was 19.6 average new cases per day.
According to the TDOH Long Term Care Facility Data, two nursing homes in Tullahoma have reported cases of COVID-19. They are Life Care Center and NHC Tullahoma. It shows that there were 27 total resident cases of COVID-19 at NHC and only six at Life Care Center. The dashboard does not say how many of those confirmed cases is recovered.
However, NHC Tullahoma's own COVID-19 dashboard, which is more detailed than the state dashboard, lists 10 active cases of COVID-19 among NHC residents while one patient was transferred to a hospital. Per the NHC dashboard, 18 residents have recovered. The facility also reports three COVID-19 deaths. 
Additionally, the NHC dashboard states 24 employees tested positive for the virus, though 15 of those have since recovered.
As of Oct. 18, Coffee County is in the Red Zone, per the White House Coronavirus Task Force Map.
Free COVID-19 testing is available at no cost for Coffee Countians at Waggoner Park, 1300 E. Carroll St. The testing is drive-through testing, meaning patients will not need to leave their vehicles to get tested.