There are ways to shed a little bit of light in the midst of dark times. Many members of our community and surrounding areas are choosing to shed light with their sewing skills.
The need for personal protective equipment (PPE) has reached a high due to the COVID-19 outbreak. When a post on Facebook with a sewing pattern to make reusable face masks for healthcare workers went viral, people nationwide broke out their sewing machines and got to work. A lot of those people include citizens of Tullahoma, Manchester, Fayetteville and Lynchburg.
Cheryl and Pam McKinney
Cheryl McKinney and her mother Pam McKinney of Manchester have been sewing masks since Friday, March 20.
"A friend asked on Facebook if anyone could make these masks and my mom said 'I can do that,'" Cheryl said. "Four requests turned into 680 and kept growing from there. So far, we have 201 that have already been picked up."
After 70 plus years of collecting material, Pam and Cheryl were prepared but still had to pay for some of the supplies out-of-pocket. The pattern that the mom and daughter team found online included assembling one layer of cotton fabric, one layer of flannel fabric and another layer of cotton fabric.
"The masks we make are meant to be put on over the N-95 mask to increase the time the N-95 can be worn and healthcare workers can wash the fabric one," Cheryl said.
The pair, with the help of Cheryl's dad Gary McKinney, husband Larry Swan, daughter Ashley Gadeken and friends Rosie, Carol and Margaret, are able to make 75 masks per day.
Through Facebook, the majority of the masks are going to healthcare companies and doctor's offices that have reached out to Cheryl and Pam directly to place orders. They have even mailed some of them to places out of state.
"My mother is only charging $3 each for them," Cheryl said. "She is now using hair ties because there is no elastic to be found anywhere in the area. We could make thousands more if we had the elastic. We are making them as quick as we can."
"Maybe I am biased, but my mother is one super woman and I am extremely proud to call her my mom," Cheryl said.
Kimberly Shearin
Kimberly Shearin, owner of EnV Customs in the Downtown Avenues, heard about the masks from some of her clients who work as nurses expressing a need for them.
"They told me that they basically did not have adequately supplied PPE to wear so I decided to try and make them," Shearin said. "My embroidery machine does not really sew, so I had to figure out how to make my machine do what it is not made to do. I did a lot of research and found a pattern and adapted it to make exactly what my clients said they needed."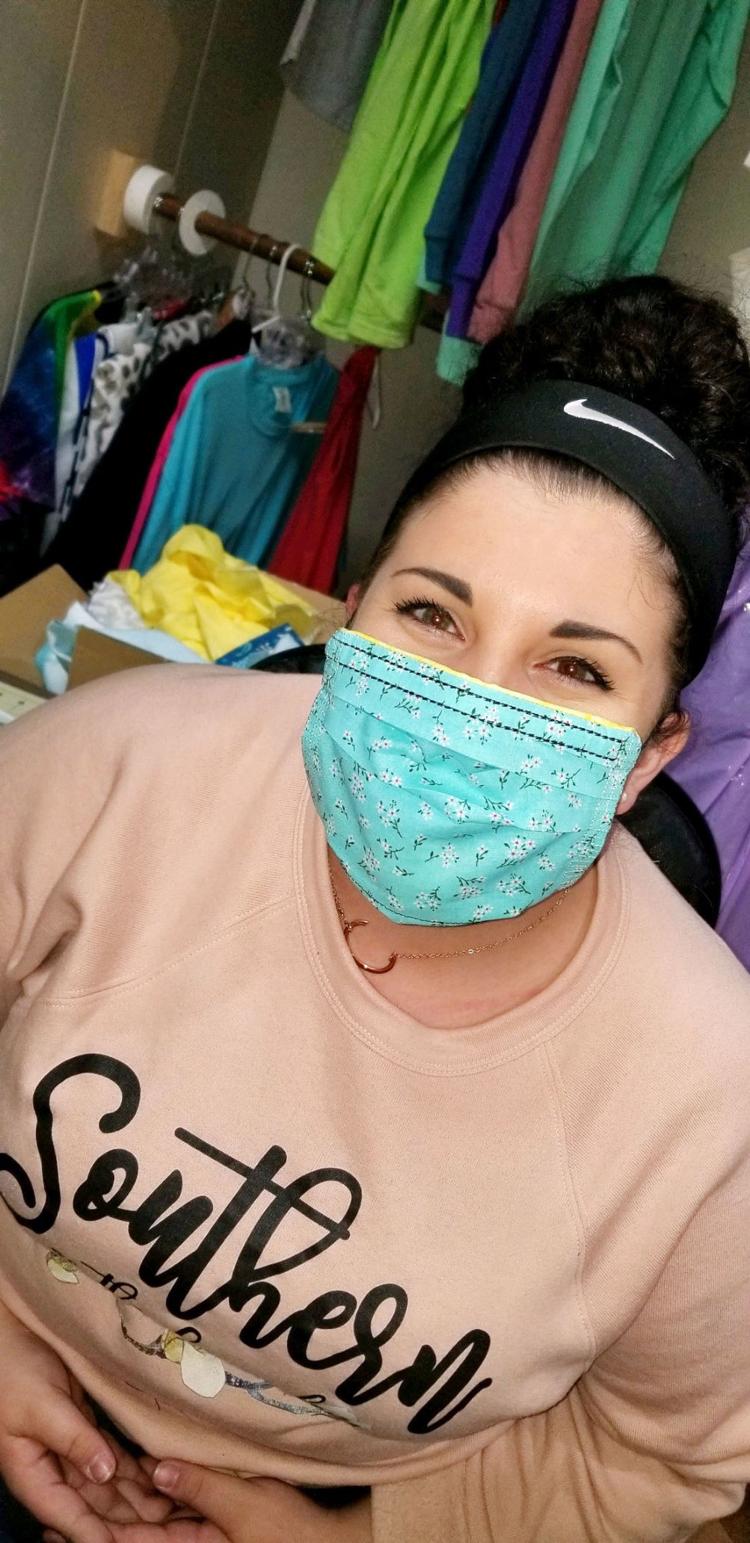 Shearin's masks have two layers of cotton fabric and one layer of fleece to act as a filter. The masks also have an opening in them for healthcare workers to insert a filter into them if they have it. 
"I had some embroidery orders here that I put on hold while I was working on the masks," she said. "I would tell my everyday clients that all orders were on hold until the face masks were done."
Shearin had masks available for sale in her shop for anyone to purchase and donated all proceeds as well as masks to Tullahoma's first responders and emergency care providers.
"I found out that emergency room nurses, firefighters and EMTs are given one N-95 mask for five days and that they desperately need these fabric masks to keep those clean," Shearin said. "Realizing how seriously they need masks was the reason why I chose to donate to them."
She also made child-sized masks after learning from healthcare workers that their biggest fear is going home to their children and not having anything to protect them from what the medical professional could have brought home with them on their clothing, hands, etc.
"The average person does not think about that but nurses know that viruses and germs can stay on you for a while even after you leave work and go home to your child," she said. "Especially when you can be asymptomatic for so long with COVID-19."
As of right now, Shearin is no longer taking orders for or selling masks in her shop.
Linda Wolaver
Linda Wolaver of Lynchburg was scrolling through Facebook last weekend when a post about DIY masks caught her eye. She then heard from her friend, an employee at a doctor's office in Fayetteville, that their shipment of PPE had been cancelled and asked Wolaver if she could make some masks for them.
"I told her I would try and it just went from there. I have a stash of fabric from over the years and I can always get more, so I thought 'What better reason is there to use it for?' I asked others in the community for help with supplies to make them because I wanted to make a total of 100 masks for that doctor's office. There are 25 employees, so that would give them all four masks apiece that they can use and wash and then reuse," Wolaver said. "I have been working on them and I have a friend helping me cut the fabric while I sew. I heard from another woman today who made some and did not know of a place to send them so I told her to send them to me and I would add them to my heap. I also have a couple of other women who have volunteered to come and help me so it has become a community service project."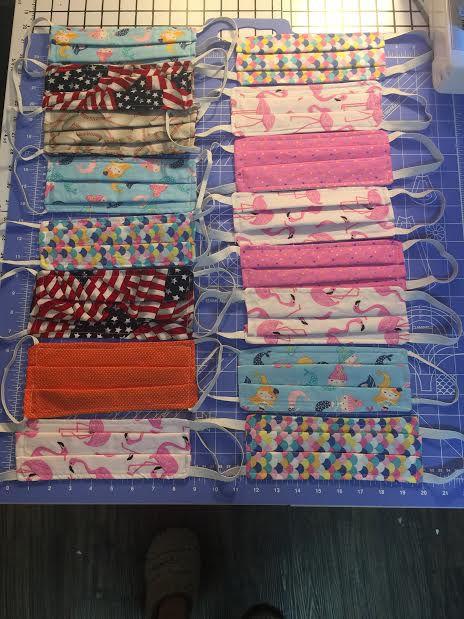 "I realized that even after this epidemic is over, there are people who could still benefit from using these," she added. "They would be good for people who have cancer or a respiratory disorder. They could have their own reusable mask to wear. I had Cystic Fibrosis, so I know what it is like to be on that side of this and having to worry about catching anything. Those with cancer have to worry about that all of the time."
"I think this will be a benefit for a long time," she said.
Wolaver uses two layers of cotton fabric with one layer of interfacing between them. "I read that interfacing is 75 percent affective as a barrier so I decided to use that to give them a little extra protection," she said.
Wolaver works full-time and has been working on the masks in her spare time. She has not hit her goal of 100 yet but says she will reach it soon when her friends who have volunteered come to help her.
"If anyone is making them and they do not know where to donate them, they are more than welcome to bring them to me and I will make sure that they get sent to those in need of them," Wolaver said. "You can drop them off at the court house in Lynchburg. It is closed to the public, but when you reach the front door, all of our office phone numbers are on there. Call me and I will come down and get them from you."
Ellie Uehlein
Ellie Uehlein, 13, of Tullahoma has always loved to sew and is using her break from classes at East Middle School to make face masks for those in need. She has made 12 so far for people.
"My mom told me there was a need for masks and I thought I could do that so I got on YouTube and watched tutorials on how to make them and started doing it," she said. "I was given a sewing machine one Christmas and began taking sewing lessons from a woman from my church so I have known how to sew for a while."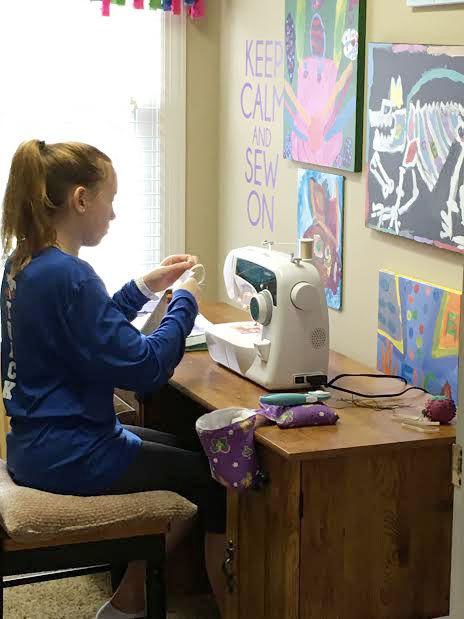 "People will message my mom on Facebook and tell her how many they need and I will make them. They will either come and pick them up in our mailbox or we will deliver them," she added.
Ellie's method is much like Wolaver's. She uses two layers of cotton fabric with a layer of interfacing in between.
"All of the supplies she is using is from things she has been given in the past or supplies that she already had, so she has not had to buy anything to make them so far," Ellie's mom Julie Uehlein said. "We know that Joann's Fabrics is running low or completely out of elastic."
Members of their church have given Ellie resources including a sewing table giving her more space to make the masks.
"I am making them as they are requested," Ellie said. "I will make them as long as there is a need for them. This is the one way I can help during this difficult time and I will continue to do it."
Paula Wolf
Paula Wolf saw a post on Facebook about the need for masks much like McKinney and Wolaver did. The next day, Saturday March 21, she called her mom Nancy Wolf and they started making them.
"We have already sent about 30 to Decatur, Tennessee to my sister and her coworkers who are all EMTs," Paula said. "We are also taking some to Morning Pointe here in Tullahoma to see if they need them. We also gave some to the workers at Blood Assurance because they did not have any."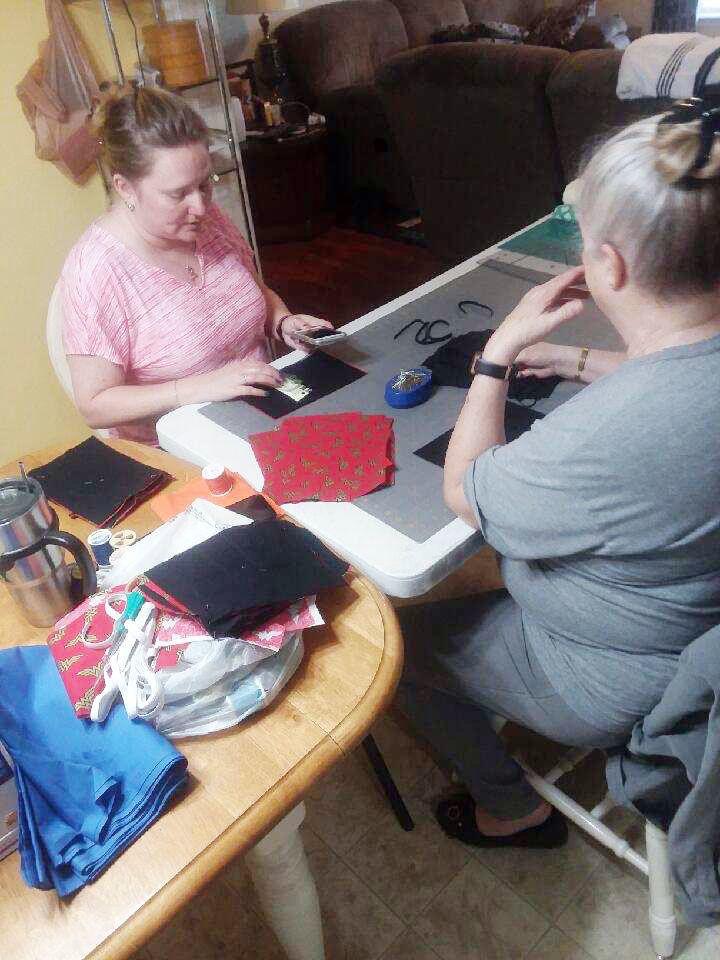 "We plan on calling to ask every nursing home here and in Lynchburg if they need any," Nancy said. "We are donating all of them to healthcare centers in need."
The pair is using cotton fabric on one side with flannel on the back to make the masks. They worked 20 hours over a three-day period making masks and then began handing them out.
"We will keep making them until we run out of supplies, which will not be long," Paula said. "We have made around 100 so far. My mom and sister have both worked in healthcare and we know what it is like and we also like to sew, so we figured this is how we could help."
Katelyn Lawson may be reached at klawson@tullahomanews.com.