With advancements made by science and further analysis of the COVID-19 virus, tests are now becoming available that check for past infection. Antibody blood tests analyze the blood for COVID-19 antibodies. Antibodies are proteins that the body makes in response to being infected with a certain virus. The presence of an antibody indicates the person has previously been infected by the virus being tested for. Currently, in response to Covid-19, there are two types of tests being performed. One is a blood draw done in a medical office and then sent to a lab for testing. The other is a rapid test, where a finger stick is done in the office and the results are given in about 15 to 30 minutes.
According to Candi Kinney, local nurse practitioner, "While every test is fallible, a blood test is going to be more accurate than a finger stick. Right now, there are only 23 tests that have FDA approval and only three of those are rapid tests approved to be given in a medical office. A list of the approved tests can be found on the CDC website. The three approved rapid tests are very hard to come by and some of the tests being advertised may not be on the approved list and, unfortunately, the accuracy of those particular tests is only about 40 percent."
Kinney, owner of Definite Wellness, offers antibody testing at her office. She utilizes a blood draw that is sent to LabCorp for results, which has a turnaround time of about one to three days. 
"I use the blood draw in my office. After I draw your blood, I send it to LabCorp for the results. I've been getting results pretty quickly," Kinney said. "According to LabCorp, insurance is supposed to be covering the test at 100 percent. The draw and office visit is $40 and we send your insurance information to LabCorp to bill."
Kinney also warns that some of the manufacturers and tests are not as accurate as others. "Unfortunately, no test is 100 percent accurate. Before making an appointment with an office advertising a rapid test, I would ask who the manufacturer of the test is and then see if they are on the approved list on the CDC website. Some places say they have an approved test when they really don't," she explained.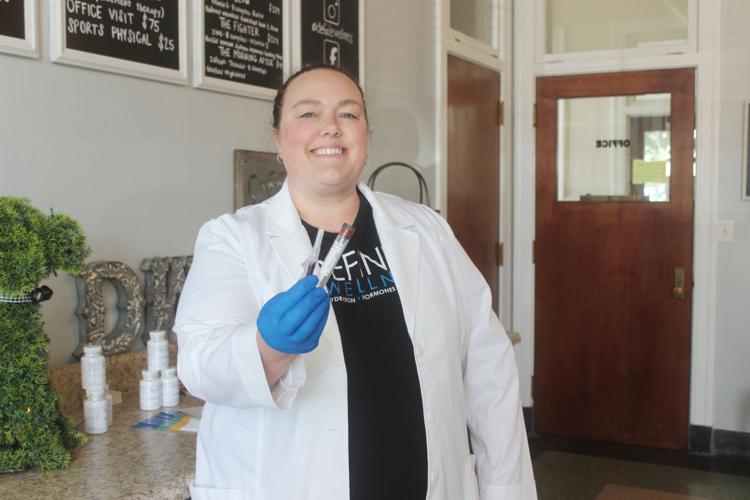 People who are currently symptomatic should not be getting an antibody test. Antibody testing is for someone who is asymptomatic and has been for at least 14 days.
A positive test result shows that a patient's blood contains antibodies, likely resulting from an infection with SARS-CoV-2 (COVID-19), but it could also be from a related coronavirus. Also, as this virus is still new, it is unclear if antibodies within a person's bloodstream can provide immunity against getting infected by the virus again. According to The Centers for Disease Control and Infection (CDC), this means that there is not enough scientific evidence to prove that antibodies make those previously infected immune to the virus.
A negative test result for COVID-19 antibodies probably indicates that the patient did not have a previous infection. However, the patient could have a current infection and just not be showing symptoms yet. It is also possible that they could get sick later if they have been exposed to the virus recently, since antibodies are not detectable in the bloodstream until one to three weeks after infection. This means that the person could still spread the virus without knowing they were infected.
"Antibody tests may be important for guiding our next steps in the fight against this pandemic, such as by providing information on disease prevalence and the frequency of asymptomatic infection, and also by identifying potential donors of 'convalescent plasma,' an approach in which blood plasma containing antibodies from a recovered individual serves as a therapy for an infected patient with severe or immediately life-threatening disease," Dr. Anand Shah said in the U.S. Food and Drug Administration's (FDA) release about the testing.
An antibody test cannot tell if a patient is currently infected with the virus. If a patient has symptoms of COVID-19, and meets guidelines, a viral test using respiratory samples, such as a swab from inside the nose or throat, can confirm if the patient has the virus. If negative, and asymptomatic, the patient probably does not have an active infection and no additional follow-up is needed.
COVID-19 tests are available at medical offices and for free at the Coffee County Health Department on Wilson Avenue.
Katelyn Lawson may be reached at klawson@tullahomanews.com.