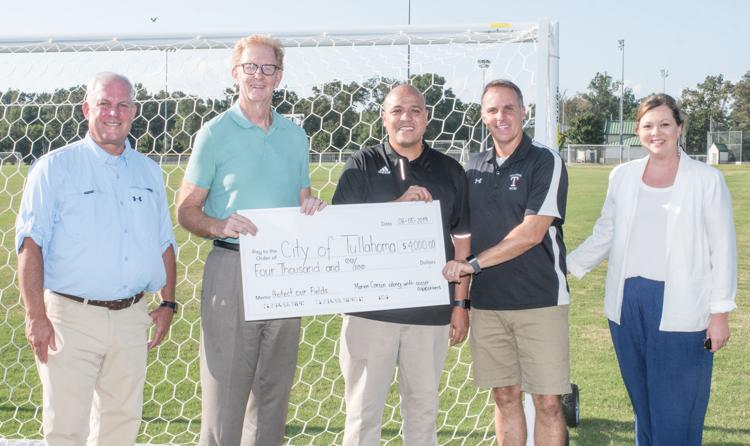 Nearly two weeks after vandals damaged the soccer fields at Johnson Lane, the city of Tullahoma was presented a check for $4,000 to help with repair and maintenance.
Tullahoma High School girls soccer coach Marvin Carson and THS boys head coach Richie Chadwick presented the check to city officials Monday at the soccer fields.
Mayor Layne Curlee said he deeply appreciated the efforts that Carson and his family made to raise the donation.
"It's very much appreciated," Curlee said. "I appreciate them taking the initiative and following through and they're making something happen."
For the last two weeks, the fields at Johnson Lane have been closed to the public while the Tullahoma Parks and Recreation Department has been working to restore them.
"These fields are used so much and it's terrible what happened," Curlee said.  "As you can see, they are well on their way to recovery and they'll be in use before too much longer thanks to the Tullahoma Parks and Recreation Department."
In the early morning, July 21, the fields at the city park were heavily damaged.  Tire tread marks could be easily seen throughout the facilities.
Carson, who also plays in the adult league scheduled to use the field that morning, got a phone call telling him he needed to go look at the field.
"We knew that there had been some rain, so I was headed out there and one of the guys who was out there, called and said that I needed to get out there because somebody had damaged the field," he said at the time. "It's no exaggeration to say that several hundred people a week play on those fields."
Video Carson took of the damage went viral on Facebook, reaching 813 shares. 
Following the video post, Carson and his children started a GoFundMe account to help raise money for needed repairs. The effort raised $3,490 – a total of $3,374.09 after the crowdfunding site fees were deducted.
Carson and family also raised an additional $625.91 in donations not made through the website.
When Tullahoma hosted Franklin County for a scrimmage on July 25, the contest was also a fundraiser, with the money raised going toward restoration at the fields. The Tullahoma girls soccer team raised $250, while Franklin County reached the same amount, together putting $500 into the cash donation fund.
The THS boys soccer team also contributed. Their $500, donated to the GoFundMe account, is included in that total.
During the two-week fundraising period, Carson said he heard quite a bit from several local high school coaches, including from Shelbyville, Coffee and Franklin counties.
Despite the rivalry among them, Carson said, "All three of those soccer team coaches had called and said, 'Hey, do you want us to come down and help? We can help you with your fields.' They went out of their way to reach out and say, 'Hey, we're willing to come help you. Even though we're rivals on the field, we all understand how important having good facilities are and having good fields are.' They did reach out and I thought that was really neat."
According to Carson, the fields should be ready when his team is scheduled to host the Southern Middle Tennessee High School Girls Soccer Invitational on Aug. 23-25.
"They're coming from all over," Carson said. "And that was the big concern with the field, because we were asking, would we be playing on that field? This is a big fundraiser for us."
According to the Lady Wildcats' Head Coach, 17 teams from across the state will be traveling to Johnson Lane on those days to compete in the tournament.