For the third time in program history, the Tullahoma High School boys bowling team earned a seat into the TSSAA State Tournament, after knocking off Walker Valley 21-6 at Tullahoma Lanes on Monday.
This is the first time since the 2018 season that the Wildcats are headed back to the state tournament. Earlier this season, Tullahoma captured both the district and region trophies in order to the program's first-ever sectional matchup, which took place on Monday.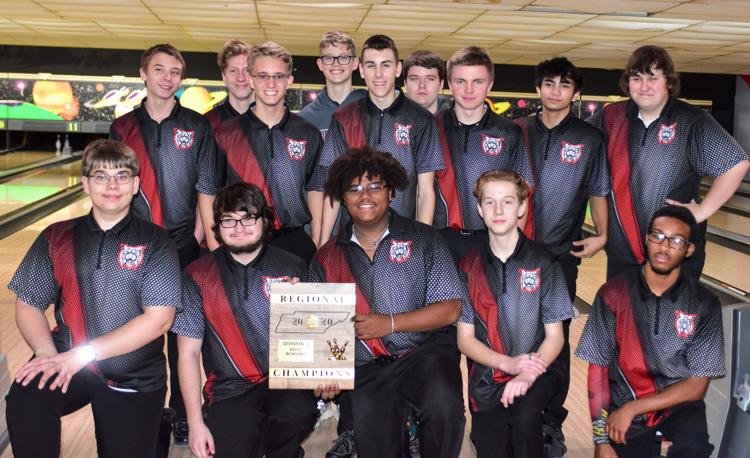 "We're going back," said Tullahoma Manager Lamont Snipes. "It's great. They are young. It's about like when I first took over. They were a bunch of freshmen and just young. Some of these guys have never seen state before. I don't know what to say, these guys just peaked at the right time."
After leading 5-3 after the first set, the Wildcats seized control in the second match and never looked back in the victory. In the second set, Tullahoma won five of the six individual matchups. THS then received two additional points after leading the set in pins, 1,211- 1,065, taking a commanding 12-4 advantage.
Patrick Watts recorded the first win in the second set for Tullahoma, after he defeated Austin Sutton 193-161. Keegan Hadley dominated his matchup, and at one point recorded eight-straight strikes, on his way to a 267-227 victory over Jacob Jernigan.
Josh Frank added a win for Tullahoma, after he defeated Jordan Taylor 166-161. AJ Matelstreet followed with a 211-158 win over Andrew Johnston, before Harley Penn closed out the second set with a 196-157 victory over Alex Goforth.
Heading into the final set, the Wildcats needed just two individual wins to secure the victory. Tullahoma doubled that and won four of the six individual matchups and also led in pins, 1,106-989, in order to take an 18-6 advantage.
The Wildcats added the final three points on Monday, which are given to the team that leads the overall match in pins. Tullahoma led in pins, 3,490-3,186, to record the 21-6 victory.
Hadley continued his hot start from the second set and recorded the first win of the final set for Tullahoma. Hadley recorded four-straight strikes in his final matchup, going on to secure a 213-155 victory over Jernigan.
"Keegan has always been my seventh man," Snipes said. "He can come off the bench. Not everybody can do that, but Keegan has the ability. He knows what his role is and what his job is and he's done well. I left him in there today and he did well to finish with a 267 and a 213."
Frank followed by adding a 170-138 win over Spencer Foutz. Matelstreet then recorded a 207-140 victory over Johnston before Penn closed out the match with a 188-155 win over Goforth.
This year's state tournament will get underway on Friday and concludes on Saturday. Tullahoma will open its state tournament run by facing Lebanon on Friday at noon. All bowling matches will take place at the Smyrna Bowling Center in Smyrna.
"I just want our guys to keep competing," Snipes said. "Wherever the ball falls, it falls. I just want them to see what the state tournament looks like because a lot of them have never been to state and it's something to see."