During the week of Memorial Day, members of the Shady Grove Garden Club dedicated two plaques in Tullahoma's History Park to honor the men and women who have served or are currently serving in the United States Armed Services.
Installed with the help of the Tullahoma Historical Preservation Society and the American Legion Post 43 family, the Blue and Gold Star Memorials were dedicated in the railroad-adjacent park May 30.
"At night, they just look beautiful," said club member Sandy Sebren, who led the charge to have them installed.
But installing those markers was just the first phase of a two-phase garden club project to honor veterans in History Park.
By the week of Veterans Day, the club hopes to have installed a brick walkway to the memorial, with each brick specially engraved to honor an individual veteran.
The walkway, to be dubbed "Veterans Memory Walk," will span the 65 feet between the new memorials and the landmark 1964 L&M caboose.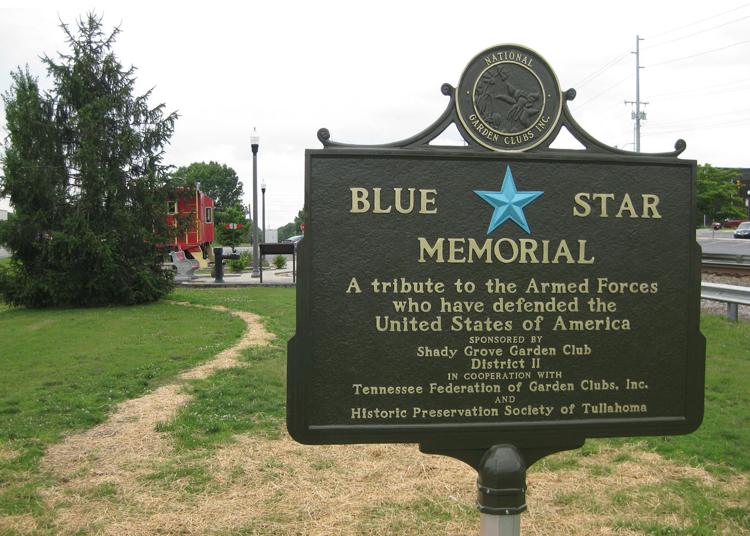 To complete the span, Sebren said, the club of roughly 20 women will have to sell 1,000 engraved brick pavers.
And they've given themselves just 100 days to do it.
Memorial brick sales started in April, and by the time of the late May plaque dedication, the garden club had already sold quite a few.
"We've sold close to 100," Sebren said.
In fact, she said, one brick has already been installed near the new memorials.
"We had one brick ordered early to put at the base of the flagpole for Clay Prescott," Sebren said. "His father (David Clay Prescott Sr.) purchased the flagpole, the flag, the lights and the 8-by-8 paver."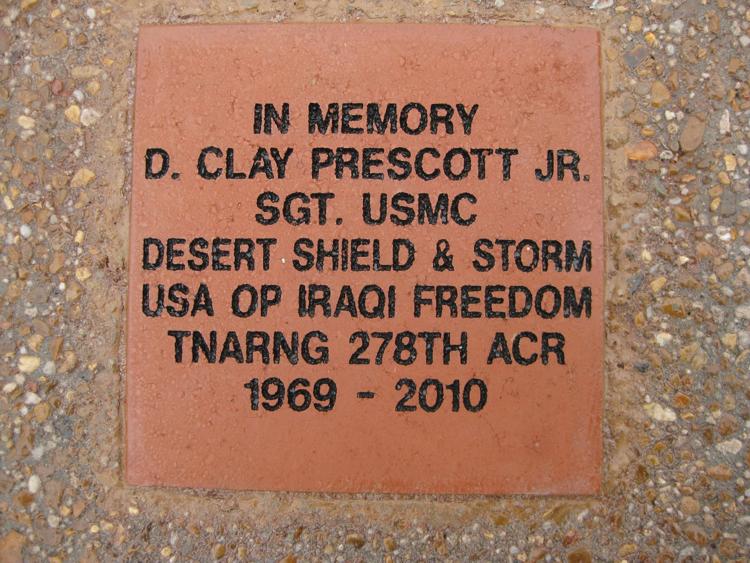 "It was really important to my family," said Clay's sister, Paige Prescott Lashlee. "He's someone this community knew. He grew up here. Clay was young and so many people have so many good memories of Clay; it was just a beautiful way to honor him."
David Clay Prescott Jr. was a veteran of the U.S. Marine Corps and a member of The Tennessee National Guard 278th ACR due to deploy to Iraq when he died in 2010 at the age of 40.
"Public service and serving our country has always been a very big source of pride for many, many generations of our family," Lashlee said.
"It meant a lot to my father and it meant a lot to me to have the opportunity to honor Clay. He took a great deal of pride in having served his country. It meant a great deal to him and it something that we're very, very proud of him for."
Col. Rocky Barnard is helping the garden club process each brick order. He and his wife Gaye, a member of club, are optimistic that the 1,000 brick pavers needed to complete the walkway will be sold in time for a Veteran's Day dedication.
"I was looking at the website that they have created for the memorial that they built in Wahoo, Nebraska," Col. Barnard said, comparing the number of pavers sold there to the number the club hopes to sell in Tullahoma.
In Wahoo, "a town of 4,500 people," he said, "a little over 900" pavers were sold.  
In a town four times the size of Wahoo – one that boasts both an Air Force base and a National Guard training center – Barnard said he felt the Tullahoma effort could do at least as well.
Customizable brick space is available to all veterans, living or deceased, who served their country honorably, at home or overseas, at war or at peace. 
"If they wore the uniform, they qualify," said Sebren.
Pavers are available in two sizes: 4 inch by 8 inch or 8 inch by 8 inch.
The 4-by-8 brick can be purchased for $120. This brick may contain up to four lines of information, with 21 character spaces per line. 
There is a discount available to anyone interested in purchasing multiples.  "If they buy two or more, it's $100 each," Sebren said.
The larger 8-by-8 brick may contain up to seven lines of information and can be purchased for $240.  Again, a discount is available for those who order multiples, at $200 each.
The information engraved on each brick should be simple and dignified. For the man or woman it honors, it may include the name, rank, branch of service, service years, medals earned or conflicts fought.
Order forms are available in several places throughout town, including city hall, Sebren said.  The form is also available for download directly from tullahomanews.com. Completed forms may be mailed to Col. Barnard at the address included on the form. 
Pavers may also be purchased by emailing Col. Barnard directly at rockbarnard@gmail.com or by calling Sebren at 931-455-3572 or 931-639-0756.
All orders must be received by Sept. 1 so that the information can be sent to the Miami supplier, Bricks R Us, for engraving with ample time for the completed pavers to be shipped to Tullahoma.
According to Sebren, Bricks R Us was also responsible for the commemorative pavers sold to raise funds for Tullahoma's new animal shelter at 942 Maplewood Ave. For those who would like the visual comparison, that walkway will be unveiled at 4:45 p.m. on Monday, June 24, when the shelter hosts its ceremonial ribbon-cutting.
While Nov. 11 is currently the target date for the Veterans' Memory Walk dedication, that date is not yet set in stone. Hopes are that the installation's dedication will immediately follow the city's annual Veteran's Day celebration at South Jackson Civic Center.