When Martin Luther posted his 99 Theses to the door of Castle Church in Wittenberg, Germany on October 31, 1517, he did so to raise debate about the question of indulgences. His simple act brought about the beginning of the Protestant Reformation.
Now, just over 500 years later, a local man has performed a simple act in the name of raising awareness, attaching a letter to the doors of over 40 local churches. His concern – addiction.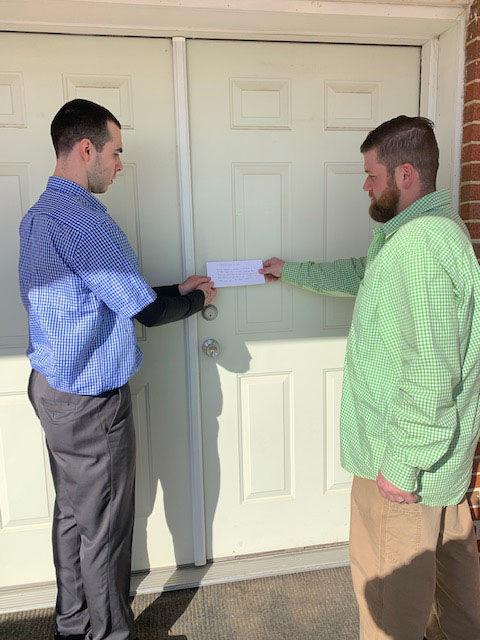 "I used meth," said Jeremy Bryant in the letter he posted to the doors of churches in the Tullahoma area after having the letter signed by several local officials including County Mayor Gary Cordell. "I've been sober for four years."
Bryant said God moved him to take the step of faith to not only write the open letter but to also have it signed by local officials and to post it on the church doors around the community.
"I did it because of God," Bryant said. "We have to come together as a community to stop the drug problem."
Assisted by friends, Bryant attached the letters to the local places of worship, hoping to raise awareness to the damage addiction is doing to the community.
The letter, in its entirety reads: I am writing this because of God and Jesus Christ, first and foremost. But if you would have known me four years ago, you would have met a guy who enjoyed using meth. But there were enough believers and enough prayers, that God and Jesus Christ took the taste out of my mouth. As of April 1, 2020, I will be sober four years. Since then, I have grown in my faith in Jesus Christ and God. It has been placed on my heart that our community is in serious need of prayers. Being sober, I see more and more. The meth is growing bigger and kids using are younger. I feel that is completely out of control. Even out of all your hands. So, I am standing in the gap to have you guys (local officials) sign this in agreement that the use of meth is out of control. Now our only option is to come together as one body. And, on Sunday morning, Jan. 5, 2020, I will have this letter on every church door. I will place these letters on Jan. 4, 2020, on every church that I can find in Tullahoma and pray that they read it and that the first Sunday of a new year, all churches in Tullahoma will be praying to God and Jesus Christ in Heaven to rid this meth out of our community. We all must believe in our hearts that God and Jesus Christ will move on our behalf as believers. I again ask for your agreement with me that we get rid of this meth through God and Jesus Christ. I attend church at Christian Light House and God and Jesus Christ has changed me and many others. So if the whole community will come together, I know that we can handle this problem"
Bryant quoted 2 Chronicles 7:14 in conclusion and included several signatures of local officials at the bottom.