Several local businesses and individuals were honored for their contributions to the Tullahoma Area Chamber of Commerce, its programs and the community at-large at the annual Membership Celebration held Feb. 7 at the Manchester-Coffee County Conference Center.
Set to a Roaring '20s theme, chamber staff highlighted the past year's best of the best, including Citizen of the Year, Ambassador of the Year, Small Business of the Year, Business of the Year and the Extra-Miler of the Year.
This year's membership celebration also introduced several new awards, including a Board Member of the Year, a Rising Star, Community Investment Award and a special recognition from the Director.
This year's big winner was none other than school board chairman and lifelong Tullahoma supporter Pat Welsh.
Alderman Rupa Blackwell, the 2018 recipient of the same award, presented a laundry list of reasons why Welsh made for the perfect designee, including his decades of work in the Tullahoma business community, his continued support for the school wrestling programs and his many years of public service.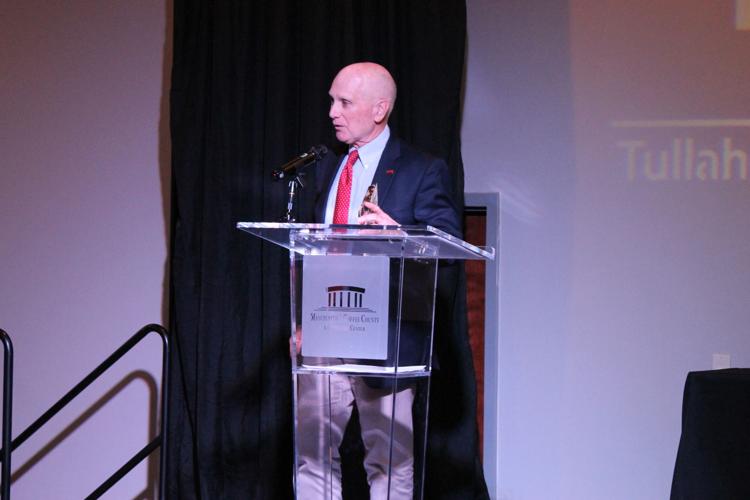 "This year's citizen of the year was chosen for one primary reason," Blackwell said, "his unwavering dedication and love for his community."
Welsh has 26 years of service to Builders Supply and 10 years of service to Southern Community Bank (now SmartBank) to his name, as well as nearly 30 years supporting the Tullahoma Takedown Club, which garnered him an induction into the Tennessee chapter of the National Wrestling Hall of Fame in 2017.
He has served as a public official in multiple ways as well, including his ongoing two decades of service to the Tullahoma City Schools Board of Education and some time as a Tullahoma alderman. Welsh also served as a former chamber president and the former chairman of the Tullahoma Industrial Board, according to Blackwell.
"We can all agree his dedication to this community is unparalleled," she added. "There are few who love this community, care about this community and have dedicated their lives to this community more than Mr. Pat Welsh."
Welsh was "speechless" about the honor, he said.
"This town has been incredible to me and my family," he added. "We've received a whole lot more than we've ever had to give."
Welsh then used part of his acceptance speech to thank both Chamber Director Hope Sartain and Mayor Lane Curlee for their dedication to their organizations.
"They both deserve a round of applause," he said.
The 2019 Small Business of the Year award went to Lindsey Morgan and The Cheesecakery.
Presented by lifelong friend Tisha Fritz, Morgan's dream-turned-reality was heralded for its delicious, creamy cheesecakes that got the entire town buzzing.
Morgan said the honor was one she hadn't expected.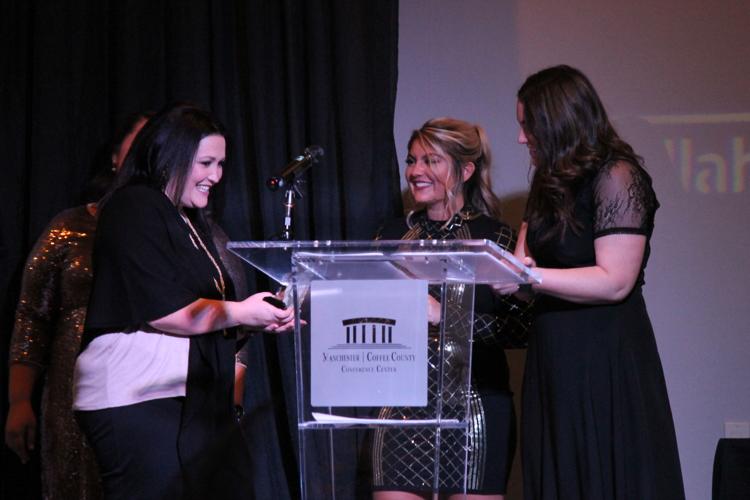 "This is a surprise," she said.
She credited the community for its support in turning her life upside down in a positive way.
"I love Tullahoma; I've lived here just about my whole life," she said. "To be able to start a dream and carry it out in this awesome community, it just means the world to me. I'm really proud to be a part of this community. Thank you so much."
When it comes to larger businesses, the home of George Dickel took top honors.
"This company not only employs the best; they have made a huge impact on the history of Tullahoma," said Sartain. "This business in an American success story of a man who started as a cobbler, immigrated to the United States at the age of 26, married a Tennessee woman and inherited a whisky business."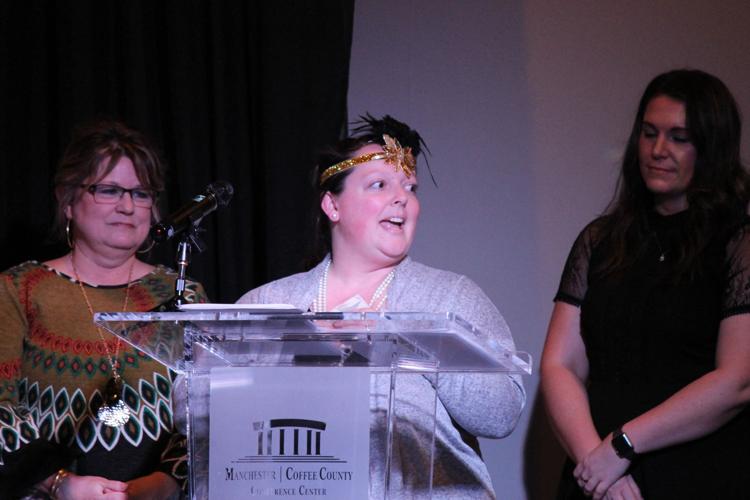 Assistant Manager Brandi Moriarty accepted the award on behalf of the distilling company, thanking the community for its continued support over the last century and a half.
"Thank you for having George Dickel and making us successful for as long as we've been there," she said.
The final business award was a new one, according to Sartain, given to a long-standing business "making a new investment in Tullahoma."
In its inaugural year, the winner of the Community Investment Award was Prescott Bottling/The SunDrop Shoppe & Luncheonette.
In the spirit of the award, Sartain highlighted the Prescott family's continued support of the Tullahoma community over the last several decades.
Beginning in 1929 with a formula for a new cola – eventually named Double Cola – Prescott Bottling established itself as a family business quickly, Sartain said.
"David Prescott took over sole ownership in 1971, and the company successfully bottled SunDrop locally until 1991 and has since become a distributing hub for the product," she said.
Then in 2019, David teamed up with his daughter, Paige, to turn a lifelong a dream into a reality.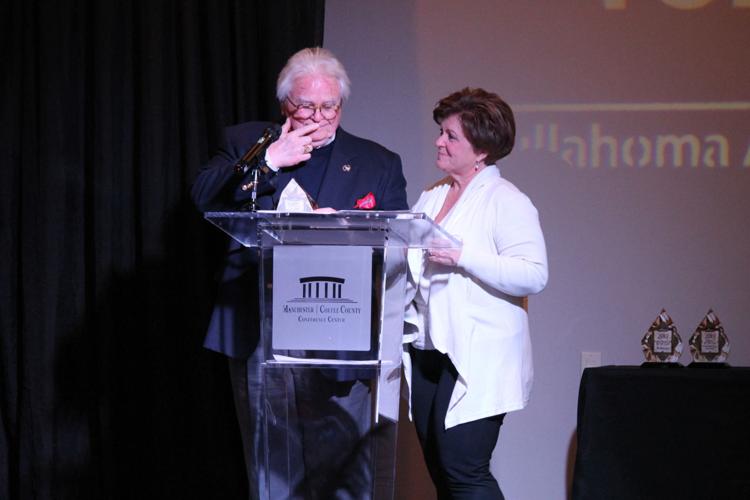 "For years he had wanted some sort of eatery, and together with Paige, the two [settled] on remodeling a building on Atlantic Street that was being used for storage," she said.
The shop broke ground in January of 2019 and officially opened four months later, cementing its place in the community through both food and community support.
By continuing to sponsor sports teams and special events and partnering with multiple nonprofit agencies, both Prescott Bottling and the SunDrop Shoppe have "been active members of the Tullahoma business community."
Both David and Paige expressed their gratitude and love for their hometown.
"I'm very fortunate to have lived all my life in Tullahoma," David said, fighting back emotion. "I raised my children [here] and have given back all I could give."
Paige continued, saying it was "an amazing thing" to be a native Tullahoman.
"We've loved this community so much," she said. "I'm so proud to be a fourth-generation Tullahoman. You have no idea how much it means to me to be raised in this community. Thank you so much for this award."
One of the first new awards to be presented went to Max Christopher, who was named the inaugural Board Member of the Year.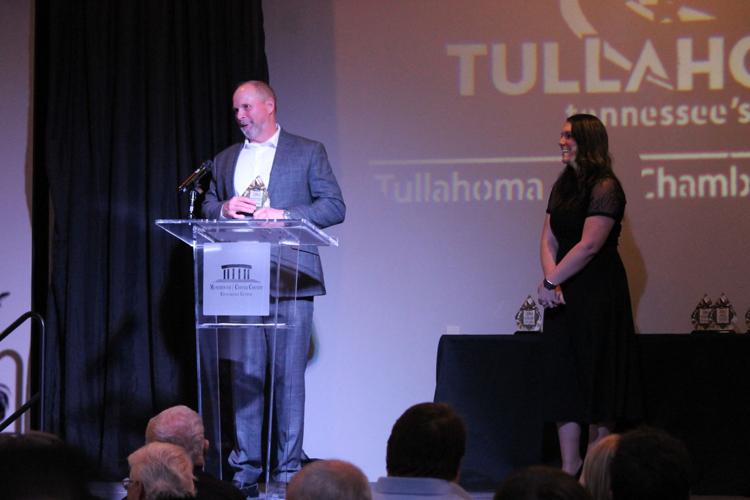 Christopher was heralded for his willingness to offer his assistance to chamber staff. After relaying a scenario of an unnamed superhero extinguishing a fire, Christopher was revealed to be that superhero for the chamber, "coming to our aide every time we ask," according to Sartain.
"There has not been a single event that happened in 2019 that we did not find this board member stepping up to do the heavy lifting or behind the scenes logistics and doing every single thing with a smile and we-can-make-it-happen attitude," Sartain said.
Another new award was the Rising Star honor. Davis McCord of Lester, Greene, McCord and Thoma Insurance was tapped for the inaugural designation by Elizabeth Banks.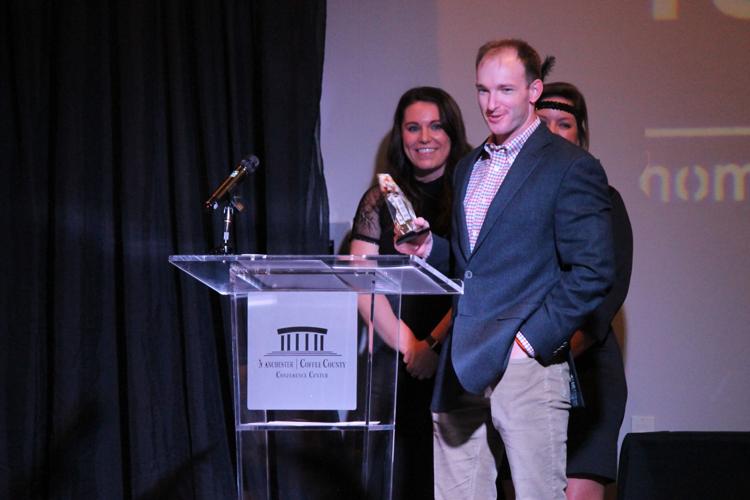 McCord's willingness to use his own personal social media presence to promote events, as well as his efforts to promote the chamber to potential new members were cited as positive marks for the distinction.
"[McCord] goes above and beyond at several chamber fundraisers," she said, highlighting his service at the chamber's Bonnaroo booth and the Taste of Tullahoma held last fall.
The Director's Award went to SmartBank's Joanna Reynolds.
Sartain lauded Reynolds' "selfless, service spirit" and her impeccable hand-written note cards as some of the reasons for the distinction.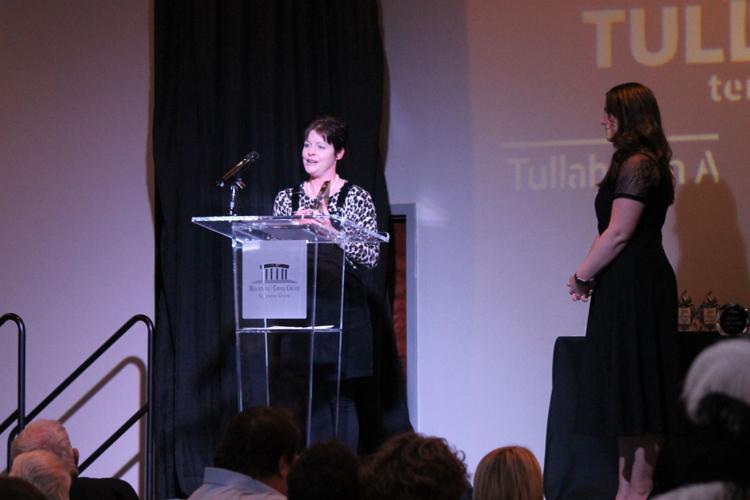 Thanking Sartain for the honor, Reynolds cited her love for the community as motivation to serve.
"I just love the town we're in," she said.
Emily Raths of Fit-10 Fitness took home the Extra-Miler of the Year award.
Raths was lauded for standing out in "a town rich with servant leaders."
"This person is always the first to raise their hand and say, 'I'll be there,' and follows through every single time," said Tisha Fritz. "She gives her time [and] energy. She shows up for service organizations such as the Highland Rim Kiwanis and the 41A Music Festival and spends her days working with our community, improving their health and wellness in life-changing ways.
"Qualities like these are hard to find these days, but we're so glad our community has been blessed by our Extra-Miler of the Year, Emily Raths."
Raths said Tullahoma has given her a sense of community she lacked growing up in a military family, thanking the town, its residents and the chamber for giving her something "special."
This year's Chamber Ambassador of the Year honoree was a nearly unanimous decision from the corps of chamber ambassadors, according to Sartain.
Jessica Lawton of Ascend Federal Credit Union took home the award from her fellow ambassadors.
"With her kind, joyful spirit and ability to not only stand up for just about every event committee, but coffees and pop-in visits, she shines bright and impressed us every time," Sartain said, "adding an element of excitement or providing feedback that challenged us to make each event even more special."
Lawton said the distinction was "very unexpected and a surprise," though she truly appreciated it.
"Thank you very much," she said. "I'm looking forward to 2020."
C.E.O. Business Partner of the Year
In the field of partnering with Tullahoma City Schools, Roni and Max Jarrell were given top marks as C.E.O. Business Partners of the Year.
Creating Educational Opportunities is "one of the most fulfilling programs" the chamber has, according to Sartain, and the Jarrells exemplified why that was for 2019.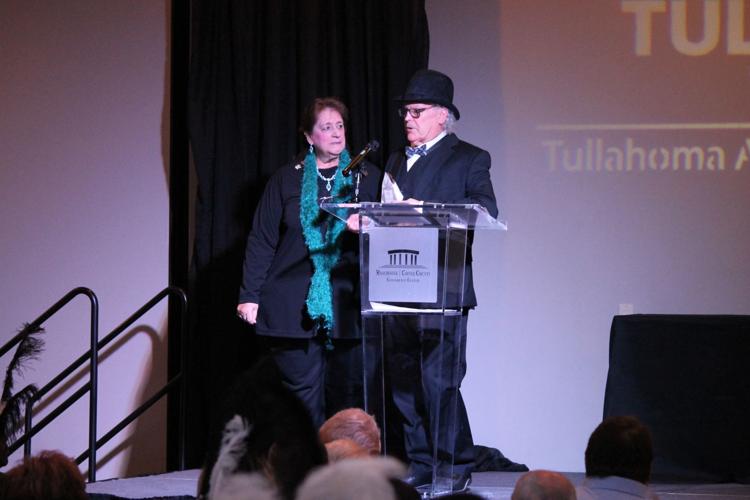 "They have supported parental-involvement nights in a big way," she said. "They provided candy for Math-or-Treat night and provided supper for the parents at the November parent night. We are proud to have hometown hero C.E.O. partners like Roni and Max Jarrell."
Accepting the award, Max said he enjoyed Tullahoma every time he's lived in the area.
"I've always been a fan of Tullahoma," he said. "It's a city that's small enough to know you but big enough to serve you."