The Tullahoma Board of Mayor and Alderman said goodbye to two friends and colleagues Monday night when Renee Keene and Jackie Duncan ended their tenure on the board.
Keene decided against seeking reelection to the city board earlier this year, instead focusing her attention on her family. The grandmother of three welcomed a set of twins to her family this year and she elected to spend time with them and her children this year.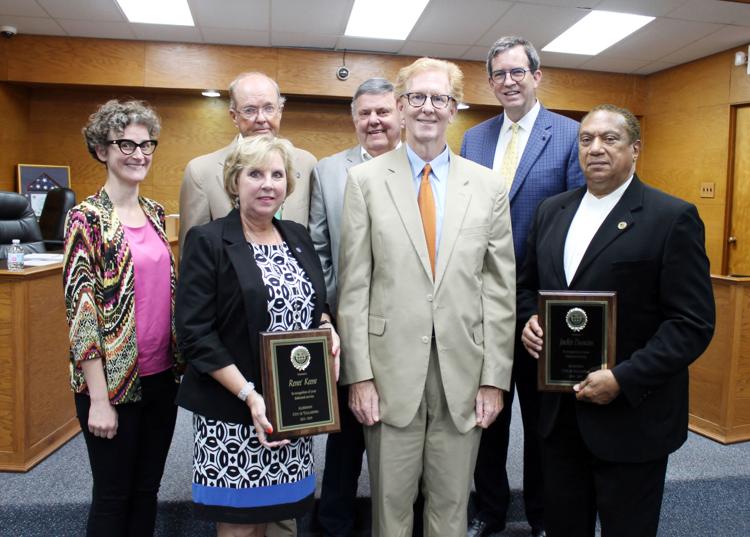 Keene's seat was won by Rupa Shukla Blackwell in the Aug. 1 election.
Duncan did seek reelection but was ousted by newcomer Daniel Berry by just five votes during the election. Duncan also serves Coffee County as a commissioner from District 19 and is also the Mayor Pro Tempore for the county.
Before Tullahoma City Judge Jim Conley administered the oath of office to both Berry and Blackwell, Mayor Lane Curlee allowed the aldermen to speak about Keene's and Duncan's service to the board.
Overwhelmingly, each board member thanked the two for their service to the community and wished them well in their future endeavors.
Aldermen Jerry Mathis and Jimmy Blanks both called it a privilege to have sat next to Duncan during his tenure on the board.
"Each time has been a blessing to me because of his willingness to always do exactly what's right," Mathis said. Mathis also credited Duncan's willingness to listen as a great attribute of Duncan's before giving him a strong handshake.
Blanks highlighted Duncan's poetry, calling him the "poet laureate" of Tullahoma.
"I haven't served with anybody else on the board that would write prose like you do, and I appreciate it," he said.
"We will miss you, but I know you'll be around," Blanks added.
Keene lauded Duncan's positivity, saying it was "inspiring" to her during her service.
"Jackie, it's been a pleasure to work with you and this entire board," Keene told Duncan. "Your positivity and the things that you do amaze me and inspire me, and I do appreciate everything that you've taught me while we've served together."
Alderman Robin Dunn thanked Duncan for being a wealth of historical knowledge and for staying true to his beliefs and values.
"I've learned so much from you about the history of Tullahoma," she said. "You've got such a moral compass and it's so strong, and I really appreciate how you make a point to make sure that every decision that you make is one that's going to serve everybody."
Knowis called Duncan a "mentor," saying he appreciated that aspect. The only regret he had, Knowis said, was that the aldermen-elect would not "have an opportunity to serve with you as I have."
Ever the writer, Duncan whipped out a prepared statement for the occasion. Additionally, the poet in Duncan frequently saw inspiration strike for a short poem during his statement.
From his prepared remarks, Duncan congratulated Berry and Blackwell on their win, as well as thanked the board for being "the blessing you've all been to me over the last several years."
Duncan said a cornerstone of his service to the board was "trying to encourage everybody," especially when they feel like they're not being heard.
He recounted an experience he had in a grocery store with a young cashier expressing her apathy at the election. The girl told Duncan she felt like her vote didn't count, he said.
"I tell everybody your vote does count. I wish I'd had about six more votes that day, but I've got no problem with it," he said with a laugh.
When it came time for Keene's compliments, the majority of the board wished her profound happiness in her next task: caring for her grandchildren.
Mathis highlighted Keene's veracity in service first.
"Whatever you say, you can stick to it," he said. "It's exactly what you mean … Whatever you've told me, I can take to the bank."
Mathis then said Keene had happiness coming to her in the form of "those little ones."
"That's going to be very pleasant," he said. "Enjoy it."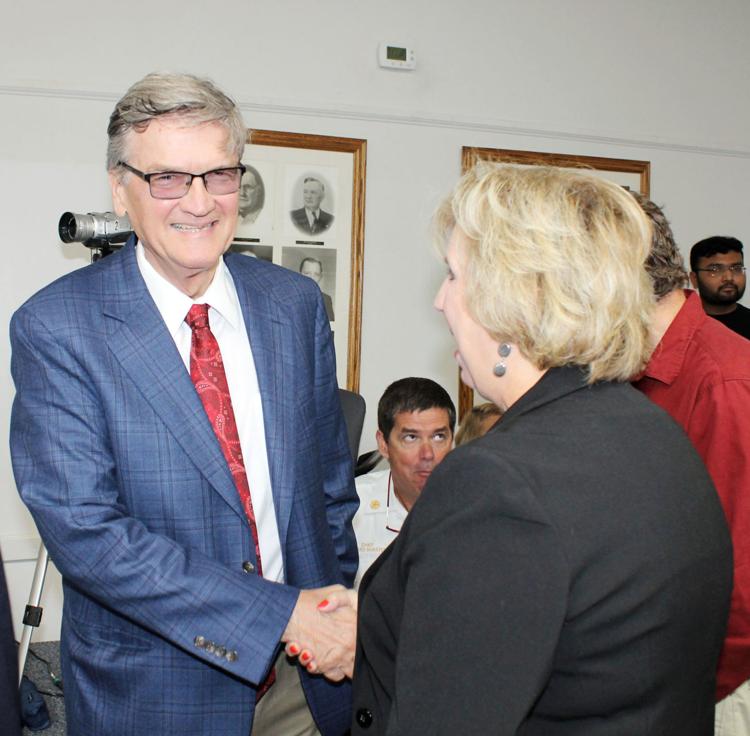 Duncan said it had been a pleasure working with her the last six years. He also highlighted Keene's service to the Tullahoma Area Chamber of Commerce, saying she did "a great job" then.
Duncan also referenced Keene's new grandchildren, saying she was about to embark on "the greatest thing that she could ever have done" in going home and spending time with her grandchildren.
"This is the joy of your life, I know," he said. "This is where your heart is.
Blanks highlighted her work ethic on the board, calling her a "diligent, hard worker" during her service to the city.
He also referenced the passing of Keene's husband, Jeff, in 2017, recognizing the trauma of that time in Keene's life as a true example of her character.
"There's not many of us who are sitting here that would have lost a spouse and could have continued and been dedicated like you do, and that's something you should be proud of," he said.
Dunn said she appreciated Keene's "cool head" during some of the more "emotional" incidences at city meetings.
"It made things a lot easier," Dunn said about those times.
Dunn also wished Keene well with her other commitments, such as the Centennial Woman's Club, telling her to "enjoy them."
Knowis rounded out the comments by calling her an "anchor for this group."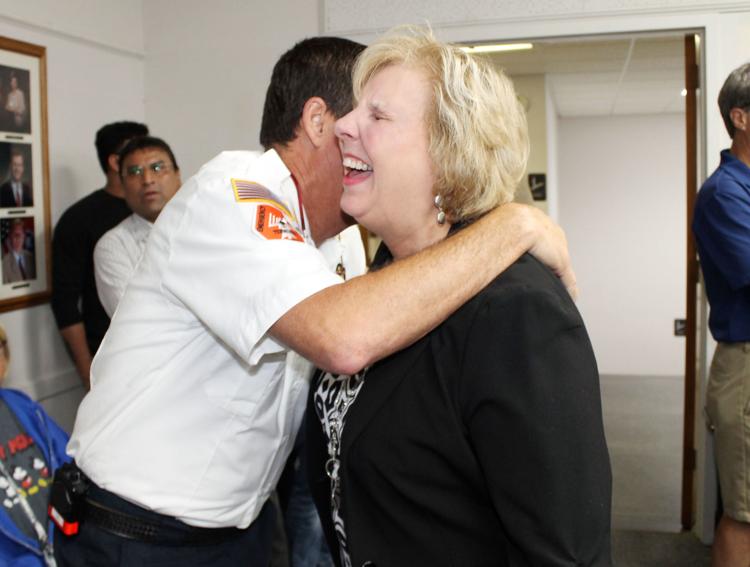 "As Alderman Blanks alluded," he said, "to see you go through personal tragedy in your life, and how you responded to that, told me an awful lot about your character. You're a strong person, and we've needed your support here on this board with that. Good luck on all your new endeavors."
Fighting back tears momentarily, Keene called the city body "a wonderful board," highlighting both the ups and the downs of serving as an alderman.
"You never know exactly what you're going to come against," she said. "You're always going to disappoint someone, and it's really, really hard."
She lauded the cooperation of the board members, praising their ability to "agree to disagree" on certain issues while still remaining friendly with one another.
"I feel truly blessed to have been able to work on this board," she said.
Keene also thanked the city's department heads and the "behind the scenes" players who "give it their all" in order to keep the city running efficiently.
"I truly appreciate everything that they did," she said.
Keene also acknowledged her decision not to seek reelection, calling it an "emotional" one that she needed to discuss with her family.
While she did not go into specifics, she said caring for her two newest grandchildren and running a reelection campaign concurrently "just wasn't going to work."
"Family had to come first," she said, saying her decision was "the right one" for her at this time.
Both received standing ovations in the board chambers room following their comments. Curlee presented both with a plaque signifying their service to the community before the group collectively turned to Judge Conley.
Blackwell, surrounded by family members, was the first to take the oath of office. Berry also brought up his family to stand in support while he took his oath.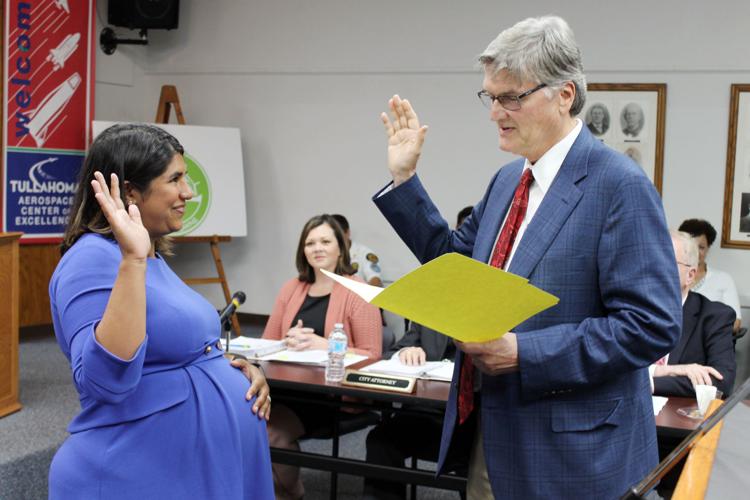 Speaking to The News after the meeting, both aldermen said they were excited to get to work serving the people of Tullahoma.
Berry said he was happy to have his first meeting "in the books" and was "anxious to get out there and serve."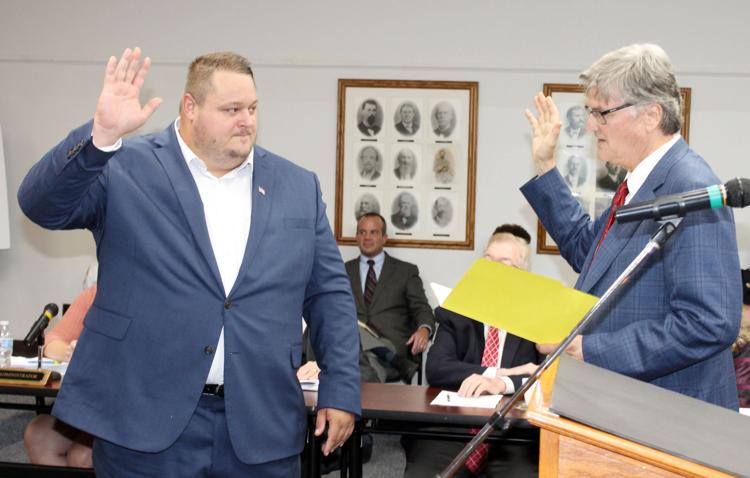 Blackwell called the meeting "fantastic" and said she was happy to see the new board move forward.
"It was great to see us all in action and to be up here," she said.
The next city board meeting will take place on Monday, Sept. 9.