Before Wednesday's rain showers breezed through Tullahoma, city officials and friends of parks and recreation gathered to officially dedicate the city's newest memorial street.
Joe Moon Way, formerly a portion of West Hogan Street between the Imagination Station and D.W. Wilson Community Center, was formally dedicated in honor and memory of Joe Moon, a former parks and recreation staffer, manager and director on the five-year anniversary of his passing. Moon was killed in a car accident in July of 2016.
Alderman Rupa Blackwell kicked off the dedication ceremony, held Wednesday, July 14. She shared personal stories of her relationship to Moon as a child, noting how he was the one who trained the lifeguards at the D.W. Wilson pool when she was a teenager. Moon was more than an instructor and mentor, Blackwell said, he was a friend, and his friendship extended as she grew up and had a family of her own. Moon even welcomed her back to Tullahoma when she and her family moved back to town after living in California.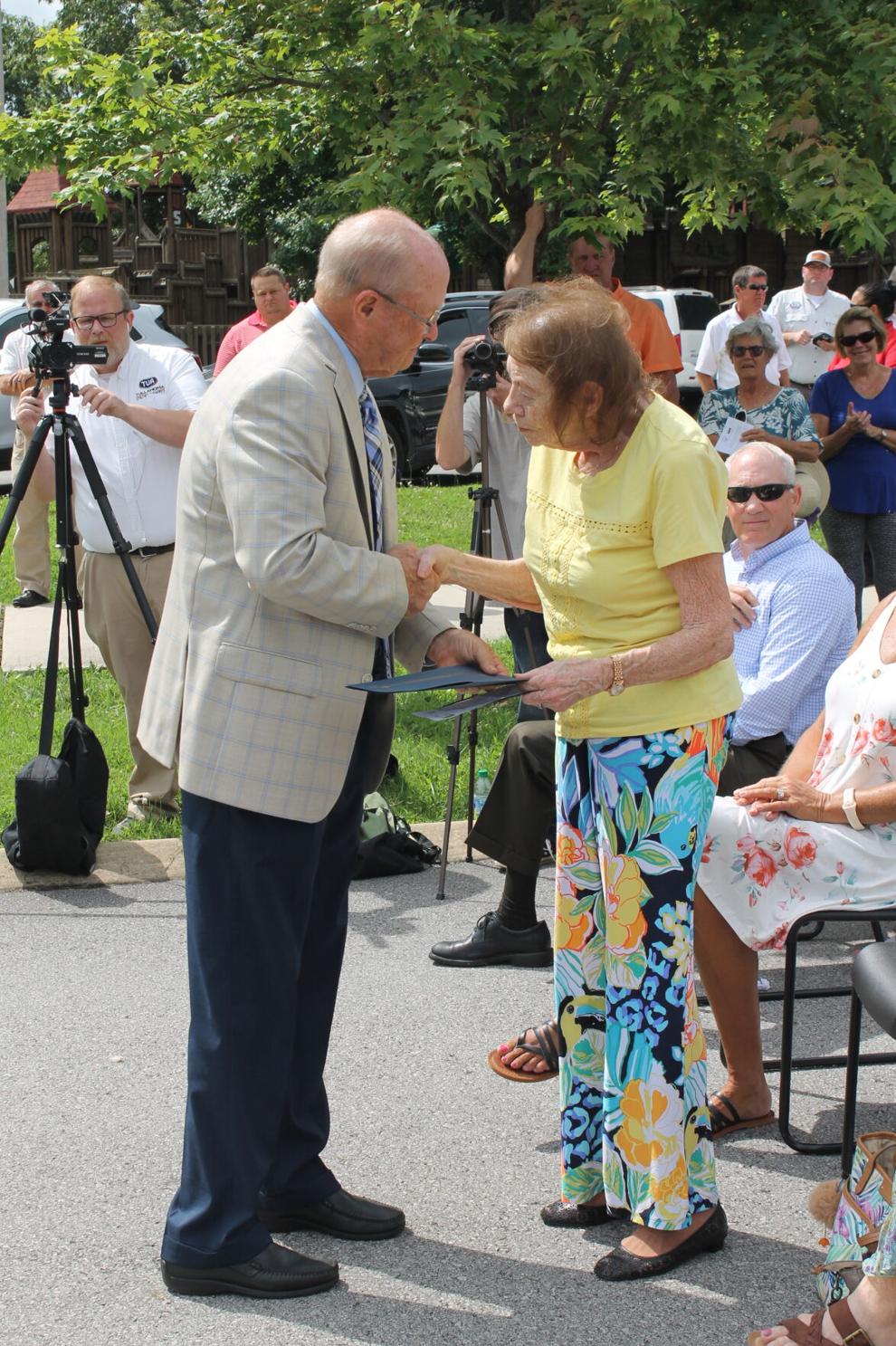 Mayor Ray Knowis then read aloud a proclamation designated Wednesday, July 14, 2021 as Joe Moon Day in Tullahoma. The mayor, becoming briefly emotional, noted Moon's decades of service to the parks and recreation department, highlighting his career climb, his retirement and his continued part-time assistance with parks and recreation.
Following Knowis' proclamation, Chick Knitter also remarked on the kind of man and mentor Moon was throughout his life. Knitter said he was just one of many children Moon raised as his own at the parks and recreation department, keeping Knitter in line when he got too wild as a child. The stories of Moon's tough love and dedication to the department allow Moon to live on even after his passing before rousing the audience into a collective "Roll Tide!" shout in honor of Moon's favorite college football team, the Alabama Crimson Tide.
The dedication ceremony also featured a special presentation from Middle Tennessee State University, as Brenda Moon, Joe's sister, presented MTSU representatives with a check that formally established a scholarship endowment at the school for students wanting to study recreation science.
Pat Branam, Development Director, said scholarship endowments require at least $25,000 in order to be firmly established, and Brenda's final donation allowed the fund balance to reach the required threshold to continue on in perpetuity.
While there are over 100,000 graduates from MTSU each year, Branam said, "there is and was only one Joe Moon."
After the endowment presentation, J.P. Kraft, the interim director for parks and recreation, shared his own account of the legacy Moon left. Throughout his time at the parks and recreation department, Kraft said, Moon would occasionally request several passes to the pool and later water park from Kraft.
"I never really knew what he was doing with those passes, but I didn't think much of it," Kraft told attendees.
It wasn't until after Moon passed that someone revealed what he had been doing. Shortly after Moon passed, Kraft said, a woman explained that she could not always afford to take her children to the pool, but Moon, out of the kindness of his own heart, would purchase pool passes for her to take her children swimming.
That was the kind of man Moon was, Kraft said, always willing to help people without any expectations. That, he said, was the true "Joe Moon way."
In honor of that kindness, Kraft announced, the first 100 children who wished to come to Splash Island would have their admission covered by Brenda Moon, continuing her brother's legacy of kindness.
Following the announcement, Kraft moved over to the corner of the road, where he unveiled the decorative, memorial street sign designated the new Joe Moon Way. City officials, Brenda Moon and parks and recreation staffers then gathered and signaled Brenda to cut the ribbon, making the official dedication of the roadway.
Attendees then gathered inside the community center, where refreshments, including Joe's favorite burger and beverage were provided by London's, his favorite dinner spot.
City officials also stated that the weight room located at D.W. Wilson had been renamed the Joe Moon Weight Room in honor of Moon.