The Coffee County Republican Party (CCRP) has issued a statement in support of Coffee County District Attorney Craig Northcott, after Northcott faced on Friday calls to resign because of anti-Islam Facebook comments he posted in April.
The Council on American-Islamic Relations (CAIR) called for Northcott to resign on Friday. The advocacy group also announced it was asking the Tennessee Republican Party to "repudiate" Northcott for posting the remarks.
However, Northcott said he has no plans to resign and the CCRP issued a statement of support.
On Saturday, Richard Brooks, chairman of the Coffee County Republican Party, announced he had sent a letter to the executive committee of the Tennessee Republican Party "in regard to the attack on our District Attorney Craig Northcott."
"He is the subject of a political hit job by the group known as CAIR fueled by a biased media and out of context reporting," Brooks said.
The Coffee County Republican Party fully supports Northcott, according to Brooks.
"He has the same first amendment right to speak in any forum his own opinion and views," Brooks said, adding that freedom of speech should apply to all citizens of the nation.
"The Republican Party at the state level has been asked by CAIR to 'repudiate' DA Northcott and in my letter to (the Republican Party) I have asked them to put full support of the party at the state level behind him," Brooks said. "If we continue to allow these type of groups to control our society and constitutional rights, we are lost as a nation."
In his statement, Brooks asked the community to unite behind Northcott.
"We will not allow these politics of division to infiltrate our community," Brooks said.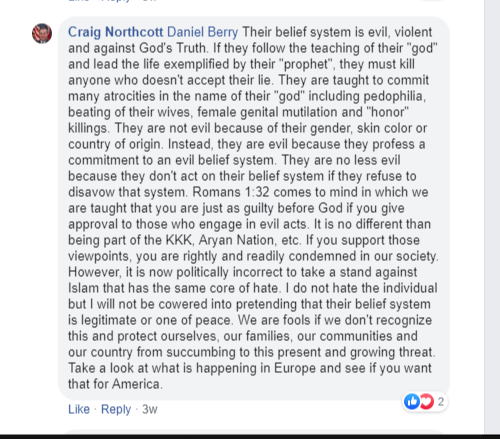 According to screenshots from a Facebook post in April, Northcott stated that it is "no different than being part of the KKK, Aryan Nation, etc. If you support those viewpoints, you are rightly and readily condemned in our society. However, it is now politically incorrect to take a stand against Islam that has the same core of hate." Northcott's post also stated "their belief system is evil, violent and against God's Truth."
On Friday afternoon, Northcott said he had no plans to resign.
"As to the Facebook issue, the point that I was expressing was simply any ideology by whatever name that promotes hate, killing/harming of those who don't believe in that ideology and/or killing/harming someone due to their physical/genetic characteristic is evil."
Northcott added that the Constitution protects everyone's right "to believe whatever they wish and even to express their beliefs through oral and written word."
"However, if someone acts on their beliefs in a way that violates the criminal laws of Tennessee, they will be held accountable for those actions through our criminal justice system that affords everyone the equal protection of the law and due process," Northcott said.
Professionally, Northcott said he judges each situation based upon its own merits and facts, not on the belief system of the one who committed those acts.
"I then pursue justice based upon the laws of Tennessee and the actions of the defendant," Northcott said.