When a member of their construction crew went into cardiac arrest on the jobsite at Arnold Air Force Base, Robert Hart and Vincent "Red" Halligan did not hesitate.
The two contactors, both of whom are with Morsey Constructors, acted quickly and administered CPR to their unconscious co-worker.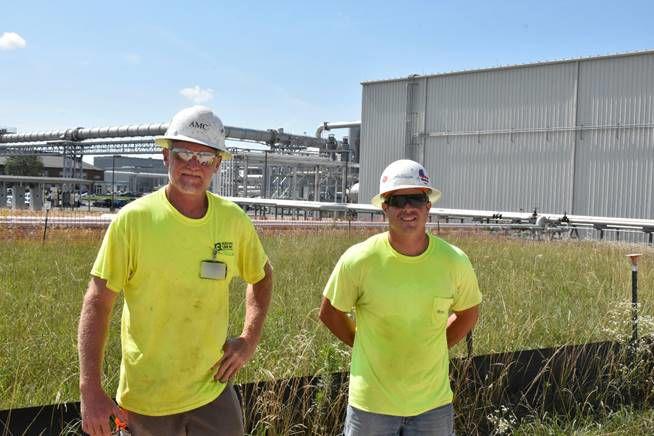 Emergency responders at Arnold are crediting Hart and Halligan with saving the life of their fellow crewmember, and their efforts have also been recognized at the highest level. Both were recently presented with certificates of appreciation from U.S. Air Force Fire and Emergency Services Fire Chief Jeffrey Wagner.
"The exceptional care you provided directly contributed to the saving of the life of this patient," the certificates read. "This certificate is presented with our appreciation and gratitude for a job well done."
Ashley Koepp, the Morsey Constructors crew superintendent, and Hart, the general foreman of the job, were going over construction drawings just before the start of their workday June 19 at Arnold when their attention was diverted.
A member of their crew tore his truck through the gravel parking lot in front of the Conex storage container doubling as Koepp's office. Hart and Koepp exited the office to admonish the employee, but the situation they encountered was far more serious than what they initially perceived to be erratic driving.
The worker in the truck was actually rushing to Koepp's office to alert him to an emergency on the worksite. Another member of the crew was lying in the gravel lot outside of the test facility where the contractors had been working. The man was unconscious and not breathing.
Koepp called 911 while Hart jumped in to assess his co-worker's condition.
"To be completely honest, that's the point when God took over," Hart said.
Hart began mouth-to-mouth resuscitation. Seeing that he was surrounded by "four sets of boots," Hart asked if one of his crew members could deliver chest compressions. Halligan immediately responded.
Hart, who received CPR training in 1997, monitored his co-worker's vital signs while Halligan, who is up-to-date on his first-aid CPR training, supplied constant and consistent compressions.
"Red worked his butt off with the chest compressions," Hart said. "I mean, he worked his butt off."
For a moment, it appeared the efforts of Hart and Halligan had paid off. Their co-worker responded with a weak pulse and by attempting to breathe. Hart encouraged him to fight and regain consciousness, but the man again stopped breathing. This occurred several times as Hart and Halligan delivered CPR.
"He died three times while we were doing CPR on him," Hart said.
Still, Hart and Halligan continued CPR. Within moments, Arnold Fire and Emergency Services arrived on the scene.
"The timing was excellent," Hart said. "You can tell they're trained. They know what they're doing."
Emergency responders defibrillated the patient and loaded him into an ambulance for transport to a local hospital. Arnold FES Assistant Chief Gary Horn said Hart and Halligan continued CPR on their co-worker up until he was shocked and loaded onto the gurney. Horn described their techniques as "perfect CPR;" Hart provided excellent ventilation while Halligan's chest compressions were performed at the ideal rate and depth.
After their co-worker had been transported from the site, Hart and Halligan began paperwork on the incident. They reflected upon the situation while completing their reports. It was then that Hart said his belief that God has reasons why things happen and when they happen was reaffirmed.
"Red, out of the blue, says, 'Hey, let me tell you something.' His face was glowing," Hart said. "He said, 'Today is my wife's birthday. I said, 'That's awesome. Happy birthday to her.'"
After a pause, Halligan told Hart he had lost his wife two years prior.
"He said, 'The first time I ever did CPR was on her and I lost her. This is the second time,'" Hart said. "I knew then, I thought, 'Well you got your vindication today. You do now realize that we don't pick and choose who lives and dies. It's God.' He said, 'I do now.' Boy that moved me … that was just moving."
'God gave him another opportunity'
Arnold FES continued CPR on the patient during the transport. Horn said the man came to consciousness in the back of the ambulance.
"The first thing he said was, 'Ow, my chest hurts,'" Horn said.
Horn said the quick reaction of Halligan and Hart and their continuous, steady rhythm of CPR prior to the arrival of Arnold FES was instrumental in saving the patient's life.
"Starting early CPR and early defibrillation, that's the key to success," Horn said.
Hart and Halligan remained uncertain of their co-worker's fate for some time after he was loaded into the ambulance. Horn said Arnold FES officials were later able to share the good news about the man the two had worked to save.
"They broke down in tears. They couldn't believe it," Horn said. "They thought they had lost one of their co-workers. Their fast actions saved his life."
That co-worker received triple bypass surgery and is on his way to recovery. Hart said those at Morsey couldn't be happier with the outcome.
"God gave him another opportunity to do something awesome," he said.
The patient may have been fortunate to have Hart and Halligan around, but he also had some additional luck on his side.
"The doctors told him that his heart quit beating and that saved his life because he had so much blockage that if his heart would have kept trying to beat, it would have damaged it," Koepp said. "So a number of things was in his favor."
Going forward in gratitude
Horn said Arnold FES is in the process of implementing an emergency medical dispatch program. This program includes a dispatcher who will walk callers through the CPR process.
"It eases peoples' minds when doing CPR," Horn said.
The family of the co-worker they saved has reached out to Hart and Halligan to express their appreciation. Hart said he and Halligan will likely meet and talk with him once his recovery has progressed further. Hart added he is looking forward to that moment.
Hart said he does not consider himself a hero. He said God chose to let his co-worker live that day and that he was merely a helper.
"I don't want him to feel indebted to me at all," Hart said. "I feel as though he would've done the same thing for me if God put that conviction on him."