The brand new 2020 Chevrolet Corvette was unveiled at Stan McNabb Automotive Saturday. A crowd of Corvette fanatics gathered in the lobby for the reveal, several coming from Nashville, Huntsville, Murfreesboro and other surrounding areas.
With 490 to 495 horsepower, a 6.2-L V8 engine, a curb weight of 3,535 to 3,637 pounds and dimensions of 182 inches long, 76 inches wide and 49 inches in height, the 2020 Corvette has a manufacturer suggested retail price of $59,995. The sports car comes in coupe and convertible styles.
The two-piece hardtop can activate at speeds up to 30 miles per hour with the power of six electric motors for improved reliability in extreme temperatures. The convertible weighs 77 pounds more than the coupe and the top is available in body-color or carbon flash.
The Corvette on display at Tullahoma's local auto dealer is a Sebring orange, just one of the 12 colors the car comes in. As it sits, it is a 3LT model with a cool grey interior valued at $85,000.
"As far as the exterior design, the engineers over at General Motors (GM) got the idea from our friends over in the military. If you have ever seen an F-22 Raptor jet, the flared-out intakes on the side of the car replicate the F-22 perfectly." Chevrolet Performance Presenter and Product Specialist Rayshard Kelley said. "The windshield literally sits on the front axels, giving it a downforce. It is equipped with a Z51 package valued at $5,000, giving the car a two front splitter and also a rear spoiler to allow air to flow in and out of the vehicle. You get a lot for a little. It comes with all-season tires and bigger, beefier break calibers to help accelerate and also stop while going around sharp turns."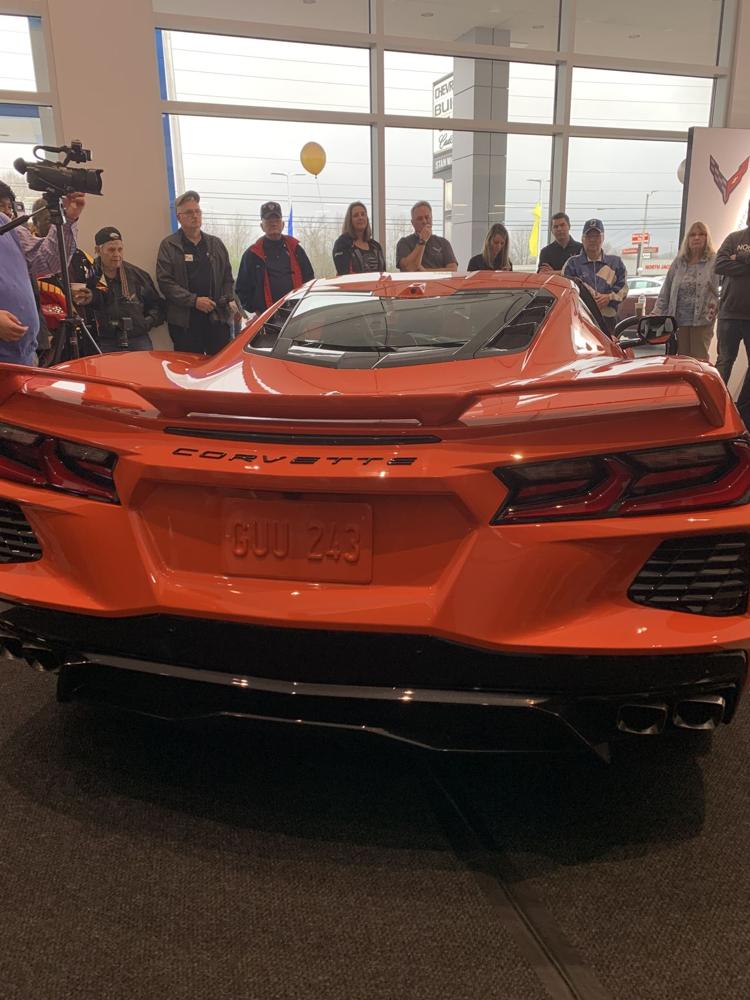 "What is powering this car is Chevy's all-new LT2 V8 engine and an 8-speed dual clutch transmission," Kelley said. "The steering wheel is shaped as what our interior designers over at GM call a "squircle, because it is both square and round. There are two new modes that come with this car where you can customize to your driving behavior."
The car is equipped with the latest Chevy Infotainment 3 system with an eight-inch diagonal color touchscreen with technologies like The Performance Data Recorder and color Head-Up display.
The 2020 Corvette has been named North American Car of the Year and Motortrend Car of the Year.
Stan McNabb displayed a growing list of pre-orders for the Corvette at their event.
For more information about pre-ordering the 2020 Chevrolet Corvette, visit www.chevrolet.com.