The Daughters of the American Revolution (DAR) Tullahoma chapter presented a quilt to veteran William MacDermott during their February meeting on behalf of the Quilts of Valor Foundation (QOV).
MacDermott, 95, registered for the draft in 1943 when he was 18 years old. He volunteered to be inducted. He was assigned to the third emergency rescue squadron, stationed in the Philippines during WWII. The mission of the squadron was to rescue downed allied aviators. Their plane was equipped with motorized rafts. He was discharged from service in 1945 with a rank of Staff Sergeant B6. He has been a member of The American Legion for over 50 years, serving as commander of Post 43 and chaplain since the 1970s. He was an aeronautical engineer at AEDC.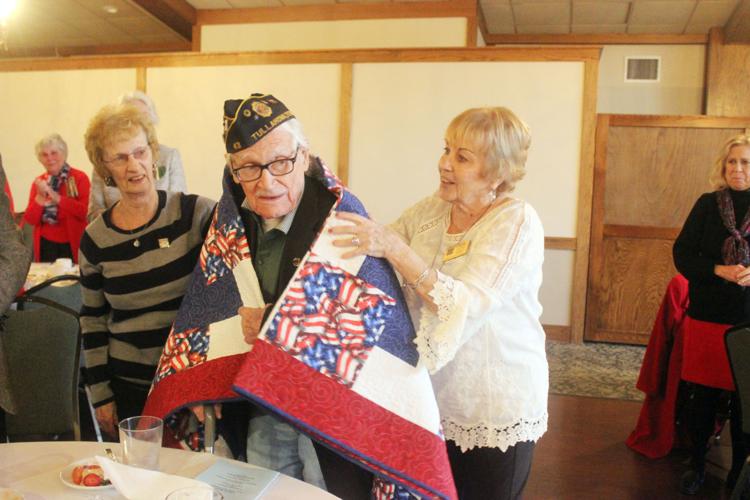 Special guest speaker Priscilla Jane Hill from the Ridgedale Patriots quilters group in Chattanooga gave a brief history of QOV and presented MacDermott with his quilt. Along with Hill were Ridgedale quilters Juanita Eldridge and Phyllis Forehand to help in presenting the quilt.
"It is our honor and privilege to award Mr. William MacDermott his own Quilt of Valor on behalf of the Quilts of Valor Foundation," Hill said. "A Quilt of Valor is made of three layers and each one has its own special meaning. The top, with its many colors, shapes and fabric represent the communities and unique individuals that we are. The batting, which is a filler, is the center of the quilt. It is warmth that represents our hope that the quilt will bring comfort, peace and healing to you. The backing supports the other layers, representing the strength in you, the support of your family, our communities and our nation. Each stich that holds the layers together represent love, gratitude and sometimes the tears of the maker."
"We honor you for your service, Mr. MacDermott. We honor you for leaving all that you hold dear to stand in harm's way in a time of crisis, protecting us from the effects of war," Hill said. "Our quilters know that freedom is not free. The cost of our freedom is the dedication of lives of men and women like you. This quilt is meant to say thank you for your service. Finally, this quilt is meant to comfort and remind you that although your family and friends cannot be with you at all times, you are forever in our thoughts and hearts. We hope when you experience dark times and need the warmth of a hug, you will wrap your quilt around yourself so it can provide the comfort we have sewn into every seam."
MacDermott was present with his son Steve MacDermott and step-daughter Gina Speck Neal. He was teary-eyed and speechless during the presentation of his quilt. American Legion Post 43 commander Alan Harris was also present for the ceremony.
"The Quilts of Valor program began in 2003 when founder Katherine Roberts' son was deployed in Iraq. She had a dream one night where she saw a young man sitting hunched over on the side of his bed in the middle of the night," Hill said. "The feeling she had of him was utter despair. She could see war demons clustered around and dragging him down into an emotional gutter. Then, as if it was a movie, she saw the same young man in the next scene wrapped in a quilt. According to Katherine, his whole demeanor changed from despair to hope and well-being. The quilt had made this dramatic change. Katherine interpreted this dream as a message that quilts equal healing."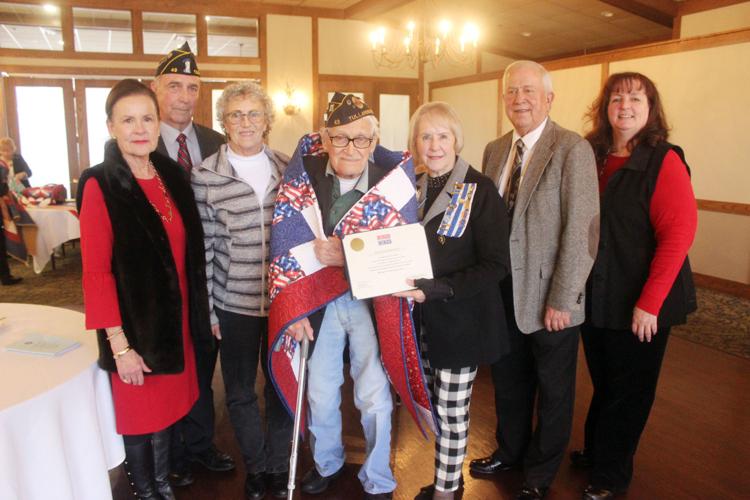 "She visualized having a volunteer team that would donate their time and resources to make the quilts. The quilts must be made of quality material. It is not a charity quilt. It has to be hand or machine-stitched. Quilts of Valor are awarded, not passed out. They all say 'Thank you for your service, sacrifice and valor in serving our nation,'" Hill said.
The first quilt was awarded in 2003 at Walter Reed Hospital to a young soldier who had lost his legs. Word of this organization traveled nationwide, inspiring more people to volunteer in making the quilts. Today, QOV has awarded over 200,000 quilts.
"Quilts can be awarded anywhere whether it be church, club organizations, homes or businesses," Hill said. "Any person that served in a branch of the armed forces is eligible for a quilt. Some of the service people will say 'I really didn't participate because I was in the reserves' and believe that they do not deserve a quilt, but they do. Even the reserves have to be ready to go and serve at any time."
Most of the quilts are red, white and blue. Many patterns are used, but a replica of the flag itself is not used due to the fact that flags are supposed to drape service people who have passed away.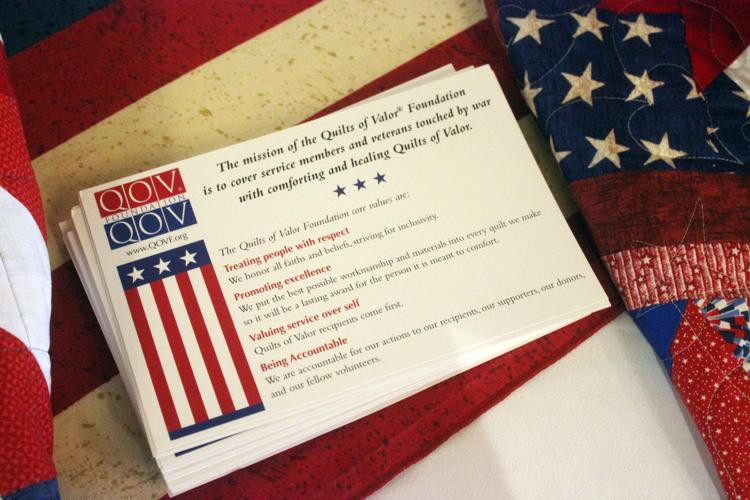 A label is put on the bottom of each quilt and a certificate is given to each recipient to ensure that the quilt is authentic. A table was set up at the DAR meeting displaying examples of quilts that have been made as well as QOV books and photos.
For more information about the DAR, visit www.dar.org. For more information on Quilts of Valor or to nominate a veteran, visit www.qovf.org.